Serving History
History major Tessa White was thrilled to begin 2020 with an internship at the Gibson House Museum, a historic house in Boston's Back Bay. When COVID-19 forced the museum to temporarily close its doors, White, Class of 2021, had to switch gears quickly and discover new ways to advance the museum's work.
"My focus shifted from a lot of object inventory in the museum to a remote research-based approach," she said. "I learned to solve problems on my own and to find solutions."
Bringing new stories to light
White suddenly found herself with more time to work on a particularly compelling project: researching specific servants who lived and worked in the house, rather than the objects that they worked with.
She researched and wrote biographies of numerous servants who worked in the house from 1860-1940, many of whom came from England, Ireland, and Scotland. Her research will support the museum's servant-based tour coming in 2021, which will tell the story of the Gibson House from the perspective of the people who lived and worked there.
"It is important for the museum to share the servants' stories because they were the ones who kept the house functioning while the Gibson family resided there," said White. "Without them, the Gibsons would have had to maintain the household on their own."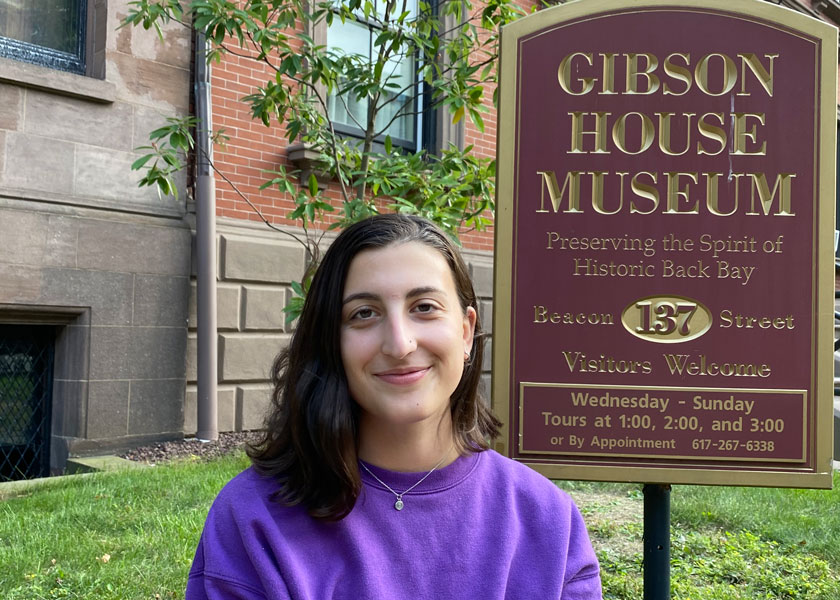 White is also helping the museum research 19th century kitchens and pantries to add to its interpretation of daily life in the household. She wrote a blog post about the Gibson House icebox, and is working on a content calendar, along with another intern, to schedule creative social media posts to help the museum expand its online presence.
"The skills I'm developing are preparing me for my future endeavors," said White, who would like to work full-time in a museum or historic house someday.
"One of Tessa's strong suits is to pay attention to the small details, while keeping the big picture in mind," said Gibson House Museum Curator Meghan Holmes. "This was notable in the way she conducted object research on-site, and the way she has worked on her exhibit project this fall remotely."
Award-winning work
This spring, White received the 2020 Laska History Award from the New England History Teachers Association. She was nominated by a group of Suffolk professors who recognized her efforts as a focused and engaged scholar.
"With her interest in American history, particularly women's history and the history of the American working class, Tessa is especially adept at exploring the social complexities of our nation's past," said Suffolk History Professor Kathryn Lasdow.
"I've watched her grow as a historian in class, on field trips, and as an invaluable member of the Gibson House research and curatorial team. She's making a name for herself and her future looks bright."
For White, this year's unconventional internship experience has provided confirmation that she's on the right path.
"My tasks are so interesting, so I never feel like I have to force myself to get something done," said White. "It's always fun for me, and that's how I know I've found the perfect internship."