Finding New Brothers and Sisters
For more than two decades, Juanita Leach's fellow sailors were like family. She found a new set of 'siblings' at Suffolk University Law School.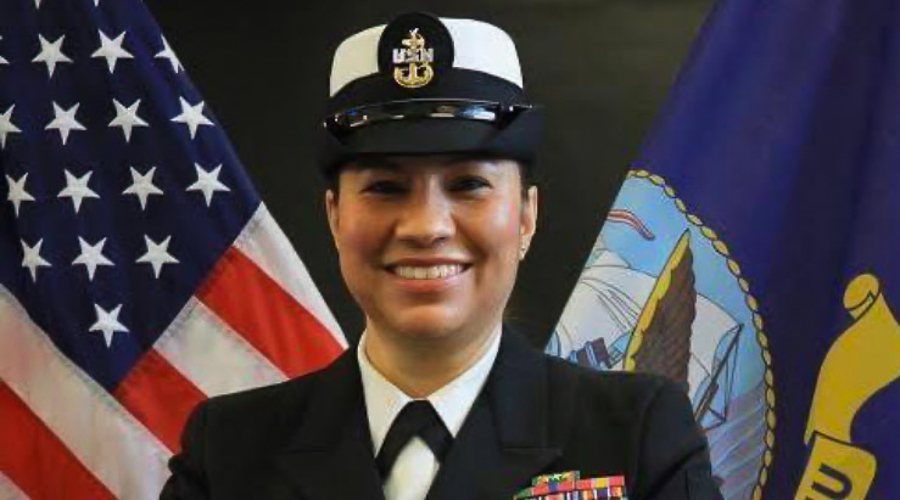 From the age of five, she was fascinated with the military—marching in particular. "Little of that is done after boot camp," she says, "but ever since I was a little girl, it was just something that I knew I was destined to do."
She held on to that ambition throughout her childhood, finishing high school eager to join the U.S. Navy. Her mother, however, was not pleased.
"I'm one of ten children," Leach explains. "If you're familiar with Hispanic culture, mothers like to hold their children tight to the chest. My mom was not on board." Leach needed to wait until she was a legal adult to enlist without a parent's co-signature.
"I graduated in May, turned 18 in July, and was in boot camp not three weeks later," she says.
That was the beginning of a Navy career that spanned the next 26 years. She spent the first two and a half in active duty, and the balance in the reserves—service that included activations and extended deployments to Bahrain and Afghanistan. Starting off in a military police role in Guam, she rose through the ranks to senior chief petty officer, performing administrative duties in everything from air cargo and sea lift to detainee operations.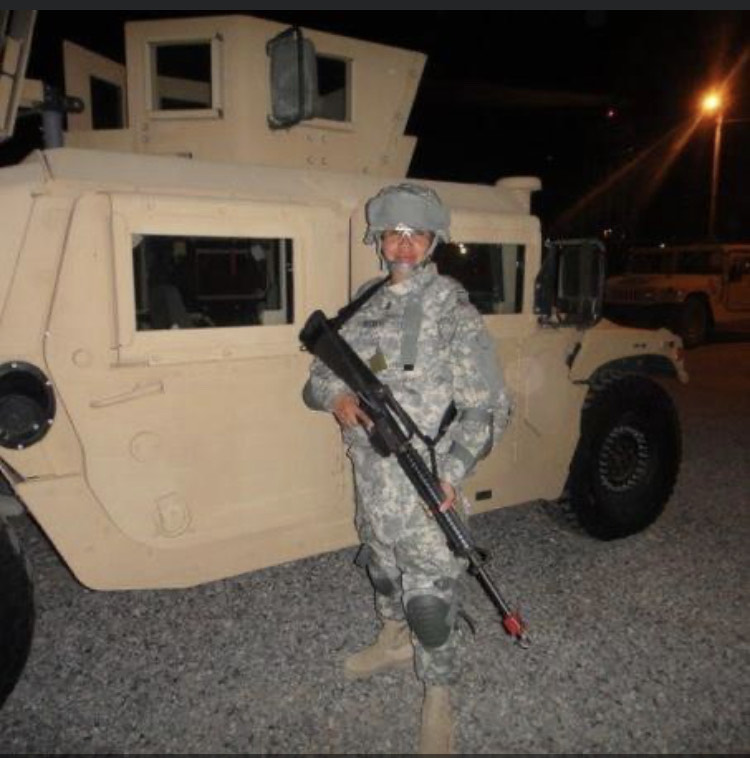 During her years in the reserves, she went to college, pursued a career in banking, and began to raise a family of her own. All of this required extraordinary flexibility and focus.
"It was basically one weekend a month, two weeks a year," Leach says of the military reserves' typical time commitment. "But it was actually a full-time part-time job for me, especially toward retirement. I was probably putting in 30, 40 hours a week, in addition to working 40 hours a week at my corporate job. Plus being a single mom. So yeah, it was a balancing act.
"I definitely think it got me ready for law school," she adds.
That's where Leach is now, in her fourth and final year in Suffolk Law School's part-time JD program. She notes that her years in the Navy equipped her with the qualities she'd need to realize her goal of a career in law.
"In the military," Leach says, "you had to just keep going, no matter how tough it was, no matter how much it hurt, no matter how much you missed your family. And law school is very similar."
Perseverance is not the only similarity she's discovered. At Suffolk Law she's found a camaraderie not so different from what she experienced in the Navy. There, she explains, she and fellow sailors of her rank would refer to each other as brothers and sisters.
"Funny enough, coming over to the legal side of things, we call each other brothers and sisters," she says of her classmates. "And while my colleagues are half my age, they don't really see me that way. They've embraced me as one of their own. We cry together, we laugh together, we encourage each other, we kick each other in the butt when we need it. It's really just a very, very supportive community."
Graduating from law school next spring will be another turning point for Leach, who plans to focus her new career on criminal defense. Though it will be bittersweet to part with her law school colleagues, she has confidence in the strength of their bonds.
"There's a difference between having friends and having family," she says, "and I really feel like my Suffolk community is part of my family. After graduation, whatever direction they go, and whatever direction I go, I know that we're always going to be connected because of our experiences together."
Learn more about Suffolk's veteran services.