Top of His Game
Michael Murray JD'08 lands his dream job with the NHL's Minnesota Wild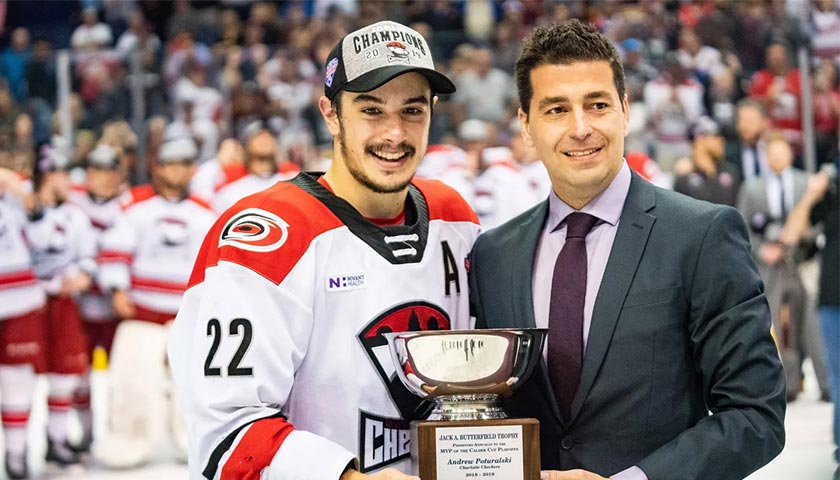 Michael Murray, JD'08, likes to stay one step ahead of the competition.
He even decided to attend Suffolk University Law School because he thought a degree would give him an edge in landing his dream job in professional sports.
"My objective was to distinguish myself from the general pool of applicants," he said.
Murray has done just that. This fall, he was named assistant to the general manager of the National Hockey League's Minnesota Wild. He credits his alma mater for helping him "build the foundation" he needed to achieve his ultimate goal.
"I wouldn't be where I am today without my Suffolk Law degree," he said.
In his new role, Murray assists the Wild's day-to-day hockey operations, and participates in contract negotiations and player development. He also supports hockey operations for the Iowa Wild of the American Hockey League.
"You can never have too many smart people around you, especially during these unprecedented times," said Wild General Manager Bill Guerin. "Between Michael's education and experience in the hockey world, including playing the game, he will help make our organization better."
In professional hockey, "seeing the big picture" is always a priority, Murray said.
"You're not only planning for the immediate season, but the future as well," he said. "You have to take into consideration how the decisions you make today will not only have an immediate impact on the team, but what impact they will have moving forward."
Murray looks back at his Suffolk Law education with both pride and gratitude, particularly for lessons he learned in courses such as sports law, labor law, and employment law.
"The material covered in those courses has been extremely relevant, and has provided me with knowledge and skills I've used throughout my professional hockey career," he said.
"The biggest thing I learned is not only to be prepared for what you're responsible for, but the importance of being equally prepared for what the opposition has to offer. Research and preparation provide the tools to support your position and counter any opposing views."
Murray also praised the Suffolk Law faculty for inspiring him to shoot for his long-term goal of becoming an NHL executive.
"I think one of the best things about Suffolk is the diversity of the faculty and the (opportunity) to learn from their personal and professional experiences," he said. "The first-hand knowledge and expertise are invaluable."
Hockey is part of Murray's DNA. He was three years old when he first strapped on a pair of skates and held a hockey stick under the watchful eye of his dad, Bob, who played for Boston University's 1971 and 1972 NCAA championship teams. Murray himself went on to play for Dartmouth.
Since then, he has worked tirelessly to get to the highest level of his favorite sport, and he couldn't be happier. "I'm living the dream," he said.
Murray's advice for students interested in a sports-related career is to get involved early, starting as an intern or volunteer.
"It's a competitive industry and jobs are at a premium," he said. "There's a process involved and you have to be willing to start at the bottom, pay your dues, and work your way up."