From Suffolk to State House & City Hall
This year, three current students won important political races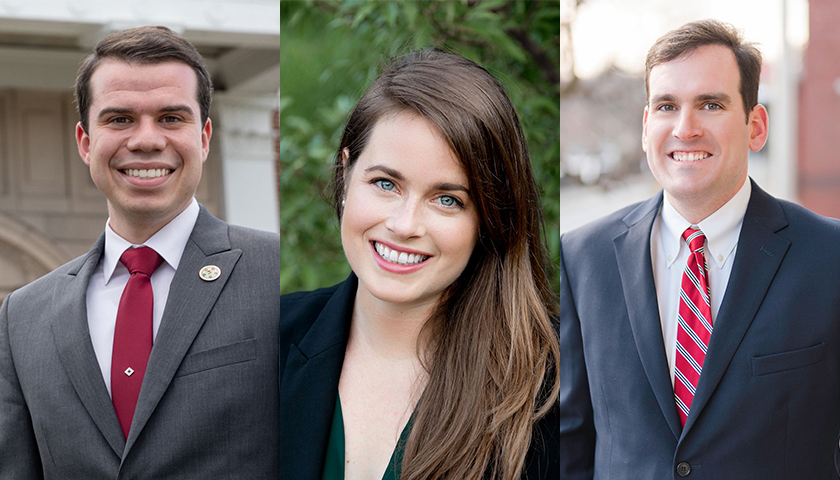 Everybody talks about politics. In 2020, three Suffolk Law students stopped talking and took action.
Michael Nicholson JD'21, Meghan Kilcoyne JD'21, and John Cronin JD'22 each ran for public office in the towns where they grew up—and were elected.
In late June, Nicholson won a special election to become mayor of Gardner, Mass. And in November, Kilcoyne and Cronin each won seats in the State Legislature, representing districts that neighbor and include Gardner. The three will spend 2021 working together to address some of 2020's enormous problems.
"Suffolk attracts people who are ready to do the work," says Cronin, a West Point graduate who served as a platoon leader during two tours of duty in Afghanistan. "I'm not sure there's another law school in the country where you could find three candidates who stepped forward to serve the communities where they grew up, while also pursuing their degrees.
"That says something about what Suffolk is as a school, what its graduates stand for, and what it means to the Commonwealth," he adds.
In a year of deep political divisions at the national level, it also says something about the faith all three have in state and local government.
Small city, big impact
For newly elected Gardner Mayor Mike Nicholson—who is managing both a $70 million operating budget and a global pandemic—there is nothing small time about small-city government.
As he told the Gardner News when he announced his decision to run for mayor of the north central Massachusetts city, "It's really rewarding to see the impact you make every day with every decision you make. To me, it's having an opportunity to give back to the place that I call home and helped make me who I am."
Just 26 when he was sworn in as mayor, Nicholson, an Independent, already had seven years of city government experience under his belt.
While earning degrees in political science and history at UMass Amherst, followed by a master's in public policy, he worked as an aide and chief of staff to then-Gardner Mayor Mark Hawke.
"What struck me was that 2020 was not a year to sit on the sidelines. It was a time when people needed to step up and serve."
In 2017, he enrolled at Suffolk's evening program, which enabled him to earn his law degree while continuing his work at Gardner City Hall and then, in 2019, as town administrator for nearby Rutland.
"One reason I like working for municipalities is that you get a taste of every [issue] that comes up," says Nicholson, who found himself relating what he was learning in class to everything from zoning to economic development to public safety.
Since his election as mayor, those lessons have become even more meaningful. "I'm responsible for managing the procurement process for the city," he says. "In his taxation course, Professor Anthony Polito helped me see the whole system, how we got to the process that we use to set a city's excise and property tax rates."
A strong local voice
A history major at Stonehill College, Meg Kilcoyne made some history of her own in November: She became the first woman ever elected to the Massachusetts House of Representatives for the 12th Worcester District, which includes her hometown of Sterling.
"I think representation matters," says Kilcoyne, who, during her 10 years as legislative director for Democratic Representative Harold Naughton, was struck by the fact that less than 30 percent of Massachusetts legislators were women. "I was always encouraging other women to run."
When Naughton decided not to seek re-election, she decided to take her own advice. "I wanted to be a strong voice for my community on Beacon Hill," she says. "The more local the government, the more you see the real impact you can have on people."
Like her friend and Suffolk Law classmate Mike Nicholson, Kilcoyne, 33, takes office with experience that exceeds her years. She understands the circuitous path a bill takes on its way to becoming a law, and she has a network of State House colleagues she can call on to help make sure that it does.
When some of those colleagues urged her to consider law school, she listened.
"So much of my time is spent analyzing statutory language in bills and legislation," Kilcoyne says. "Suffolk has given me a much better understanding of how that language will actually be interpreted in a court of law."
Professors like Judge Serge Georges, who was recently nominated by Gov. Charlie Baker to serve on Massachusetts' Supreme Judicial Court, helped her understand not just the letter of the law, but its spirit. "He wanted us to always remember why the law matters, and think about how we can use it to make things better," she said.
Leadership matters
In his very first race for office, John Cronin, 30, took on an incumbent and won.
In November, he was elected Democratic state senator for the Worcester and Middlesex District, which is comprised of 11 towns—including both Nicholson and Kilcoyne's hometowns. "We're all going to be working together, and that's pretty special," he said.
Cronin himself was born in Leominster and raised in Fitchburg and Lunenburg, surrounded by family. Yet some of his most formative experiences took place after he left Massachusetts, first to attend West Point, where he studied political science, and then between 2014 and 2018, to serve in Afghanistan.
"What I learned is that leadership matters," he said. "That's true for our country too. We live at a time when some of our institutions are failing and some are rising to meet the moment, and the difference between success and failure is leadership."
Following his honorable discharge as an Army captain, he returned home. While doing legal advocacy work for indigent veterans, he applied to law school and enrolled at Suffolk in 2019.
"Sitting in your 1L classes, there's time to reflect on how you want to contribute," he said. "What struck me was that 2020 was not a year to sit on the sidelines. It was a time when people needed to step up and serve."
Campaigning during COVID
But getting off the sidelines in the midst of global pandemic is no simple thing.
Cronin, Kilcoyne, and Nicholson each had to find new ways to connect with constituents, using a mix of direct mail, social media, texting, phone banking, and—as infection rates dipped during the summer—socially distanced canvassing and public events. And they had to do it all while still going to law school.
"When you undertake a campaign, there is no balance," Cronin admits. "From the time you wake up to the time you go to bed, it is all you think about."
Kilcoyne and Nicholson had the good luck to be enrolled in Government Lawyering with Professor Jamie Hoag during spring term, which meant they could trade campaign stories and advice both in and out of class. When it comes to both campaigns and law school, reflects Kilcoyne, "You need to rely on other people to get through everything."
COVID-19 will clearly dominate their work as elected officials, and that work has already begun for Nicholson. Because Gardner's mayor serves as chair of the city's school committee, he spent much of his summer working on different school reopening plans.
And when the state legislature convenes in January, Cronin wants to see "a whole-of-government effort to get our region through this public health crisis and do everything we can to keep businesses afloat, especially small businesses."
It's a very tall order, and an essential one, says Kilcoyne. "In Massachusetts, we've shown we can work across the aisle and reach consensus," even as the country struggles to do that. "For me," she adds, "it all comes back to localness. It's harder to see people you disagree with as villains." It's a little easier to remember they are neighbors.