College Magazine: Suffolk Top 10 in Sports Law
Location, small class sizes, and a strong alumni network help Suffolk's program soar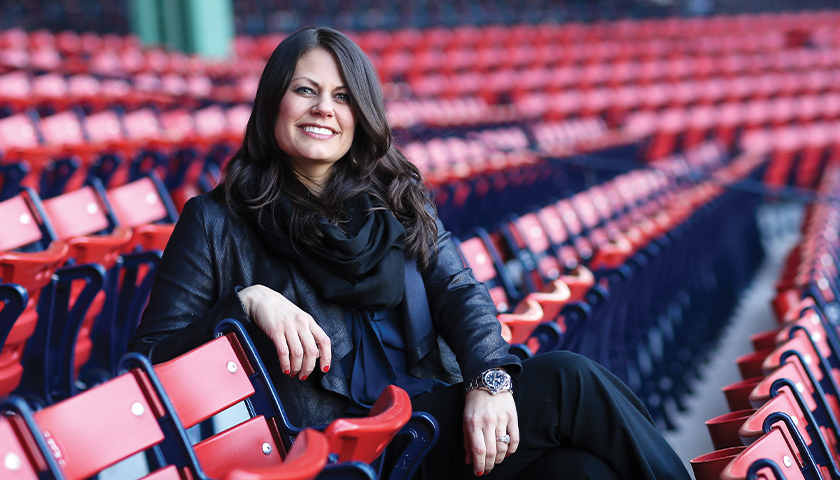 Back in her law school days, diehard Boston sports fan Mandy Petrillo JD'06 loved rooting for the Red Sox, Celtics, and Bruins in person.
Fast forward to 2020 and Petrillo, now senior club counsel for the Boston Red Sox, is cheering on another top-ranked home team: Suffolk University Law School.
This fall, Suffolk was named one of the Top 10 sports law programs in the United States by College Magazine, alongside elite programs at Tulane, Villanova, Marquette, North Carolina, Ohio State, and Miami.
"If you dream of working in the MLB, check out Suffolk," the magazine raved. "Yes, the class sizes are great and they offer cool internship opportunities, but most of all their network of alumni and connections help the program soar."
In addition to a wide range of sports law related courses at the Law School, Sawyer Business School offers courses in sports marketing. Suffolk undergraduate and graduate students have held internships with all of Boston's major league professional teams, as well as entertainment industry leaders like Sony BMG Music, RKO Pictures, the Kraft Group, and K Sports & Entertainment.
"Having the opportunity to work for a pro sports team is essential for students' development," said Skip Perham, former director of marketing for NBC Sports Boston who now teaches sports marketing. "They learn how to compete, build relationships, and network."
"Suffolk has helped shape the minds of some incredible sports attorneys," added Petrillo, who now teaches the law school's popular sports law course. "I'm thrilled and incredibly proud to see our sports law discipline gain some well-deserved national recognition. It puts us on the map."
Besides Petrillo's course, law students can take a full lineup of related courses in copyright and trademark law, entertainment law, gaming law, intellectual property and licensing, labor and employment arbitration, negotiating business transactions, and contract drafting.
The Sports and Entertainment Law Association hosts regular panel discussions and networking events. Guest speakers include alumni like Kim Miale JD'04, an NFL agent and general counsel for ROC Nation Sports, founded by Jay-Z. Miale represents multiple NFL players, including Pittsburgh Steelers wide receiver JuJu Smith-Schuster.
College Magazine declared that "Suffolk's alumni network speaks for itself and carries weight for those who want to work in the sports industry." This deep alumni bench includes:
David-Ross Williamson JD'85, a partner with Williamson and Melendez Sports Management, a Boston agency that represents Major League Soccer players; he also teaches Business Law and Ethics at Suffolk
Paul Krepelka JD'97, assistant general manager of the NHL's Florida Panthers
Michael Murray JD'08, assistant to the general manager of the NHL's Minnesota Wild
David Duquette JD/MBA'10, director of basketball strategy/team counsel for the NBA's Charlotte Hornets
Brian McLaughlin JD'12, NFL agent and co-founder of VaynerSports in New York City
Zachary Margules JD'16, a partner in the Margules Law Group in Fort Lauderdale, Fla., who represents clients in Major League Baseball and professional boxing.
"I went to Suffolk because of the alumni network," said Petrillo. "I wanted to learn how to make myself appealing to prospective employers."
She credited sports law professor Kristen Kuliga JD'94 with pointing her in the right direction. Kuliga was the first female agent to represent a pro football player—Doug Flutie. She also had her own company, K Sports & Entertainment, where Petrillo, among many other Suffolk Law students, worked as an intern.
"That experience taught me that working incredibly hard and being persistent are the best path to achieve your goals," said Petrillo. Kuliga's recommendation led to her being hired by the Red Sox.
Now that she has two World Series rings with her beloved Sox, Petrillo can offer students advice based on her own real-world experience.
"I tell them to think like a lawyer and a businessperson," she said. "I want them to look at things not only from a legal perspective, but from a practical one as well."