From an unconventional inauguration held under the dual clouds of a raging pandemic and an assault on the Capitol, to the possibility of a legislative agenda hampered by the impeachment trial of his predecessor, President-elect Joseph Biden will face unprecedented challenges during his first 100 days in office.
Suffolk University's Department of Political Science & Legal Studies, in collaboration with the Ford Hall Forum at Suffolk University and hosted by GBH's Forum Network, have launched No. 46: Examining the First 100 Days of the Biden Administration, a public speaker series and survey course focused on the most important developments in the early days of the Biden Administration. The series is free and open to the public.
Guest speakers over the spring semester will examine the ability of the 46th president and his team to contend with the many formidable challenges facing the country, including: domestic and international security, the coronavirus pandemic and vaccine program, civil unrest, economic recovery, systemic racism, and justice reform.
Each event will bring together students, policy experts, journalists and academics and the broader public – a unique approach designed to encourage dialogue and promote civic engagement.
"This series is a way to help make sense of a range of topics, policies, and questions," says Rachael Cobb, professor and chair of Suffolk University's Political Science & Legal Studies Department.
"We will examine Biden's major priorities: bolstering the economy, ending the pandemic, addressing climate change, and promoting racial justice. We will examine these topics from a variety of viewpoints, so that our students and our audience have a greater understanding of the extreme challenges and profound opportunities of governing at this vital moment in our nation's history," says Cobb.
The series builds on a successful pilot program from summer 2020, Politics in the Time of Global Pandemic, that welcomed the public to join incoming college students in the virtual Suffolk classroom to gain insight from scholars, practitioners of law, medicine, and government, and members of the media.
The spring series kicked off on January 13 with a look at the inauguration itself. During After an Unconventional Inauguration: What's Next for the Biden Presidency?, Jim Bendat, author of Democracy's Big Day: The Inauguration of Our President, 1789-2013, discussed inauguration norms throughout American history and how the 2021 event will break with tradition in important ways -- including the absence of involvement from President Donald Trump, who will be the first outgoing presidential "no-show" at the ceremony since 1869.
Presidential and congressional scholars Julia Azari and Elaine Kamarck talked with Joe Mathieu, anchor and executive editor of GBH's Morning Edition, about the policy priorities, challenges and opportunities on the horizon. While responding to questions from Suffolk students and viewers, the expert panel assessed President-elect Biden's ambitious promise to "build back better" in the wake of a year of pandemic, social unrest, a tanking economy, and a contentious transition.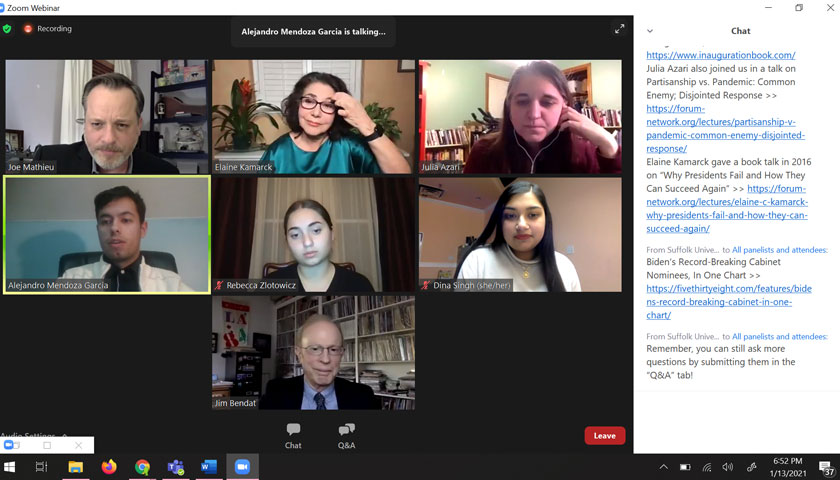 "We want participants to feel like they're part of an interactive conversation, rather than sitting in on an academic panel," says Political Science & Legal Studies Professor Christina Kulich. "Inviting the public to participate in those discussions with our students helps create a sorely needed civics connection. That's a really different thing than just putting up a webinar."
The partnership will help Suffolk, the Ford Hall Forum, and GBH further their organizational missions by providing public access to important information.
"Ford Hall Forum at Suffolk University has been bringing pressing issues and experts to the public for more than a century," says executive director Susan Spurlock. "Partnering with Political Science & Legal Studies faculty and GBH Forum Network to present these important lectures on a virtual platform widens our reach at a time when facilitating civic discourse is more important than ever."
Watch the recorded webinars