Focused and Fearless
One recent Suffolk alumna actually grew her business during COVID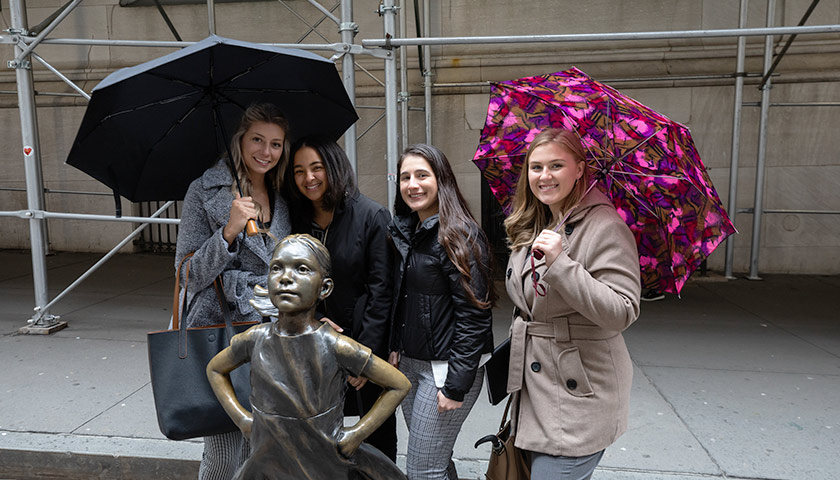 On March 3, 2020, Sydney Watson, BSBA '21, stood on the floor of the New York Stock Exchange, watching the closing bell ring and imagining a future in finance. Just two weeks later, she found herself hunkered down in one of the residence halls on campus, watching as COVID-19 forced Suffolk and colleges across the country to shift to fully remote operations.
Talk about a change of plans.
Watson was one of nine finance majors who had traveled to New York for a two-day trip to meet with numerous industry leaders, many of whom are Suffolk alumni. They went to Morgan Stanley, UBS, and RBC. They learned about Exchange Traded Funds. They even saw the famous sculptures of the Charging Bull and Fearless Girl.
"For me, Fearless Girl is a representation of women occupying a highly concentrated male space. It was particularly empowering for me as a Black woman to see a powerful female figure on Wall Street," says Watson, one of four women on the trip.
But then, as everyone knows, the world changed.

"It was hard," says Watson. "We just lost our routine."
But, much like Fearless Girl, Watson kept her focus. Every day she made a list of what she needed to do and stuck to it. She concentrated on her courses. And, drawing on her Suffolk experience, she used the extra time she suddenly had to expand her fledgling social media consulting business.
"I had done a few real-life consulting cases in different classes throughout my time at Suffolk," she says. "That helped me to gain insight on ways to approach client-specific issues and provide real solutions."
It went so well, in fact, that she helped one of her restaurateur clients increase sales by a whopping 300 percent over the course of 2020.
"He was suffering due to COVID, a lack of a social media presence, and no website," says Watson. "So I set him up with all the necessary tools he needed to get results."
That "just work the problem" approach was something Watson learned after moving to Jamaica from Milton, Massachusetts, at the age of 7. Her Boston-born mother and Jamaican-born father decided to give the family a change of scene for a year or so. Turns out they stayed for a decade, living in the fishing village of Whitehouse on the South Coast. During that time, Watson went to a private girls school in St. Elizabeth's parish, her mother sold real estate, and her father started a honey-making business.
"I thought moving there was the end of the world. We were the American kids and the spotlight was on us," says Watson. "But quickly we were able to fit in. I learned to speak patois. And now I would call Jamaica my home, more than Boston. It's where I grew into the person I am today."
Watson started her consulting gig in 2016, even before she enrolled at Suffolk. Since then, it has grown to include fashion designers, videographers, and villa rentals. She plans to officially launch the business later in 2021 now that she has graduated from the Business School. Because of the success with that COVID client, she says she sees the potential to help other businesses during troubled times.
"My Suffolk experience both in the classroom and outside of it has helped me learn how to tackle diverse problems," Watson says. "I think it's important to tailor services to clients, as their issues can't be fixed by a one-size-fits-all solution. Suffolk enabled me to see a snapshot of what the 'real' world is like."
Contact
Greg Gatlin
Office of Public Affairs
617-573-8428
Ben Hall
Office of Public Affairs
617-573-8092