Proud to Be First
With support from his faculty mentor and Suffolk's McNair Scholars Program, first-generation college student Esteban Marte, BS'20, is on his way to earning a Ph.D. in biology.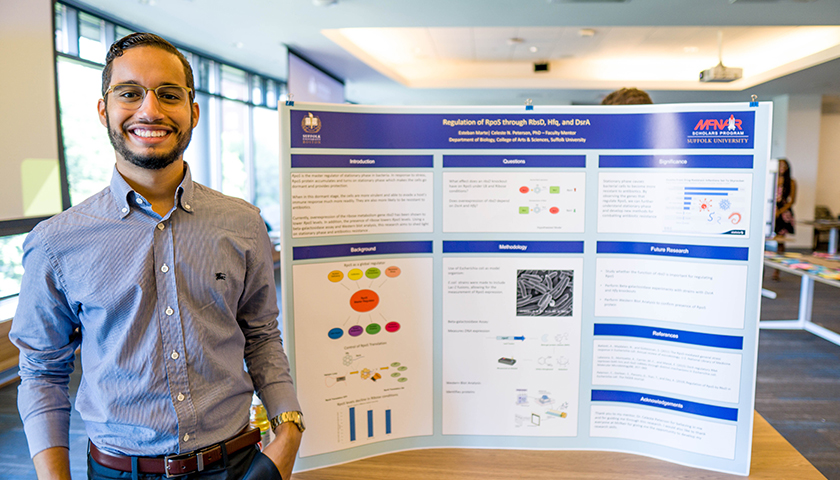 When Esteban Marte, BS'20, looks back on his early days at Suffolk, he remembers feeling cautious and unsure.
And no wonder. Marte, who was born in the Dominican Republic and moved to the U.S. as a young child, was a first-generation college student.
"I really didn't know what to expect," he says. "I definitely had no career plans."
Over the next four years, Marte not only made plans, he delivered on them. He developed a deep interest in molecular biology. He worked as a research assistant for his mentor, Biology Professor Celeste Peterson. And he applied and was accepted to a Ph.D. program in biology at Boston College, where he is now a first-year student.
Looking back, Marte credits his transformation to Peterson's support and to Suffolk's McNair Scholars Program, whose mission is to help low-income, first-generation, and underrepresented students prepare for doctoral degree programs.
"Suffolk provided me the opportunities to grow as a student and lifelong learner," he says.
Genetics class, sophomore year. That, says Marte, was the turning point, the moment when he decided "where I wanted my career to be headed."
"I saw right away that Esteban had this curiosity and excitement for science," says Professor Peterson. "He asked really good questions about the material, and he always wanted to learn more."
Peterson was so impressed that she invited Marte to join her research lab during the summer of 2019. He learned how to design experiments and analyze data, including on RpoS, a gene that codes for a protein that regulates stationary phases in bacteria, such as E.coli.
"Esteban proved himself in the lab with his self-motivation and perseverance," says Peterson. "If an experiment didn't work, he would go back and do it again until he got it right. That's the nature of science—it rarely goes perfect the first time."
Marte also took on a leadership role, training other students in the lab. "He really caught the science bug in a big way," notes Peterson.
Marte says he's grateful to Peterson for "showing me the ropes of what it is like to be a scientist," and for connecting him with the McNair Scholars Program, which he calls "the best program that I encountered in my four years at Suffolk. Without it, I would not be in the position I'm in right now."
Founded in memory of the late Challenger astronaut and laser physicist Dr. Ronald E. McNair, the McNair Scholars Program is a federally funded initiative designed to help first-generation and low-income students overcome the educational, financial, and social barriers that can make graduate school seems like an unattainable goal.
Students who qualify for Suffolk's McNair Scholars Program are invited to participate in significant research projects. They also receive guidance on identifying and applying to graduate programs; preparing for the GRE; identifying scholarship and fellowship opportunities; and securing letters of recommendation.
"In Esteban, I saw someone who was committed to making the most of an opportunity," says Abraham Peña-Talamantes, director of the Center for Academic Access & Opportunity, which oversees the program. "He was willing to sacrifice time with family and friends to position himself as a competitive candidate for our program."
Marte went on to become a McNair Ambassador, recruiting other students and promoting the program from a personal standpoint.
"His attitude was, 'If I can do it, you can do it, too," says Peña-Talamantes. "Esteban was definitely a success story of what our program embodies."
Marte says he's thankful that Suffolk provided him with the people and resources to excel and prepare him for the next chapter of his educational journey.
"In the end, it all paid off," he says. "I am excited to become a research scientist. I know it will be tough, but I feel ready to learn many more skills along the way to reach my goal."