Creating the Dream
Award winners build an inclusive university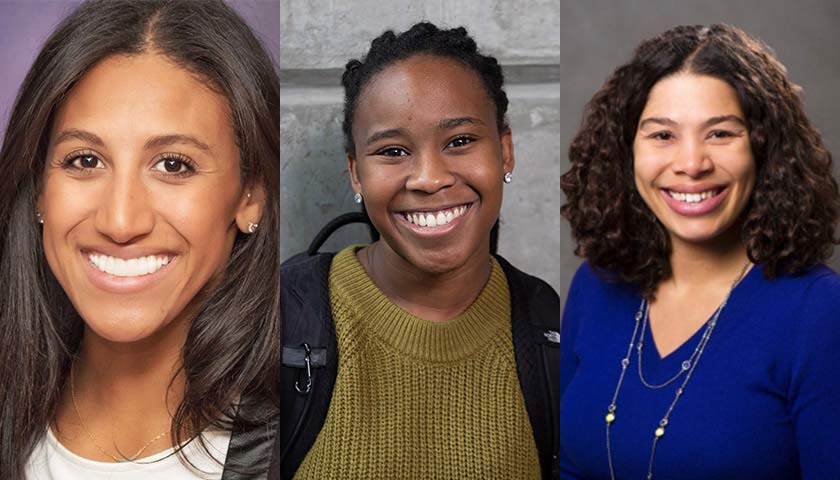 After a year like no other, Suffolk University's seventeenth annual Dr. Martin Luther King, Jr. Celebration and Creating the Dream Award ceremony inspired the University community to continue building diversity, equity, and inclusion on campus and beyond. Suffolk recognized Black Student Union president Mardochee Sylvestre, Class of 2021; 3L Law School student Alexis Soares, vice president of the Black Law Students Association (BLSA); and Natasha Torkelson, a Counseling, Health & Wellness (CHW) staff psychologist, for their outstanding efforts to create an inclusive, respectful, and safe environment for the University's communities of color.
The event, sponsored by the Center for Student Diversity & Inclusion, is typically held at the African Meeting House on Beacon Hill. This year's ceremony took place via Zoom due to the coronavirus pandemic. As in past years, it opened with the familiar strains of "Lift Every Voice and Sing," also known as the Black National Anthem, sung by members of Soulfully Versed. The evening's emcees, Avery Riggs, president of the BLSA, and Mardochee Sylvestre, introduced speakers including University Chaplain the Reverend Amy Fisher, and Suffolk President Marisa Kelly, who in turn announced the award recipients.
Keynote speaker Dr. Tamika Jacques, BS '97, was a perfect illustration of the purpose of diversity and inclusion in higher education. The motivational speaker and author, who has spent her career in college student enrichment programming as well as employment preparation and training, shared her experiences of growing up in a predominantly white town. Experiencing racial animus and threats there led her to seek out a college community that looked and felt more like her and her family—Suffolk University.
Now calling herself "a daughter of Suffolk," Dr. Jacques credits the University with helping her find her voice and the courage to speak out against injustice.
"I'm no longer afraid to have discussions with people about why they don't have women in leadership positions," she said, "why they don't have a person of color in their company. I'm no longer afraid to talk about George Floyd in my workplace, or police brutality." Discussions like this are key, she said, to creating and maintaining a just society.
A "Force for Good at Suffolk Law"
Law student Alexis Soares stands out both for her campus leadership, as president of the Moot Court Honor Board and Suffolk Law's Journal of Trial & Appellate Advocacy, and her impact on the larger community through teaching in the Boston Public Schools as a Marshall-Brennan fellow. Nominators called her a "force for good at Suffolk Law."
"I am extremely honored to have received this award," Soares said. "While the legal profession continues to address issues of diversity and inclusivity, I am proud to be a part of Suffolk Law, where we are setting the example in the Boston legal community." She credits Suffolk Law faculty and leadership with making her feel "supported, heard, and empowered to promote the successes of students of color."
Putting into the World What She Wishes to See
Boundless energy and enthusiasm for the community have allowed Mardochee Sylvestre, a senior majoring in sociology, to pack four years' worth of student involvement into four years of academic achievement. Serving the University community as a leader in the BSU and the Caribbean Student Network, Sylvestre was honored for her "constant and unwavering" advocacy for her fellow students of color. President Kelly lauded her bold engagement with issues of racial injustice and social unrest by bringing students together for conversations and programs on these topics. Nominators said of Sylvestre, "She embodies the best of Suffolk while continually looking to create change and growth."
In the selfless spirit of a true leader, Sylvestre accepted the award by crediting the support of her Suffolk peers who set an inspiring example by helping others. Of her own efforts and accomplishments, she said simply, "We should put into the world what we wish to see. For me, it's love—doing things with generosity, compassion, and love."
Epitomizing the Award
Psychologist Natasha Torkelson of CHW has built a career on supporting the unique mental health needs of students of color. From training CHW staff to meet the needs of a multicultural student body, to leading diversity and racial justice initiatives such as Coping with Racial Trauma (a group she organized) and the Racial Equity and Justice Institute, Torkelson has helped ensure that Suffolk University makes good on its promises of access and opportunity for all. "Natasha epitomizes everything this award aims to recognize," said President Kelly.
Saying she was surprised and humbled to be recognized, Torkelson explained that she is continually motivated by her own experience as a student of color when counseling diverse students today. She said she was proud to work at a university "that recognizes it's important that we not be silent or complacent right now, and that as a school community we speak out against the oppression and inequity happening in our society."
Never 'Cool Off'
Focusing her closing keynote remarks on Dr. Martin Luther King, Jr. and his "I Have a Dream" speech at the 1963 civil rights March on Washington, Tamika Jacques drew parallels between that time and now. She emphasized how Dr. King remained hopeful for the future even during a time of racial unrest and injustice, while he also warned against complacency in the wake of progress—as he put it, "the luxury of cooling off." Dr. Jacques urged the audience never to cool off in the continuing quest for racial equality and justice, especially following watershed moments like the election of Barack Obama as president or Kamala Harris as vice president.
"There are many changes that have happened," she noted. "We have had many advancements. But my challenge to you is to keep hoping. Do not sit back, do not say to yourself, 'I'm just one person, I cannot make a difference.' What are you doing to empower and inspire the people around you?"
Alexis Soares, Mardochee Sylvestre, and Natasha Torkelson have answered that challenge compellingly. Thanks to their efforts—and those of the Creating the Dream Award winners before them—Suffolk will never lack for examples of leadership in the quest for racial equity, justice, and inclusion.