The Show Must Go On
COVID didn't mean curtains for Suffolk theater students, who used Zoom to perform scenes for a Pulitzer Prize-winning playwright and other theater luminaries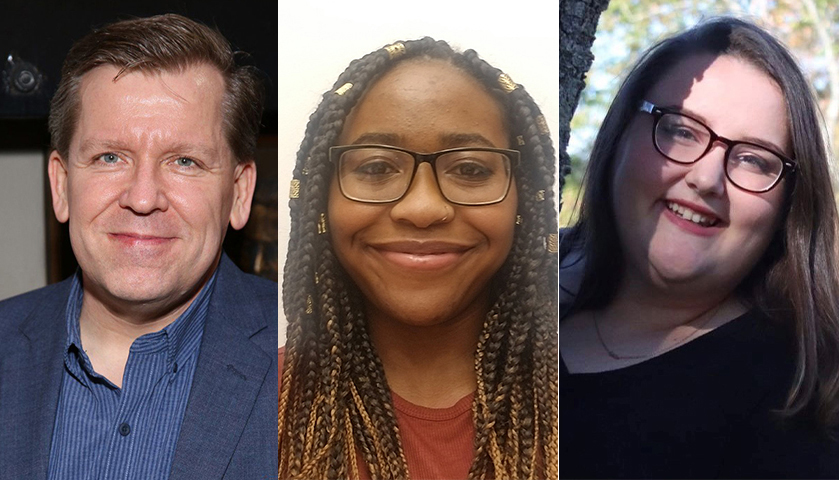 When Suffolk moved to remote classes after Thanksgiving, Pulitzer Prize-winning playwright David Lindsay-Abaire (left) was one of several Zoom "guest stars" who did scene work with theater students, including Kayla Sessoms (center) and Bethany Cabral.
No pressure.
All theatre major Kayla Sessoms, Class of 2024, had to do was perform a scene from Love Song—an offbeat romantic comedy that was nominated for an Olivier Award when it was produced in London's West End—for the man who wrote it, playwright John Kolvenbach. And for Broadway actor Ian Barford, a longtime member of the Steppenwolf Theatre company who was nominated for a Tony Award in 2017.
"I was really nervous," she said.
But not for long. Just prior to her big moment, Sessoms recalled a key lesson she learned about the importance of "confidence and connection" from Assistant Professor Laura Shink in her Introduction to Acting class.
"She told us you have to be confident in the story you are trying to tell," she said. "And that you need to connect with your character first and then with your scene partner. That will drive the emotion."
With Shink's advice, Sessoms turned in a strong performance that connected well with her audience. Kolvenbach was "very encouraging," she said, "while Ian Barford told me he was crying behind the camera."
Home Theater
For most of the fall 2020 semester, Shink held her Introduction to Acting classes inside the university's Modern Theatre, a landmark, 185-seat venue located in the heart of Boston's theater district. That changed, however, when Suffolk shifted to virtual learning after Thanksgiving. Sessoms and her classmates now had to develop their skills in a completely different environment—at home instead of onstage.
Fortunately, Shink's 20 years in the theater have taught her how to pivot quickly. An award-winning actress who has performed with major theater companies across the country, including New York's New Dramatists and Boston's Huntington Theatre, Shink reached out to colleagues and asked them to conduct Zoom workshops with her students.
In addition to Kolvenbach and Barford, she recruited Irish playwright Ronan Noone and Boston native David Lindsay-Abaire, who won the Pulitzer Prize for Drama for his play Rabbit Hole.
Students performed scenes they were working on in class for the playwrights, and asked questions about their writing process. "This was such an exciting opportunity," said Shink. "It's rare that an actor gets to interact with the writer of the play they are working on."
Sessoms soaked it all up. "I learned how many steps it takes to write and produce a good show," she said. "It gave me the motivation and drive to potentially write my own play."
Bethany Cabral, Class of 2024, performed a scene from Lindsay-Abaire's Rabbit Hole. The play, which is by turns comic and tragic, explores how family members survive a major loss.
In her Zoom conversation with Lindsay-Abaire, Cabral learned the play was "based on a family friend," and that he deliberately included an author's note cautioning actors not to make the play "any sadder than it needs to be," and to "avoid sentimentality and histrionics at all cost."
"Interacting with the playwrights taught me it's not as simple as writing something and that's it," said Cabral. "It's a process that involves a lot of time spent coming up with different ideas and editing to tell your story."
"This was such an exciting opportunity for our students. It's rare that an actor gets to interact with the writer of the play they are working on."
Laura Shink
Assistant Professor of Theatre
Kennedy Center Honors
Last month, Cabral and Sessoms had parts in To Gather Apart, the Suffolk Theatre Department's online drama production about creating relationships in a virtual world. The play was selected for the Kennedy Center American College Theatre Festival.
Performing in the online festival was a wonderful opportunity for both theatre majors, who hope to become professional actors one day. So, they add, was Professor Shink's course.
"The class was a combination of fun exercises and applied practice to prepare you for future performances," said Cabral. "It helped me to become more confident in myself—on and off stage."
"Professor Shink encouraged us to be open, be goofy, and just be ourselves," said Sessoms. "And not to be afraid to make mistakes because it's all part of learning."