Bringing His Dream to the Team
How his EMBA cohort helped this graduate start his own sports agency
In the Executive MBA program, every student is asked to pitch a business idea to the rest of their cohort. For some, it's an exercise in coming up with concepts that, while interesting, probably won't go anywhere. For others, it's a chance to road test real ventures they already have in mind for the future. For Alex Zapata, EMBA '17, the idea was to start a sports marketing agency. When he first started his program he wasn't sure it would work. But the idea stuck with him, and he decided to make it his capstone project.
"The capstone is the culmination of an EMBA student's journey to their degree," says Tammy MacLean, director of the Center for Executive Education. "Alex's idea for a sports agency was exciting and innovative, and the other students were excited to jump in with feedback and ideas to help him strengthen it."
The genesis of Zapata's idea came when, as a twelve-year old, he saw the first sports contract that then-rookie Alex Rodriguez had with the Texas Rangers. It was an "a-ha!" moment, when Zapata realized how important it would be for players to have strong, impartial advice when it came to making financial decisions with endorsements or post-career planning.
As Zapata quickly learned, having a good idea is a lot easier than turning it into a legitimate business.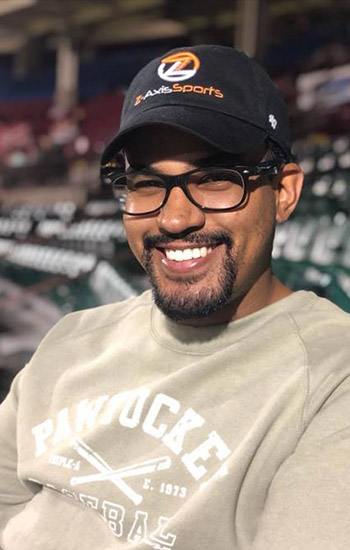 Perfecting his pitch
"That pitch process to my class really opened my eyes," he says. "I had a good business concept, but there were a lot of holes I needed to patch. If not for the questions and pushback I got from everyone, I might have gone into the business world, and it would have hurt me financially."
Fast forward four years, and Zapata has fulfilled his dream: Z-Axis Sports provides advocacy, legal services, contract negotiation, and financial planning guidance to more than 24 professional athletes, most of them in baseball and soccer. Zapata has also ventured into other nontraditional sports like breakdancing, which will be an official sport for the first time at the 2024 Olympics. "I saw an opportunity to help these athlete/performers market themselves," says Zapata.
For Maclean, Zapata is a textbook example of the strength of the Business School's model. "It's so exciting to see a student like Alex develop an idea through collaboration with his professors and his EMBA cohort, bring it to fruition and turn it into a thriving, successful business," she says.
Zapata is quick to acknowledge the value of the cohort experience and the impact it had on his success.
"The class was a consulting firm for me," he says. "I was able to get genuine, neutral feedback from my peers and develop it into something special."
Contact
Greg Gatlin
Office of Public Affairs
617-573-8428
Ben Hall
Office of Public Affairs
617-573-8092