The Importance of the Presentation
First-year students finish the semester presenting their business ideas to real, live clients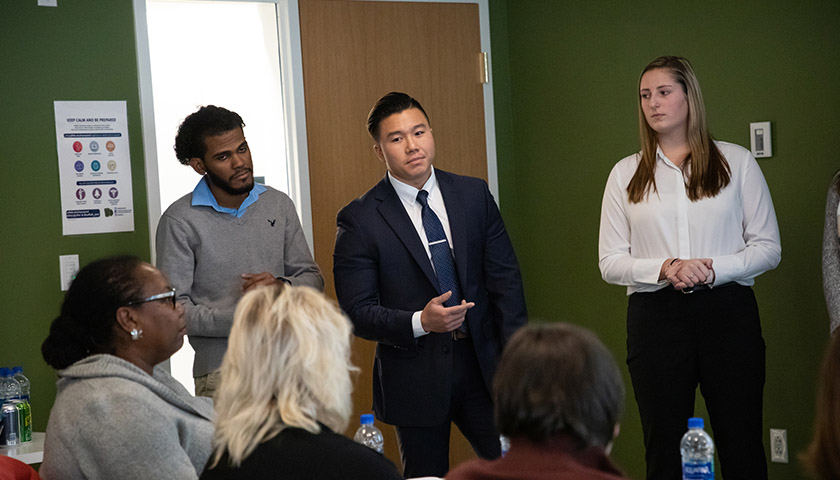 Many Sawyer Business School students say it's one of the most influential experiences they have at Suffolk—and, interestingly, it happens in their first year, often just a few months after graduating high school.
It's the live executive presentation that that all first-year Business School students make at the end of their required Business Foundations course. Known as "SBS 101," the course introduces students to fundamental business concepts they'll explore further in their majors. Students learn a little bit of finance, a little bit of operations, a little bit of management leadership, and, most importantly, how to present to a client.
And that end-of-semester presentation has real resonance. Part of that is because it's worth 25 percent of the grade. But mostly it's because students have to present to clients they've never met before for up to 12 minutes—and then answer questions about their findings.
"Three months into their college careers and these students are getting an audience with C-suite clients," says Joanna Trainor, associate director for Suffolk's Center for Entrepreneurship. "For many of them, it's the first business presentation they've ever done."
The "clients" are actually a mix of Business School alumni and friends, executives who work in a variety of fields in Boston and across the country. They understand how important it is for students to participate in a real-life presentation situation, and they ask the kinds of tough questions a real client would. Joelle Denham, CFO at commercial real estate firm Bulfinch, has helped with SBS 101 for five years.
"Presenting in front of executives is a huge step for these first-year students," she says. "It's a great opportunity that Suffolk gives them. And every year, the students seem to get better and better."
Mulling Over Malls
For the fall 2020 course, students came up with ideas on how international real estate company Simon Property Group could drive foot traffic into their malls once the pandemic is over. They looked at the company's financials, used databases to figure out trends and statistics, and then identified a problem and developed a solution.
Presentations included putting gyms or life-science companies in the malls, or installing Amazon lockers. Another group came up with a store-to-store rewards program.
Isabelle Slocum, Class of 2024, says the Zoom presentation was hard but rewarding. "It was very nerve-wracking to present to a real client," she says. "Going off script and answering questions was tough. But I appreciate the real-world experience it gave us."
One big benefit of the course is being able to connect students with Business School alumni.
"It's really important for the students to start building their networks," says course co-coordinator George Moker, director of the Center for Entrepreneurship. "So many of our students find internships and so many of our graduates find jobs thanks to Suffolk alumni." Moker, who's a Suffolk alumnus himself, has hired 18 graduates over the years.
Trainor agrees that SBS 101 is a great resource for both the students and the alumni. "If any of our clients want to hire these students, that's an A+ for the course," she says.
Contact
Greg Gatlin
Office of Public Affairs
617-573-8428
Ben Hall
Office of Public Affairs
617-573-8092