'Give Because Suffolk Gave to You'
New England Patriots Captain Devin McCourty stresses the importance of giving back on Suffolk's April 29 Day of Giving.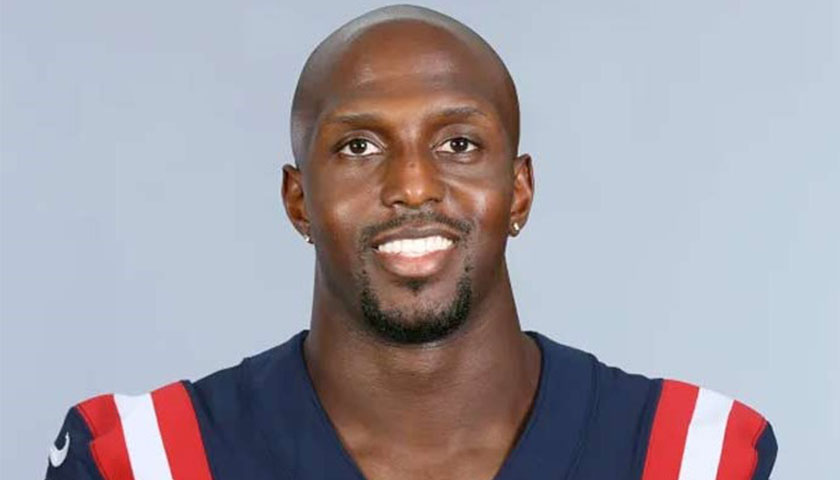 Captain of the New England Patriots. Three-time Super Bowl champion. Two-time Pro Bowl selection.
While Devin McCourty has enjoyed much success during his 11-year career in the National Football League, he's just as proud of what he has accomplished off the field by giving back to the community.
McCourty shared his commitment to philanthropy and service during a one-on-one interview with Jacob Tobey, BA '18, weekend sports anchor at 9 NEWS in Denver, Colorado. The virtual event was part of Suffolk's annual Spring Week activities, leading up to the University's Day of Giving on April 29.
"Give to Suffolk because Suffolk gave to you," McCourty said. "Pay it forward for the next students. Boston and New England are home to so many kids who are the first [college] graduates in their families, kids for whom English is a second language, kids who have been through a lot and will benefit from your gift. So go out there and win Day of Giving."
McCourty, and his twin brother, Jason, a fellow NFL player and member of the 2018 Patriots Super Bowl team, have tackled a variety of important causes, including sickle cell anemia, criminal justice reform, and funding for public education.
Many of their efforts are directed at young people. "I always try to instill in them the importance of finding their path in life and whatever they're passionate about, choosing their friends wisely, and to keep deciding what success looks like," he said.
McCourty praised alumni donors Michael Smith, BSBA '61, his brother, Larry Smith, BSBA '65, and Leonard Samia, BSBA '69, for their remarkable commitment and generosity over the years to the Suffolk community, including University athletics.
"To see their work paying it forward is awesome, because it inspires other people," said McCourty.
McCourty hopes that once he hangs up his helmet, people will remember him more for his charitable work than what he achieved on the gridiron. "It's what I'm about and I'm proud of that," he said. "That's how my mother raised me and what's important to me, and I'm very fortunate football gave me that platform."
Talking Football
Download video transcript [PDF]
When it came time to talk football, McCourty discussed The Patriot Way; the recent retirements of teammates Patrick Chung and Julian Edelman; Coach Bill Belichick; new quarterback Cam Newton; and, of course, the GOAT himself, Tom Brady.
"He's a guy when he walks into a locker room, automatically you have a chance to win a Super Bowl," he said of Brady, who helped the Tampa Bay Buccaneers clinch the 2021 Lombardi Trophy. "I think he showcased that this year, and it was special to watch."
In his closing remarks, McCourty praised the Suffolk Classes of 2020 and 2021 for overcoming the challenges of learning during a global pandemic, saying that what they experienced will make them stronger and "huge difference-makers in society."
"You guys are made of steel and should be proud," he said. "Keep blazing your own path, take advice from as many people as possible, build networks, and know that you've been through a tough time.
"Sometimes we don't realize that going through something tough is our blessing," he said. "It gives us the confidence, perseverance, and endurance to know that going forward nothing can defeat us."