Before You Reach for the Stars, 'Go for a Walk'
Justice Serge Georges Jr. urged Suffolk Law grads to pause and take stock of what they care most about, "not in the law, but in life"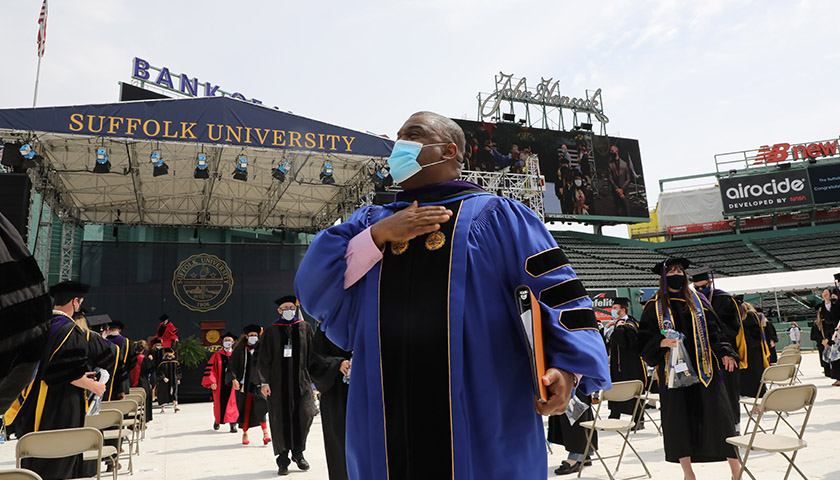 In his remarks to the Suffolk University Law School Class of 2021, the Hon. Serge Georges Jr. — an associate justice of the Massachusetts Supreme Judicial Court (SJC), as well as a Suffolk Law alumnus and adjunct faculty member — gave the graduates one final assignment.
"I am going to ask you to do something very different tomorrow morning, something that is in no textbook, no alumni website, and no job application," Georges said. "I am going to ask you to go for a walk."
For graduates who have lived through COVID-19, he said, the urge to make up for lost time will be strong. "I understand why taking any job right now sounds like a good thing. You are feeling restricted by the pandemic, the job market, the economy. You may think you should grasp at anything you can get."
For their own good, and the larger good of society, Georges urged students to pause and take stock of what they care most about, "not in the law, but in life" — and then pursue it with all their might.
"Grasp your own causes, and use this incredible, all-encompassing legal system of ours to make this world a better place," he said.
Download video transcript [PDF]
Find work you can do with 'ironclad conviction'
Georges, who was unanimously confirmed to the SJC last fall following a distinguished career on the Boston Municipal Court and the Dorchester Drug Court, was awarded an honorary Doctor of Laws at the ceremony — the first of three Suffolk commencements held at Fenway Park on Saturday, May 22, as part of a weekend-long celebration of Suffolk's Classes of 2020 and 2021.
Georges recounted how his path to the bench began with a walk.
The son of Haitian immigrants who grew up in Dorchester, he had worked tirelessly throughout college, law school, and the early years of private practice. When a close friend offered him a lucrative recruiting job, he jumped. Within six months, he realized no one could pay him enough to do work he didn't truly care about.
"I was miserable," he said, "so I stopped. I jumped off the treadmill and went for a walk." He returned to the practice of law with a renewed sense of purpose, and "now I am doing something I love passionately and with ironclad conviction."
'You have made this University proud'
Suffolk University President Marisa J. Kelly praised the law school's 357 graduates for their resilience and resolve.
"Despite the very real challenges of the pandemic," Kelly said, "you were undeterred in pursuing your academic goals. You have also been part of a national reckoning on racial injustice and systemic racism. You have harnessed the power of innovation to address issues of access, injustice, and inequity in our communities."
She noted that over the course of this academic year, Suffolk Law clinic students logged an estimated 37,000 hours of pro bono legal services worth about $4.6 million dollars, representing domestic violence survivors, child refugees, and an immigrant-led worker cooperative, among many others.
"In the face of incredibly challenging circumstances," Kelly said, "you have made this University proud."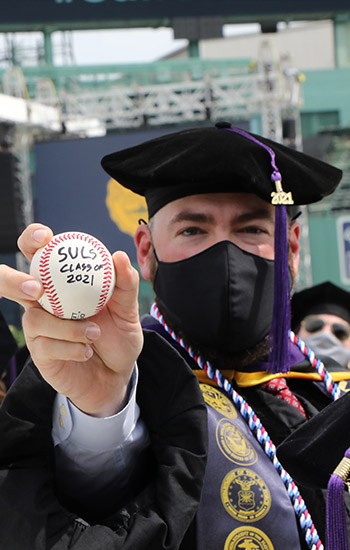 'Walk forward with open hands'
Tracy Bindel, the Suffolk University Law School student speaker said that finishing law school during a pandemic taught her that "we never really know how anything will unfold, but we must walk forward with open hands."
A first-generation law student, Bindel said that her journey to law school began in 2015 when her cousin was arrested for drug-related crimes. "I stand here today as someone whose family has been impacted by police violence and the prison system," she said. She decided to attend Suffolk so that she could "advocate with compassion and care for people like my own family as they navigated the court system."
While she and her classmates traveled different paths to Suffolk, once there they found a community that nurtured them professionally and personally, particularly during the pandemic.
"The compassion and character of this law school stands out to me," Bindel said. "We have been cared for and supported by faculty, staff, administrators and each other every day. We have learned how important each other really are, when so much has been stripped away. And we have seen clearly just how much the future of the justice system depends on our ability to innovate and grow to ensure that people have access to the judicial process they were promised."
Download video transcript [PDF]
About Justice Serge Georges Jr.
An associate justice of the Massachusetts Supreme Judicial Court (SJC), Serge Georges Jr., JD'96, has earned a reputation not only for legal brilliance, but also for the humanity he brings to his work as both a jurist and as an adjunct law professor at Suffolk University Law School, his alma mater.
When Governor Charlie Baker nominated Georges to the high court last fall, he noted that many lawyers considered him "their favorite judge — not because he gives them the answer they want, but because he knows the law, does his homework, and treats everyone in his courtroom with dignity and respect."
In addition to being only the fourth Black person ever to serve on the 328-year-old SJC, Georges is one of the few justices ever nominated to the high court from the district court level. The governor said that Georges' "real-world experience on the District Court will improve the quality of the discussion and debate, and ultimately, the quality of the decisions that will be rendered."
Commencement 2021
The Suffolk University Law School Class of 2021 is made up of 357 new alumni. The ceremony is one of three Suffolk commencements that were held on Saturday, May 22, at Fenway Park.
The University conferred a total of 4,017 undergraduate and advanced degrees during six weekend ceremonies celebrating the Classes of 2020 and 2021.
More from Suffolk Law 2021 Commencement
Text of Speeches
The Honorable Serge Georges, Jr., JD'96 [PDF], Associate Justice, Massachusetts Supreme Judicial Court (SJC), Keynote Speech
Tracy Bindel, JD'21 [PDF], Student Speaker