'You have lived through history. Now you have the chance to change history'
Google Chief Health Officer Dr. Karen DeSalvo urges Suffolk grads to make the very most of the powerful lessons the pandemic has taught them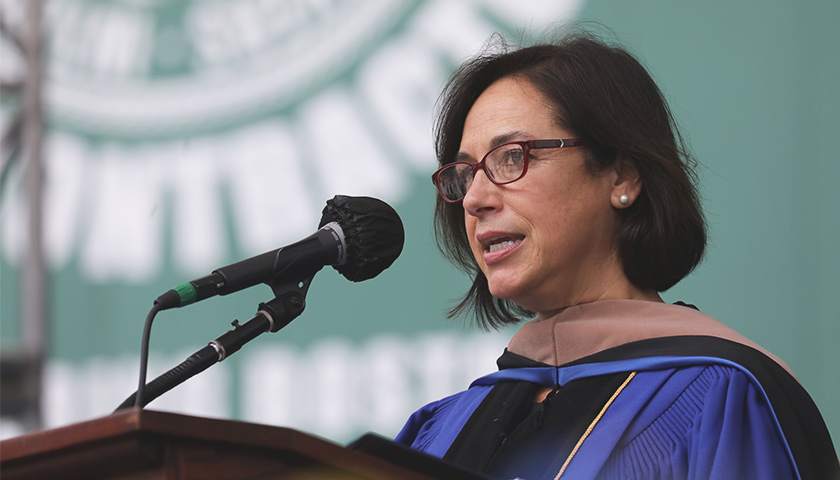 In her keynote speech to Suffolk University's Sawyer Business School Class of 2021, Dr. Karen DeSalvo, Google's first-ever chief health officer, urged graduates to make the very most of the powerful lessons the pandemic has taught them.
"The one thing I have learned in life is that even the most catastrophic disruption can bring opportunity," said DeSalvo, who previously served as New Orleans Health Commissioner in the wake of Hurricane Katrina. "The opportunity to make lasting and meaningful change – change that can improve the quality of life for everyone."
Not only has COVID-19 made everyone "amateur epidemiologists," she said, "it's pulled back the curtain on a host of inequities in our health, social, and financial systems – inequities that warrant systematic improvements."
She told the graduates, "As you grow into leaders, you will have opportunities to close the gap between the haves and have nots, and raise the mean for all."
Download video transcript [PDF]
Lessons from Katrina
DeSalvo, who is a Suffolk alumna, received the honorary degree Doctor of Commercial Science at the Sawyer Business School ceremony, one of three Suffolk commencements held at Fenway Park on Saturday, May 22 – part of a weekend-long celebration of Suffolk's Classes of 2020 and 2021.
DeSalvo said Hurricane Katrina gave New Orleans the opportunity not only to repair its health care system, but to reimagine it and make it work harder for all communities.
"That's when I first saw the power of taking a crisis moment – like Katrina or COVID-19 – and turning it into a lasting movement for change,"she said.
While the pandemic has presented countless crises, she said, in such moments "everyone comes together to solve big problems. The pace of innovation quickens, and people, communities, and businesses work together with a shared vision and mutual resolve."
She has seen that play out at Google, which has invested nearly a billion dollars to help end the pandemic, and formed partnerships with major medical institutions, health care systems, and public health entities around the world.
"We're currently very focused on COVID-19 vaccinations, using tools such as ad grants and direct funding to community-based organizations to help high-risk populations get vaccinated," she said. "It's been a meaningful time for me doing this work."
'Suffolk was the perfect school for me'
DeSalvo also spoke about growing up below the poverty level in Austin, Texas, and being raised by a single mother who instilled in her the idea that education was the ticket out of poverty. DeSalvo took that to heart and, knowing she wanted to be a doctor, came to Boston – on her first plane flight ever – and ended up enrolling at Suffolk University at the recommendation of a friend.
"Suffolk was the perfect school for me," she said. Knowing she was working her way through school, faculty gave her the flexibility that allowed her to thrive in her biology and political science courses. It also taught her to appreciate the intercultural experience of meeting new people from around the world, as well as the importance of "engaged citizenship."
"Suffolk is a place where students with modest roots and remarkable potential can reach for the stars," she said.
'You have made this university proud'
Suffolk University President Marisa J. Kelly lauded graduates for their resilience in pivoting to remote learning and figuring out how to navigate the new unknowns of a pandemic.
"Working remotely alongside peers, professors, and mentors, and often in teams, you continued to embrace Suffolk's experiential approach to education," she said. "You took on innovative course projects and consulted with businesses and non-profit organizations via Zoom. You helped re-envision how campus organizations, activities, and internships could work remotely. You dove into those activities, always finding new ways to make connections."
Kelly also praised graduates for continuing to give back to the community during the past year through tutoring and mentoring, and for joining the national reckoning on racial injustice and inequity. "You have been activist and actively anti-racist, and you are making a difference," she said.
'We are celebrating obtaining our degrees, but more importantly, we are celebrating greatness.'
Sawyer Business School graduate student Commencement speaker Jennifer Barthelemy, who received her Master of Public Administration, spoke about how, even in a year of loss, the Class of 2021 hasn't lost its greatness. She also exhorted her classmates to commit to what she calls 'purposeful power walking.'
'Commit to intentionally walking in the power each of us possesses each day,' she said. 'Purposeful power walking is a journey of intention, purpose, and power that is filled with destinations of greatness.'
Download video transcript [PDF]
Undergraduate student Commencement speaker Alessandra Kambundo, who received her Bachelor of Science in Business Administration, talked about the challenges of coming to Boston from her home country of Angola. She also saluted her fellow graduates, naming them the "best generation ever," one that "believes in themselves and the power of changing the world."
Download video transcript [PDF]
About Dr. Karen DeSalvo
Dr. Karen DeSalvo, BA'88, HDHL'10, is a nationally recognized health policy leader working at the intersection of medicine, public health, and information technology to improve the health of people and their communities.
In December 2019, DeSalvo was appointed Google's first chief health officer, and she has devoted her first year to the COVID-19 pandemic, providing quality information to consumers and partnering with public health authorities to help end the disease.
Previously, as New Orleans Health Commissioner, she helped lead the effort to re-engineer health care in Louisiana following Hurricane Katrina. She later served as acting assistant secretary for health at the U.S. Department of Health and Human Services during the Obama administration, and as the national coordinator for Health Information Technology.
DeSalvo received a BA in biology and political science from Suffolk University. She earned both MD and MPH degrees from Tulane School of Medicine, where she later served as a professor and vice dean. She also holds a degree in clinical epidemiology from Harvard. In 2010, Suffolk awarded her an honorary doctorate of humane letters.
Commencement 2021
The Sawyer Business School Class of 2021 comprises 971 new alumni, with 530 undergraduate and 441 graduate degrees awarded.
The ceremony was one of three Suffolk commencements held on Saturday, May 22, at Fenway Park.
The University conferred a total of 4,017 undergraduate and advanced degrees during six weekend ceremonies celebrating the Classes of 2020 and 2021.
More from Sawyer Business School 2021 Commencement
Text of Speeches
Dr. Karen DeSalvo 2021, BA'88, HDHL'10 [PDF], Chief Health Officer, Google, Keynote Speech
Jennifer Barthelmy, MPA '21 [PDF], Graduate Student Speaker
Alessandra Kambundo, BSBA '21 [PDF], Undergraduate Student Speaker