'We Can Either Give Up on Institutions That Betray Our Values, Or We Can Seek to Repair Them'
Former Washington Post editor Martin (Marty) Baron called on College of Arts & Sciences grads to strengthen the institutions that allow society to endure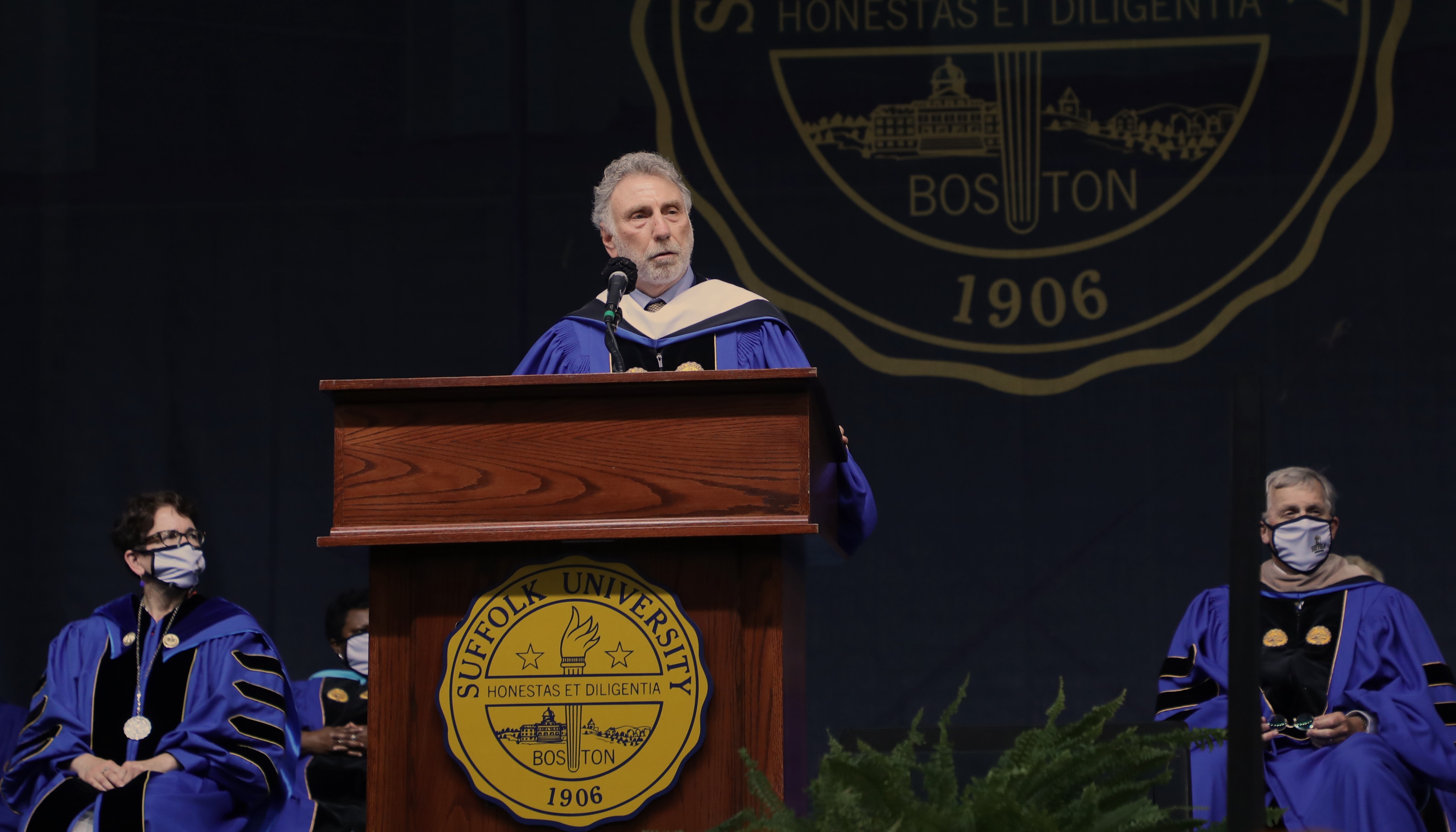 In the Media
The Washington Post: "The 2021 college commencement speech for our times"
The Boston Globe: "Former Globe, Washington Post editor Martin Baron tells Suffolk graduates to 'find purpose beyond yourselves'"
Martin (Marty) Baron, the recently retired executive editor of The Washington Post and former editor of The Boston Globe, called on Suffolk University graduates to look beyond their own personal desires and brands to serve and strengthen the institutions that allow society to endure – even when those institutions, such as the government or justice system, disappoint.
"We can either give up on institutions that betray our values, or we can seek to repair them. I urge you to take the latter course. Repair them," said Baron in his keynote speech to Suffolk's College of Arts & Sciences graduates.
Baron, who over the course of his 45-year career in journalism has worked for and then led some of the nation's top newspapers, received the honorary degree Doctor of Humane Letters at the College ceremony, one of three Suffolk commencements held at Fenway Park on Saturday, May 22 – part of a weekend-long celebration of Suffolk's Classes of 2020 and 2021.
His speech drew on lessons learned from decades of experience "holding power to account" while working with newsroom colleagues to expose the corruption, abuse and misdeeds of public and private institutions, from the presidency to the Catholic Church.
Download video transcript [PDF]
'The power to accomplish what none of us could do alone'
Baron recalled the sense of responsibility he and his colleagues felt to uphold the standards of their newspaper as they used their individual skills to advance a shared goal of informing the public.
"We worked together in pursuit of a purpose greater than ourselves. And in that way, we gained power – the power to accomplish what none of us could do alone."
While acknowledging declining public trust in institutions, Baron explained how the resources of strong institutions can be wielded for good. He cited The Boston Globe's power to "launch months of investigations" and "fight the [Catholic] Church in court for internal documents" so that reporters could bring decades of child abuse to light in a Pulitzer Prize-winning series of reports.
He also spoke about how the support of The Washington Post and other strong news outlets enabled the press to do its job despite constant attacks over the last four years.
"We were called garbage, scum, fake news, the lowest form of humanity, enemies of the people, traitors to the country. We were subjected to endless acts of intimidation," said Baron.
"We were targets for no reason other than that we did the work the First Amendment calls upon us to do," he continued. "We exposed what a president wanted to conceal, including abuses of power. We pointed to a pattern of deceit. And we would never yield to a president's bullying insistence on servility and sycophancy."
Baron said that he and his team "were able to withstand this unprecedented assault on a free and independent press because The Washington Post was a strong institution. It had a heritage of practicing journalism of courage and credibility. All of us in that newsroom adhered to common values. They motivated us to get the truth and tell it."
'Find purpose beyond yourselves'
As he looked back on the role strong institutions played in his success, Baron urged Suffolk students to find ways to use their unique talents to serve the greater good.
He noted that in recent years "we have been left with weakened institutions" as "the truth suffered. Verifiable facts were denied. Expertise, experience, education and evidence were devalued or outright dismissed. Misinformation and disinformation flourished. A huge portion of the public was deceived and radicalized. Our democracy was pushed to the brink."
To combat this erosion of public trust and common ground, Baron encouraged each graduate to choose their own institution and "make it more responsive. Make it more just. Make it more equitable. Make it more inclusive. Make it more creative. Make it better. Build it up."
"Find purpose beyond yourselves," he urged toward the end of his speech. "I hope and trust you will. Do it in your church. Do it in a school. Or in a business. Or in a hospital. Or in government. Or for a charitable cause. Maybe even in journalism. You will enrich the lives of others, and you will find your own life enriched as well.""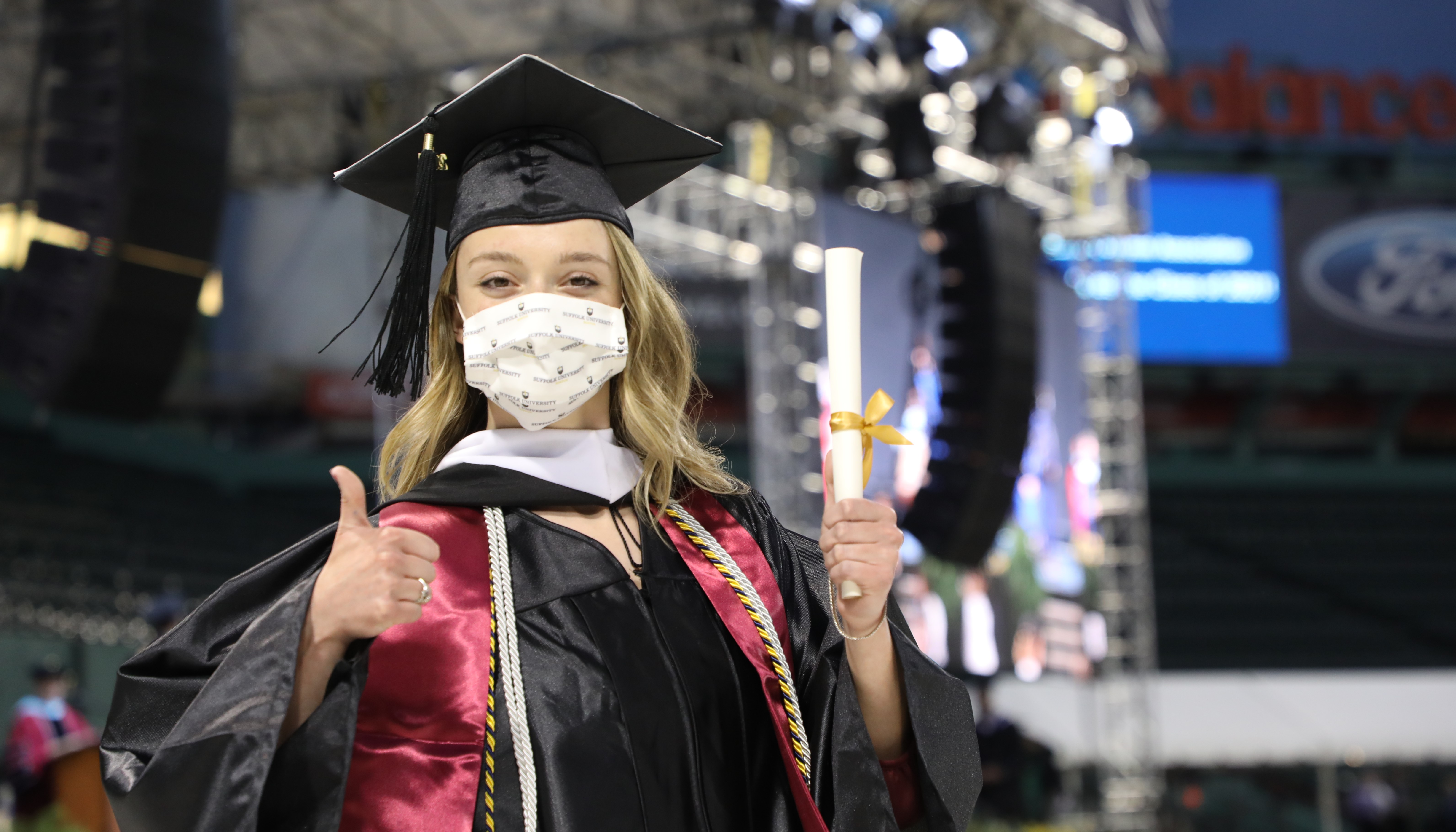 'When tested with enormous challenges, you have stepped up and succeeded'
Suffolk University President Marisa J. Kelly lauded graduates for their adaptability, drive and activism as they faced the simultaneous crises of the COVID-19 pandemic and the country's reckoning with racial injustice.
Kelly recalled with sadness the message she had to write in March of 2020, informing students who were then on spring break that in-person operations were being suspended on campus due to the worsening pandemic – and spoke with pride about how they stepped up to help their communities and continued to pursue their own studies and passions.
"You pivoted nimbly and admirably. You connected virtually with each other and with supportive faculty and staff. We were struck by your resilience, your adaptability and your perseverance. It was not easy, but you faced challenges head on," she said.
Students have played a vital role in helping to lead "important and sometimes uncomfortable conversations within this University and beyond" on race, equity and injustice, said Kelly.
"You have been activist and actively anti-racist, and you are making a difference. As we continue to work toward a more just and equitable society, and as we emerge from the pandemic, our communities need you now more than ever," said Kelly. "And I have every confidence that you will be an important part of the solution. I am confident because you have already been doing it. When tested with enormous challenges, you have stepped up and succeeded."
'We formed a new kind of community that only hardship can bring'
College of Arts & Sciences student Commencement speaker Sophie Mailhot, who received her undergraduate degree in interior design, spoke about finding a sense of belonging at Suffolk – before and during the pandemic.
"When COVID-19 forced life as we knew it to take a pause, we as students kept going. For some, it meant unlearning everything that was familiar," said Mailhot.
"We have transformed our learning styles and redefined what it means to belong as a college student in 2021," she said. "Through the struggles, we formed a new kind of community that only hardship can bring."
Saying that she and her fellow graduates are "living through history," Mailhot congratulated her peers for making it to Commencement, noting that "our journey has made this day mean so much more."
Download video transcript [PDF]
About Martin (Marty) Baron
During a period of tumultuous change for both the news industry and American democracy, Marty Baron has emerged as a fierce champion of the free press and fearless investigative reporting.
As executive editor of The Washington Post from 2013 until his retirement in February 2021, Baron oversaw a dramatic expansion of the Post's newsroom, its readership and its national and international impact at a time when then-President Donald Trump labeled the press "the enemy of the people." The Post earned 10 Pulitzer Prizes while he was executive editor.
Bostonians know Baron from his 11-year tenure at The Boston Globe, which won six Pulitzers under his leadership, including the Public Service award for the Globe's investigation into clergy sex abuse in the Catholic Church. His role in that investigation was portrayed in the Academy Award-winning movie Spotlight.
In 2019, Suffolk's Ford Hall Forum presented Baron with its First Amendment Award for "his powerful and fearless defense of the First Amendment, and his relentless pursuit of the truth over his storied career."
Born in Tampa, Florida, Baron graduated from Lehigh University. He went on to work as a reporter at The Miami Herald and as an editor at both The Los Angeles Times and The New York Times, before returning to the Herald as executive editor in 2000.
Commencement 2021
The College of Arts & Sciences Class of 2021 is made up of 699 new alumni, with 572 undergraduate and 127 graduate degrees awarded. The ceremony was one of three Suffolk commencements held on Saturday, May 22, at Fenway Park.
The University conferred a total of 4,017 undergraduate and advanced degrees during six weekend ceremonies celebrating the Classes of 2020 and 2021.
More From the College of Arts & Sciences 2021 Commencement
Text of Speeches
Martin (Marty) Baron [PDF], Former Washington Post Editor, Keynote Speech
Sophie Mailhot, BA '21 [PDF], Student Speaker