'Sitting Silently by Is Not What Suffolk Prepared You to Do'
Former U.S. Attorney for Massachusetts urged Suffolk Law 2020 graduates to "address the challenges posed by racial inequities, the widening economic gap, climate change, and intensifying political divide."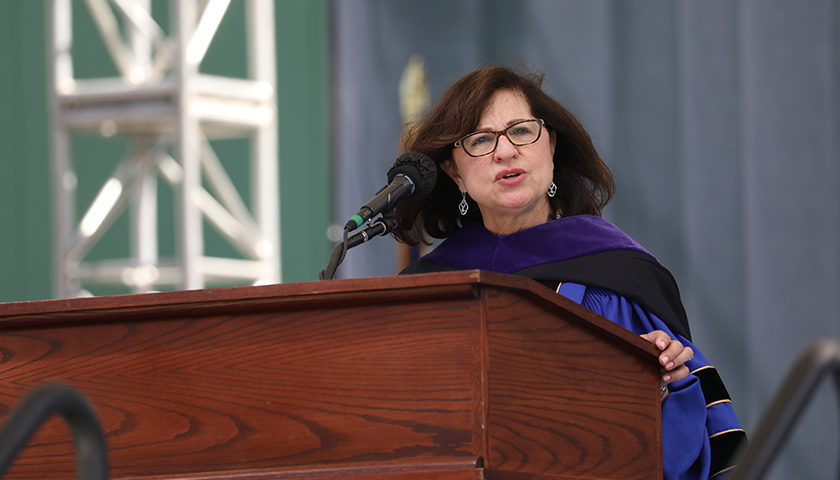 In Suffolk University Law School's 115-year history, the school has never held its commencement ceremonies in Boston's legendary Fenway Park. For Commencement Speaker Carmen Ortiz, former U.S. Attorney for Massachusetts, the venue was a fitting place to celebrate the outsize effort members of Suffolk's Class of 2020 made as they adapted to a historic global pandemic.

"As I prepared for today's commencement address, I asked myself, what inspirational words of wisdom can I impart to you?" Ortiz said. "What would I have wanted to know when I was in your shoes? But the truth is, I was never in your shoes. You are a class like no other."
Ortiz — who has known her share of historic moments, including directing the prosecutions of Whitey Bulger and the Boston Marathon bomber — applauded the Class of 2020 for persevering in the face of unprecedented challenges, and for earning Suffolk Law's highest bar exam pass rate in six years.
Download video transcript [PDF]
'This is your mission, and your responsibility'
Ortiz, who is now a partner with Anderson & Kreiger, was awarded an honorary Doctor of Laws at the Class of 2020 ceremony — the first of three Suffolk commencements held at Fenway Park on Sunday, May 23, as part of a weekend-long celebration of Suffolk's Classes of 2020 and 2021.
The pandemic taught harsh lessons about struggle, loss and uncertainty, Ortiz told the graduates. But she said her own experiences have taught her that "despite life's challenges and adversity, you can overcome them to find your happiness, your success and your mission in life."
She grew up the oldest of five children, "a young Latina in the housing projects of Spanish Harlem" who loved to watch "The Perry Mason Show." Her parents, who had moved to New York from a small town in Puerto Rico, "taught me that education would be the key to my success and happiness. They were right."
She became the first member of her family to attend college, and then law school. She saw the fact that she was "a Hispanic woman from modest circumstances not as a hurdle, but as an opportunity to excel, to break down barriers and to make a difference." In 2009, she became the first Latina and the first woman to serve as U.S. Attorney for Massachusetts.
In that role, she implemented the district's first Civil Rights Unit, and she has made increasing equity and access to justice a critical part of her life's work. She urged the Class of 2020 to address the "many ills facing the country which the pandemic exposed relating to race, wealth and class."
"You may be tempted to criticize the failure of government or worse, to sit silently by, but that is not what Suffolk Law prepared you to do," she said.
"Your voices, your passion, your commitment, your diversity, and your vision are desperately needed to build a more equitable and just society," she said. "And you have never been better prepared, because you are a class like no other. That is your mission – and your responsibility."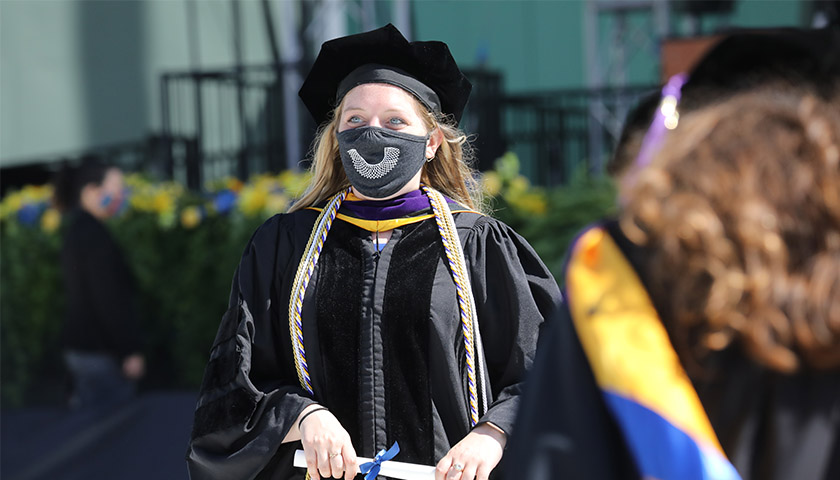 'A powerful force for good'
Suffolk University President Marisa J. Kelly called the Fenway ceremony "even more meaningful and more deserved" because of everything the Class of 2020 has experienced, including launching their legal careers in the midst of the pandemic.
"I have every confidence that you will play an important role in creating a more just society, with greater equity, access and justice for all," she told the graduates. "I am confident because you have already been doing it. You did it in your time at Suffolk Law, and you have done it in your first year out. You are Suffolk lawyers, and you are a powerful force for good."
History has its eyes on all of us
Attending law school in "a city filled with history" offered powerful lessons that the past is prologue, said Connor McElroy, JD '20, the Suffolk University Law School student Commencement speaker.
"Today we sit only four miles and 251 years away from an example of state violence against protestors and the murder of a young Black man, which inspired calls for our revolution," he said, referencing the shooting of Crispus Attucks by British troops during the Boston Massacre.
"The previous two years have featured awful flashbacks from our worst moments in our history, from police brutality to the storming of the Capitol and to a global pandemic which disproportionately affected our most marginalized," he said.
Boston's many historical sites "aren't just spots for quiet contemplation, or a nice place to take a picture," he said. "These sites are markers of a continued struggle, [and a reminder] that the issues of the past aren't truly gone."
Download video transcript [PDF]
About Carmen Ortiz
As a partner at Anderson & Kreiger, Carmen Ortiz focuses her practice on internal investigations, corporate compliance, civil litigation, and white collar criminal defense.
She served from 2009 to 2017 as U.S. Attorney for the District of Massachusetts, where she oversaw the investigation and litigation of many significant and complex criminal and civil cases involving financial and securities fraud, health care fraud, public corruption, money laundering, cybercrimes, national security, organized crime, and violent crime.
Before becoming U.S. attorney, Ortiz was an assistant U.S. attorney in the Economic Crimes Unit of the U.S. Attorney's Office. She also served as an assistant district attorney in Middlesex County, as well as a defense attorney.
Among her many honors, Ortiz is listed among the 2020 Best Lawyers in America in the area of administrative/regulatory law. In 2014 she was named Latina Lawyer of the Year by the Hispanic National Bar Association, and in 2011 The Boston Globe named her Bostonian of the Year. She serves on the Beth Israel Deaconess Medical Center Advisory Board of Trustees and is a board member at large for the Massachusetts Women's Forum. Ortiz holds degrees from George Washington University Law School and Adelphi University.
Commencement 2020
The Suffolk University Law School Class of 2020 is made up of 326 new alumni. The ceremony was the first of three Suffolk commencements held on Sunday, May 23, at Fenway Park.
The University will confer a total of 4,017 undergraduate and advanced degrees during six weekend ceremonies celebrating the Classes of 2020 and 2021.
More from the 2020 Suffolk Law Commencement
Text of Speeches
Carmen Ortiz [PDF], Former U.S. Attorney for the District of Massachusetts, Keynote Speech
Connor McElroy, JD'20 [PDF], Student Speaker