'You could be the most successful class to ever graduate from the Sawyer Business School'
Cape Cod 5 Chair and CEO Dorothy Savarese tells Suffolk University grads, "Your lives have taken in many cases a major turn, but it is not a U-turn. It is a new path to a new life and a new experience."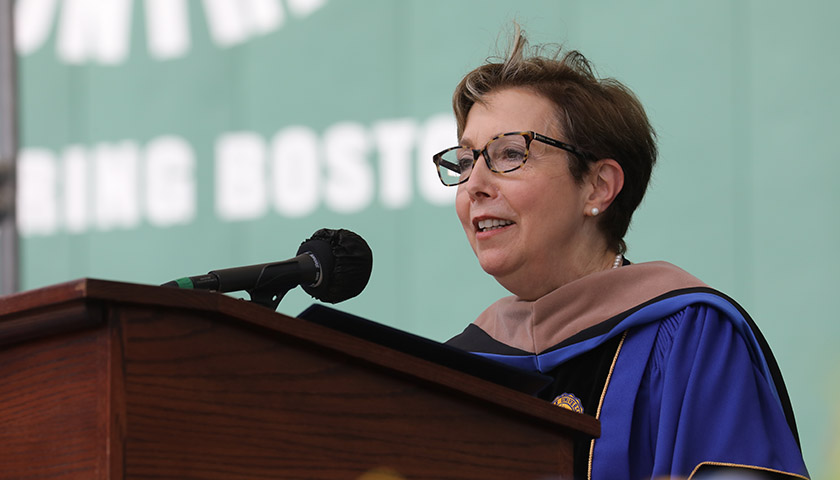 Dorothy Savarese, who earned her MBA from Suffolk University's Sawyer Business School in 2004 and rose to become the chair and CEO of Cape Cod 5, praised members of the Class of 2020 for how they handled the past 15 months.
"You overcame the interruption of your graduating year, you stuck with it, you supported each other, you pivoted to online, and you completed your coursework," said Savarese in her keynote speech to Suffolk's Sawyer Business School graduates.
Savarese received the honorary degree Doctor of Commercial Science at the Sawyer Business School ceremony, one of three Suffolk commencements held at Fenway Park on Sunday, May 23 – part of a weekend-long celebration of Suffolk's Classes of 2020 and 2021.
Download video transcript [PDF]
'For me, this hood represents a life I missed'
Savarese's speech drew on lessons learned from her own life journey, "one filled with many twists and turns, a lot of mistakes, trials, and adversity." She said she grew up dreaming she would earn a JD or PhD before she was 26, move to New York City, and have "an apartment-sized dog."
Instead, her family had to move to Kentucky. She skipped her senior year of high school and attended a small southern college "as a short woman with an Italian last name and a New Jersey accent."
After college, financial circumstances led to her attending law school at night at a local state university for a year. And then she found a calling to work on economic development in her small city. "So no PhD and no JD," she said.
Her message was that a change in life plans is almost inevitable, but that graduates need to embrace that fact.
"The one thing I have learned is that after the decisions are made and the course is set, looking back and regretting are the only things that are off the table," Savarese said.
She also gave credit to Suffolk for giving her the opportunity to earn her MBA part time when she was a single mom with a full-time job, what she called "another twist and turn."
"I got so much out of it – academic rigor, lifelong friendships, and such a rich experience," she said.
'Drawing on the events of the past year, you can practice alchemy'
Savarese acknowledged that for the Class of 2020 "COVID took something away from all of you and, for most of you, many things." But she praised the resiliency of the graduates and their ability to reframe their thinking and to harness what they had learned to springboard them forward.
"Your lives have taken in many cases a major turn. But it is not a U-turn," she said. "It is a new path to a new life and a new experience."
She highlighted the graduates' embrace of change, their commitment to a learning mindset, and their ability to recognize adversity as an opportunity. All of these together, she said, can be "superpowers" that the class can carry with them as they begin their post-Suffolk lives.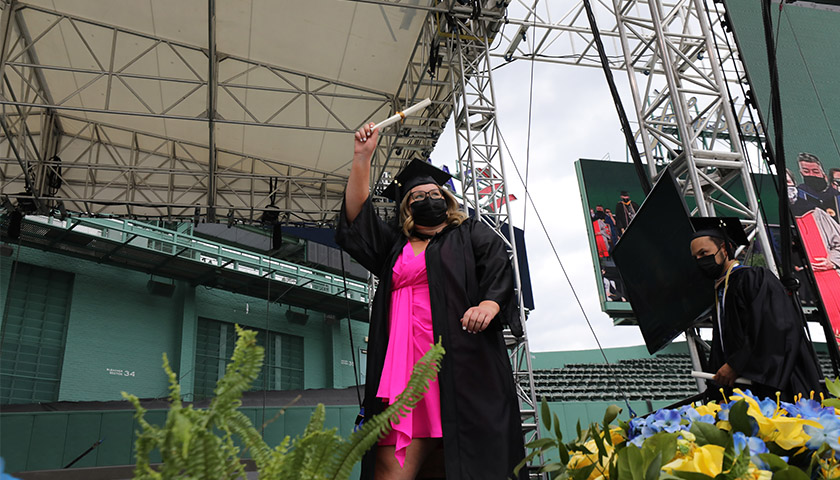 'You are richly deserving of this moment'
Suffolk University President Marisa J. Kelly lauded graduates for being undeterred in pursuing their academic goals as they pivoted to remote learning and figured out how to deal with new, unexpected challenges. She also commended them for continuing to think of others even as they dealt with their own pandemic issues.
"You found new and innovative ways to engage with your community and to serve. Members of the Class of 2020 continue to make a positive difference in your communities today, at a time when communities need your commitment more than ever," she said.
"Many of you have described starting life after Suffolk in the midst of a pandemic as scary – even terrifying. But you also described a feeling of confidence gained from your experience here," said Kelly. "This University taught you to navigate challenge, and you felt prepared."
'While we may be in these seats a year late, we are far from a year behind.
Sawyer Business School graduate student Commencement speaker Robert Osgood, who received his Master of Business Administration, spoke about the "exclusive camaraderie" the Class of 2020 shares based on the events of the past 14 months.
"If 2020 teaches us anything, it's that our greatest gift of all is time, and it's only enhanced when we cherish it together and use it for the betterment of one another," said Osgood, who works as a hospice administrator.
Download video transcript [PDF]
With a nod to the Commencement ceremonies taking place at Fenway Park, undergraduate student Commencement speaker Sophia Romeo, who received her Bachelor of Science in Business Administration, talked about the life lessons that baseball teaches, including "Be ready for the curve ball." Romeo asked her fellow graduates to make the most of what they learned during the pandemic.
"Take that new skill you learned and turn it into a business," she said. "Take the empathy you've grown and put it back into the world. And use your skills on Zoom to crush your next interview."
Download video transcript [PDF]
About Dorothy Savarese
Dorothy Savarese, MBA '04, is chair and chief executive officer of Cape Cod 5, a financial institution she joined in 1993 as a commercial lending officer. In 2020, Savarese was named one of the 25 Most Powerful Women in Banking by American Banker magazine, for the ninth consecutive year.
Savarese serves as president of the Federal Reserve Board's Community Depository Institutions Advisory Council, and represents the First District. The council advises the Federal Reserve Board of Governors on the economy, lending conditions, and other issues related to community depository institutions. Savarese also chairs the Federal Reserve Bank of Boston's First District Community Depository Institutions Advisory Council.
Savarese, who holds an MBA from Suffolk University, has served on the boards of a number of local organizations, including the Cape Cod Regional Chamber of Commerce, the Cape Cod Symphony Orchestra, the Regional Employment Board of the Cape and Islands, and the Housing Assistance Corporation.
Commencement 2020
The Sawyer Business School Class of 2020 comprises 962 new alumni, with 570 undergraduate and 392 graduate degrees awarded. The ceremony was one of three Suffolk commencements held on Sunday, May 23, at Fenway Park.
The University conferred a total of 4,017 undergraduate and advanced degrees during six weekend ceremonies celebrating the Classes of 2020 and 2021.
More from the Sawyer Business School 2020 Commencement
Text of Speeches
Dorothy Savarese, MBA '04 [PDF], Chair and CEO, Cape Cod 5, Keynote Speech
Robert Osgood, MBA '20 [PDF], Graduate Student Speaker
Sophia Romeo, BSBA '20 [PDF], Undergraduate Student Speaker