'Don't Be Afraid to Say No'
MA Supreme Judicial Court Associate Justice Serge Georges Jr. encouraged 2020 College of Arts & Sciences grads to take time to decide what they really want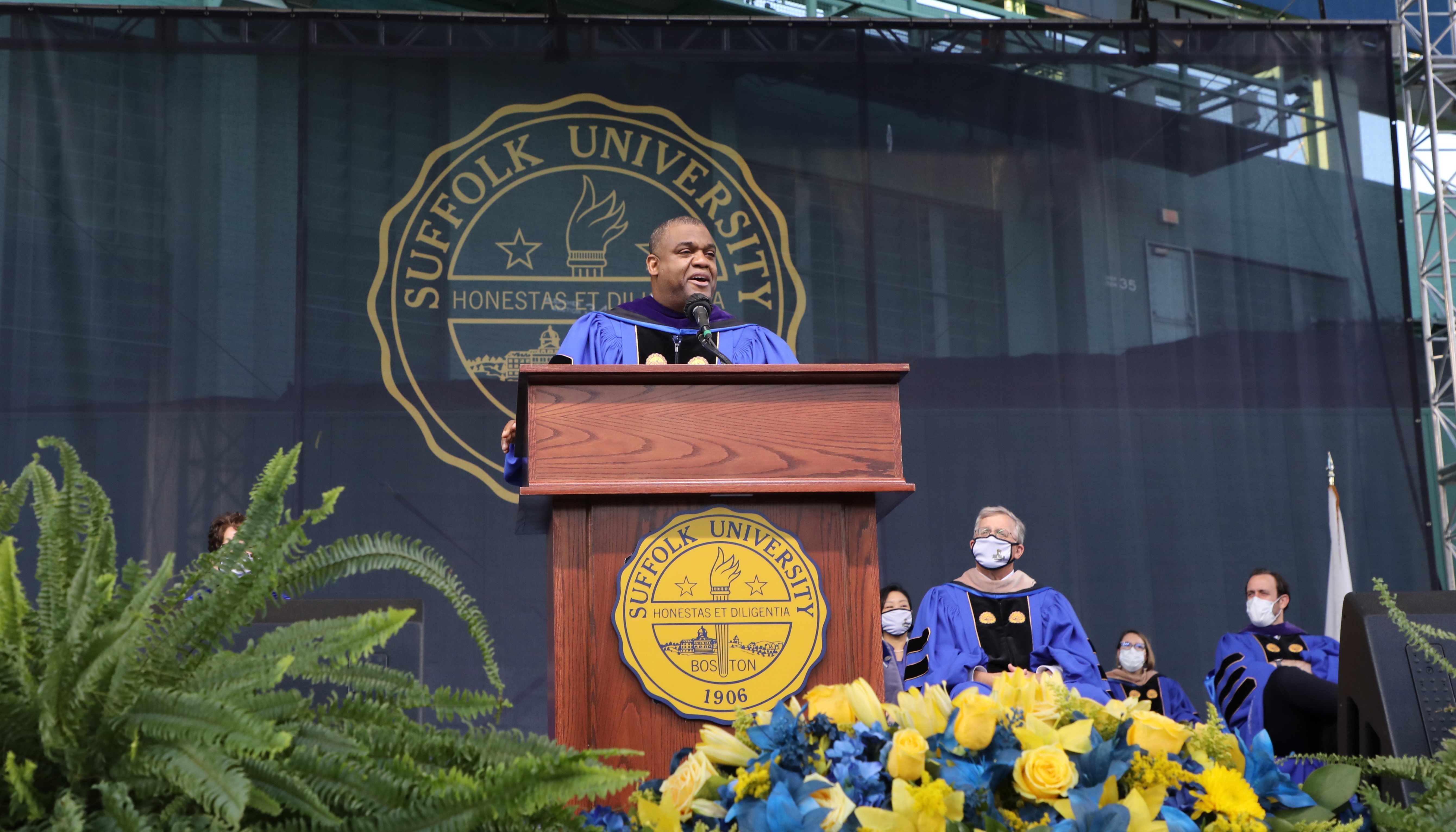 The Honorable Serge Georges Jr., an associate justice of the Massachusetts Supreme Judicial Court (SJC), encouraged graduates of the Suffolk University College of Arts & Sciences to pause and take time to decide what they truly want from their careers – and not be afraid to change course.
"There is one thing much, much worse than being 25 years old and coming to this huge realization that you are embarking on the wrong career. And that's to be 65 years old and reflecting that you've just spent four decades living the wrong life for you," said Georges in his keynote speech at the Class of 2020 ceremony on Sunday, May 23.
"Don't do something because someone else thinks it's right for you. Please do it because it is you. And if it's not, please don't be afraid to say no."
Georges, an alumnus of Suffolk University Law School, received an honorary Doctor of Laws degree during the weekend-long celebration of Suffolk's 2020 and 2021 graduates at Fenway Park.
Download video transcript [PDF]
'Don't do it if it doesn't inspire you'
In his speech, Georges reflected on the danger of making hasty career decisions based on the wrong motives.
"Don't choose your next steps because you won an award, or because you want a new car, or because your parents made it clear that's what they want for you," said Georges.
"Don't make decisions based on what sounds good in a bar, or looks good on a résumé. And don't do it if it doesn't inspire you. You never want to wake up one day and resent your life."
Georges described an early career misstep of his own – taking a lucrative, but unfulfilling job as a recruiter that he knew was the wrong fit from the start. He also spoke about the temptation to admire more financially successful peers for their "box seats" and "huge second homes on [Martha's] Vineyard." Ultimately, he urged his audience, those trappings are not what bring happiness.
"I wake every day excited. I go to bed having been challenged in the best possible ways. I was born to do what I'm doing and I love it," explained Georges. "And that's worth savoring – even without a life on the Vineyard."
"If you are true to yourself you will never suffer from the imposter syndrome. You will never be resentful. And, most importantly, you will never regret the life you have chosen."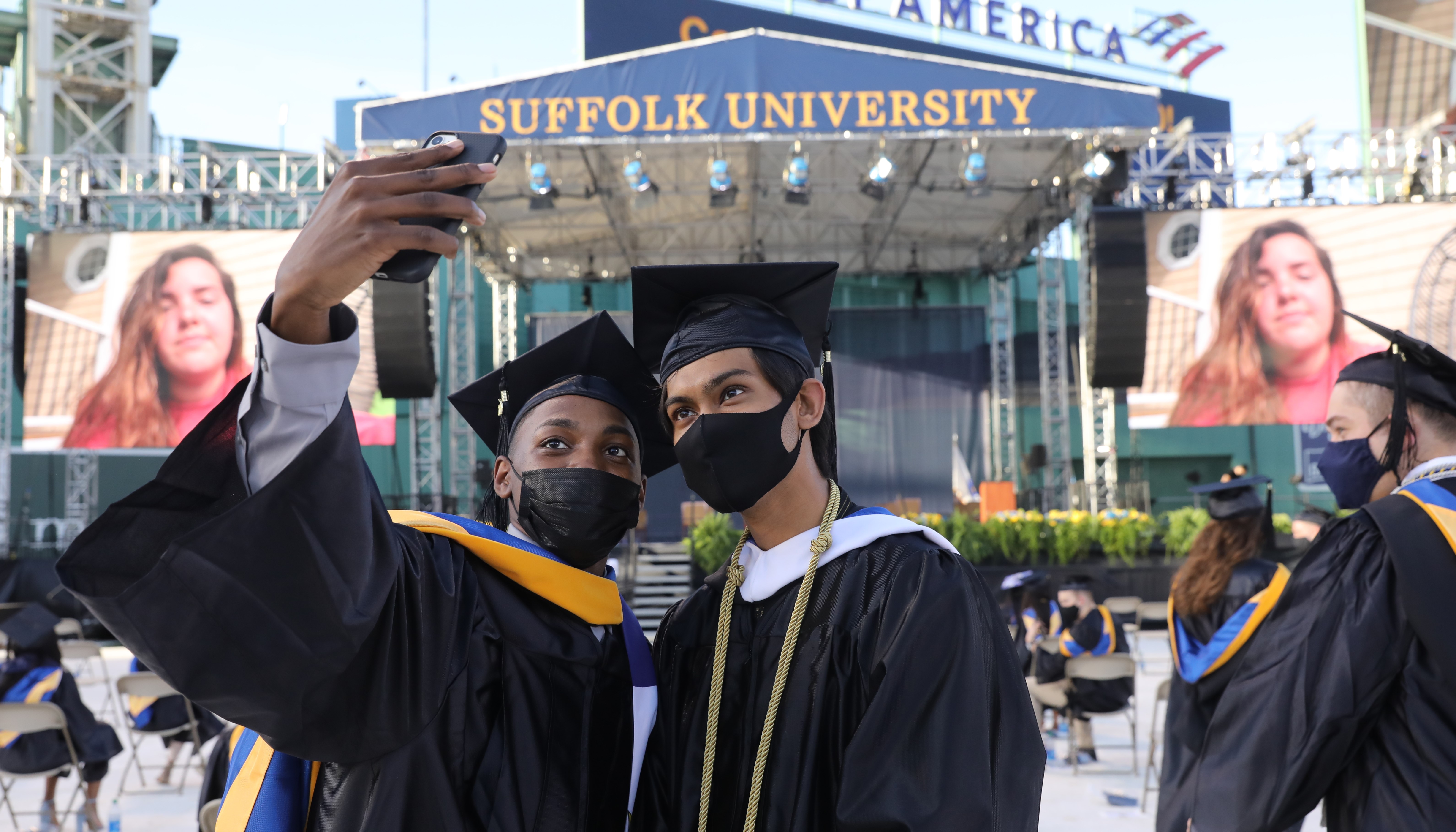 'The challenges you have faced make this celebration even more special and more well-deserved'
Suffolk University President Marisa J. Kelly expressed joy, pride and excitement as she welcomed the Class of 2020 to celebrate Commencement together in person after an enormously challenging year.
"Many of you have described starting life after Suffolk in the midst of a pandemic as scary – even terrifying," she said. "But you also described a feeling of confidence gained from your experience here. This University taught you to navigate challenge, and you felt prepared."
Kelly lauded the accomplishments of the Class of 2020 – including finishing their academic careers with vigor while coping with a sudden pivot to online learning, aiding their communities during the pandemic and pursuing their careers and passions despite many obstacles.
"You are richly deserving of this moment. In the face of incredibly challenging circumstances, you have made this University proud," said Kelly. "The challenges you have faced over the past 15 months make this celebration even more special and more well-deserved."
'We adjust to what is thrown in front of us'
College of Arts & Sciences student Commencement speaker Alexia Baugniet — who completed a self-designed bachelor of science in oncology management administration in 2020, and is now enrolled in a master's program in healthcare administration at Suffolk — took time to thank those who made an in-person ceremony possible.
"Health care heroes, frontline workers, volunteers, educators and researchers" made this day possible, said Baugniet. "Please join me in applauding all these heroes whose efforts have allowed us to celebrate with our families and our friends today."
Baugniet spoke of her experience as a first-generation college student who struggled with dyslexia, and the importance of being "bold and brave" to face both personal challenges and those created by the pandemic. She described having "100-plus job applications I made returned with the message: 'We are unable to move forth with your applications due to COVID-19.'" Acknowledging that many of her classmates have had similar struggles, she said that Suffolk gave them the tools to push through.
"As [Suffolk] Rams we persevered through these challenges. We as a 'ramily' are motivated and ambitious. We adjust to what is thrown in front of us like we did when we started our education in this big city," said Baugniet.
Download video transcript [PDF]
About Serge Georges Jr.
An associate justice of the Massachusetts Supreme Judicial Court (SJC), Serge Georges Jr., JD'96, has earned a reputation not only for legal brilliance, but also for the humanity he brings to his work as both a jurist and as an adjunct law professor at Suffolk University Law School, his alma mater.
When Governor Charlie Baker nominated Georges to the high court last fall, he noted that many lawyers considered him "their favorite judge—not because he gives them the answer they want, but because he knows the law, does his homework and treats everyone in his courtroom with dignity and respect."
In addition to being only the fourth Black person ever to serve on the 328-year-old SJC, Georges is one of the few justices ever nominated to the high court from the district court level. The governor said that Georges' "real-world experience on the District Court will improve the quality of the discussion and debate, and ultimately, the quality of the decisions that will be rendered."
The son of Haitian immigrants, Georges grew up in Dorchester, blocks from the Boston Municipal Courthouse where he would one day preside. After graduating from Boston College and Suffolk Law, he spent more than 17 years in private practice, before then-Governor Deval Patrick appointed him to the city's municipal court in 2013. From 2014 to 2018, he presided over the Dorchester Drug Court.
He is the third Suffolk Law graduate currently serving on the seven-member court, joining Justices Frank Gaziano and Elspeth Cypher.
Commencement 2020
The College of Arts & Sciences Class of 2020 is made up of 707 alumni, with 593 undergraduate and 114 graduate degrees awarded. The ceremony was one of three Suffolk commencements held on Sunday, May 23, at Fenway Park.
The University conferred a total of 4,017 undergraduate and advanced degrees during six weekend ceremonies celebrating the Classes of 2020 and 2021.
More from the College of Arts & Sciences 2020 Commencement
Text of Speeches
Alexia Baugniet, BA '20 [PDF], Student Speaker