Graduate Education Opportunities Increase
The Sawyer Business School expands its graduate certificate programs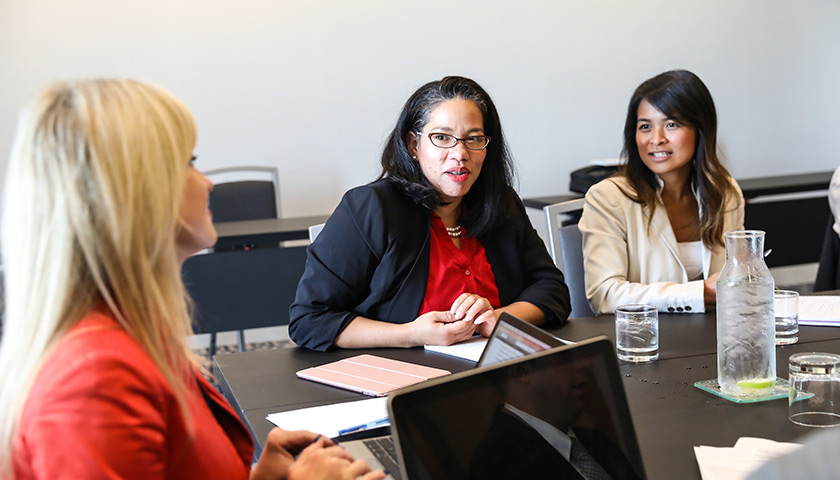 Suffolk University's Sawyer Business School is launching a revised suite of 26 graduate certificate programs, with subjects ranging from healthcare analytics and taxation fundamentals to global strategy and leadership. The certificate programs provide professionals with the specialized knowledge and skills they need to boost their careers.
"Suffolk's mission has always been to provide access to learning opportunities that prepare students for career success," said Amy Zeng, dean of the Sawyer Business School. "By launching 15 new certificates and revamping 11 existing ones, we're able to significantly increase those opportunities and help professionals add to their knowledge base, either for a current job or as they pivot to a new one."
Designed to be completed either online or in person in only one or two semesters (15-30 weeks), the programs will be taught by the same expert faculty who lead the school's highly ranked master's degree programs, using the same rigorous curricula and providing the same experiential education opportunities that the Sawyer Business School is known for.
The graduate certificate programs are also "stackable," which means the courses students take can be used to fulfill the requirements of a master's degree program down the line. If students take enough courses, they can often earn most of the credits needed to complete a degree.
"These revised certificate programs present dual opportunities," said Michael Behnam, dean of graduate programs and academic affairs at the Sawyer Business School. "On one hand, you can learn transferable and applicable skills that are of interest to you in a relatively short period of time. On the other, you're in a low-cost, low-risk situation to get a feel for what graduate education is like and can explore it further if you wish."
Learn more about the Sawyer Business School's graduate certificate programs.
Contact
Greg Gatlin
Office of Public Affairs
617-573-8428
Ben Hall
Office of Public Affairs
617-573-8092