A Survey Course for Everyone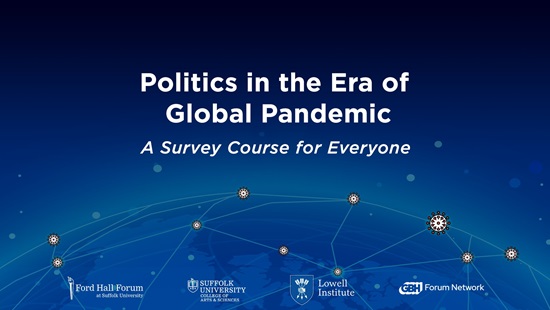 As incoming students look forward to a more recognizable school year of in-person classes and activities on campus, outbreaks in other parts of the world are a reminder that the pandemic is far from over.
This summer, first year students will take part in the free online Suffolk University Summer U course Politics in the Era of Global Pandemic. The course will be augmented by a public lecture series produced by Ford Hall Forum at Suffolk University, the Political Science & Legal Studies department at Suffolk University, and the GBH Forum Network. For six weeks students, faculty and guest speakers examine the issues in the second year of the COVID-19 pandemic, from global infection rates and economic disruption, to our politics and trust in government.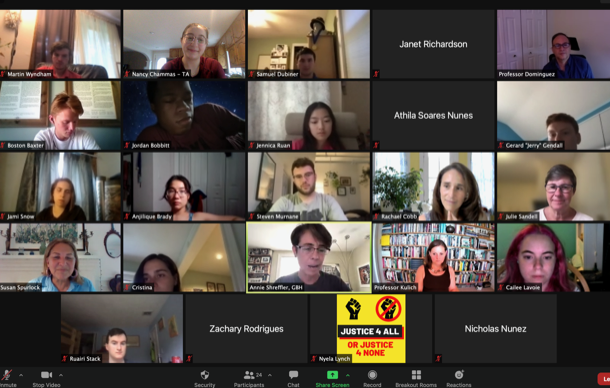 "In this summer series we hope to reach our new students and the broader public to create a space for informed, thoughtful, and provocative conversations about the course of the pandemic and how it has and will continue to transform the way we live, work, care, and think," says political science and legal studies professor and chair Rachael Cobb.
Last year's expert panels covered the early stages of the crisis as it unfolded in real time -- from impacts on national security, public health and the continuity of government, to election year political implications.
This summer's series will focus on the havoc the pandemic has wreaked on the world's economies, politics, and institutional trust, and how it has reshaped lives in ways not yet understood. Experts in policy, communications, public health, law, and more will offer fresh takes on the politics of the global public policy response, present a diversity of perspectives on what the post-pandemic "new normal" will be, and explore whether we will be any better prepared for the next global crisis.
During each session, first year Suffolk students will have the opportunity to question leaders in their fields.
"We want to build confidence in our students by having them interact with experts, practitioners, elected and public health officials with whom they might not otherwise feel 'qualified' to question," says political science and legal studies professor Christina Kulich. "It's gratifying to see how quickly students realize that our guest panelists are just people who are entirely approachable and respectful of the thought and research that they have put into crafting their questions. It's a vital step in building a skill set that will serve them well in the classroom, the public square and their future careers."
Session 1: "From Outbreak to Pandemic: Year Two and Counting" Watch Now
Session 2: "Vaccinating The World: Will Diplomacy, Nationalism Or Profit Motive Prevail?" Watch Now
Session 3: "Getting the Word Out: Effective Communication in a Pandemic" Watch Now
Session 4: "The Economics of Pandemic Disruption" Watch Now
Session 5: "One Pandemic, A Globe of Different Responses" Watch Now
Session 6: "Life After COVID: The New Normal?" Watch Now