Adding Dimension to the 3D-Printing Industry
MBA capstone class helps computational design company better understand its business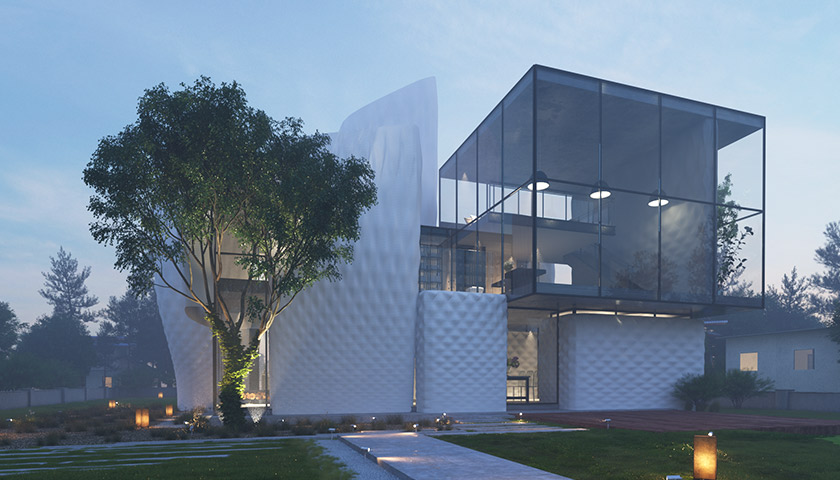 The business of additive manufacturing — more commonly known as 3D-printing — is filled with possibilities to transform designs into items like eyeglasses, headphones, and toys, even prosthetic limbs.
Technology company LuxMea is thinking bigger. Specializing in computational design and digital fabrication, the company wants to use 3D-printing to build housing and help alleviate housing crises around the world.
Based in Cambridge, Mass., LuxMea had the capability to "print" housing components. What it didn't have was an understanding of the housing marketplace. So company leaders asked Suffolk University's Sawyer Business School for assistance.
Working with last spring's Sawyer MBA capstone course, "Leading and Implementing Change," LuxMea asked students to do a deep dive on business areas like financials, marketing, and competition. Because 3D-printing was an unfamiliar industry — and a relatively new industry in general — the students needed to do intensive research and leverage in-class learning, as well as their own professional backgrounds, to get up to speed quickly.
"It's an intensive learning environment," says Sawyer Business School Management and Entrepreneurship Professor Colette Dumas.
Despite the challenges the students faced, LuxMea CEO Jean Yang was impressed with what the capstone class presented, including recommendations on how to be more competitive in the digital fabrication space.
"We have hired consultants before to do market research for medical devices," she says, "but the quality was just not there." One reason for that, Yang says, is that the 3D-printing markets aren't mature, which means there isn't that much information available to drive business decisions. But the Suffolk students didn't let that deter them.
"The teams went above and beyond," says Dumas. "For the students, this was real consulting, and they were able to give the client their expertise and fresh eyes on the problem." One recommendation the students came up with was for LuxMea to engage more with communities to increase awareness and build goodwill for its mission.
"We've been doing that because of what the students suggested," says Yang. "And we've received a lot of interesting and positive feedback from both residents and managers of communities from different locations."
Suffolk and LuxMea didn't shut the door on their relationship when the class ended. One of the students who did research on affordable housing has continued to help the company this summer. And LuxMea will work with another Sawyer Business School MBA class this fall.
"The quality of what the Suffolk students delivered really was unexpectedly good and will be super helpful," says Yang.
Contact
Greg Gatlin
Office of Public Affairs
617-573-8428
Ben Hall
Office of Public Affairs
617-573-8092