Photo Finish
Media and film major hopes to use his photographic skills in the sports world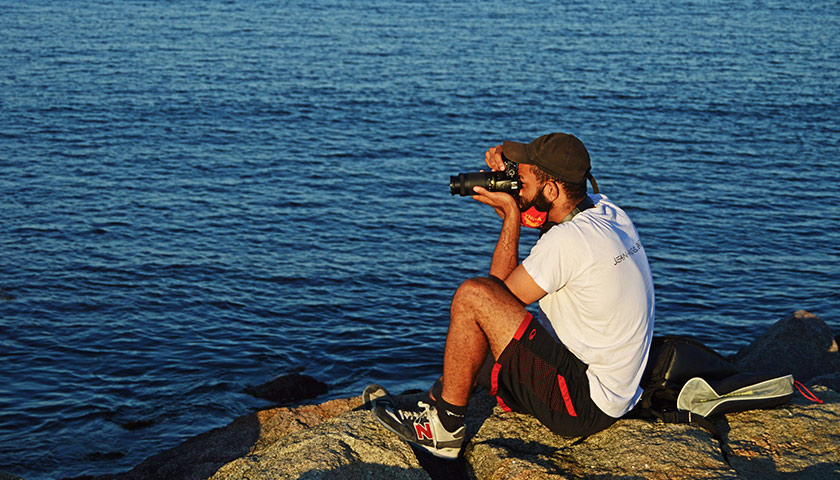 Even as a Suffolk undergraduate, Nathaniel Ilebode, BS '21, always kept an eye firmly on the future.
A media and film major, he was determined to take advantage of every opportunity that came his way over the past four years. "I learned about all aspects involved in the process of filmmaking," he says. "Lighting, sound, camerawork, producing, directing. I knew I had to understand all of these roles because they will help me in the future."
Ilebode also developed valuable hands-on media skills during an internship for Getfused, a digital marketing agency in downtown Boston.
"This was an amazing experience, because each day was different and I was able to create things that were out of my comfort zone," he says. "Being able to go into an office and work in a professional environment was a great introduction to the real world."
Asked what he remembers most about his Suffolk education, Ilebode doesn't miss a beat: "I met some great individuals and amazing professors, and grew a lot as a person," he says. "Suffolk prepared me for where I am now."
Ilebode's next stop? The University of Oregon, where he plans to earn a master's degree in multimedia journalism, and then land his "dream job" in professional sports.
It's a big step, one that Ilebode credits to his undergraduate mentor, Professor Micky Lee, interim chair of the Communication, Journalism & Media Department.
"She was always supportive and willing to help with everything from internship opportunities to my application process to grad school," he says. "Her big thing was to make sure students were proactive about the next chapter after their time at Suffolk."
Lee, who received her Ph.D. from the University of Oregon, believes Ilebode will excel at her alma mater. There's another good reason Ilebode — a basketball fan who stands 6 feet, 4 inches tall and played as a forward/center for the Rams freshman year — may enjoy the area.
Nike world headquarters is located in Beaverton, only a 10-mile drive from where he will be studying in Portland, home to the NBA's Trail Blazers.
"I'm hoping to make connections with the right people," he says.
Lee has every confidence in her star pupil: "Nate has the ability to produce content for a range of digital media and collaborate within a diverse team," she says. "I think he will bring a unique East Coast perspective to blend with Portland's hip and cool culture, making Nike, or a brand of his choice, understand youth culture."