Advocating for Change as a Courtroom Insider
New law school grad to start as Plymouth County assistant district attorney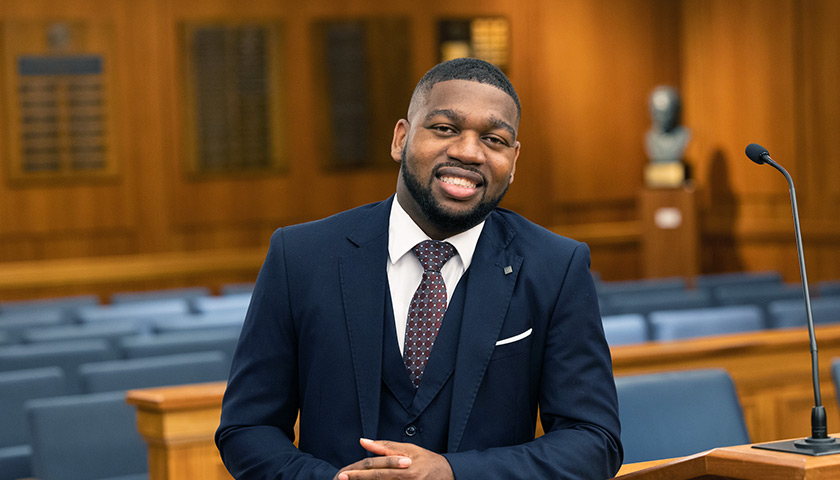 Inside of a courtroom is where Marc-Daniel Paul, BS '16, JD '21 feels he can make the most impact — helping others, improving communities, and making a difference.
As a new assistant district attorney for Plymouth County, Paul is combining his love of trial advocacy and desire to bring about change in the justice system.
"I think too often we are quick to believe that bringing the full weight of the law on anyone caught up in the system is the only correct approach to restoring order," he says. "Incarceration is not always the answer — especially when we consider that certain categories of people tend to be incarcerated more than others for the same offenses."
Paul believes that real criminal justice system reform needs to come from the inside.
"You can organize, you can protest, you can write to your local officials, but the people who are the decision makers are ultimately the ones who have the most effect at making change," he says.
"Keeping our communities safe and restoring the public trust in our legal institution requires that the people charged with upholding the system not only care about the community, but also look like it and can understand it."
Paul came to the United States in 2006 as a child when his parents and six siblings fled their home in Haiti to escape political persecution. The family first moved to Florida, and then to Boston, where they experienced homelessness for the first time.
"The setbacks were filled with amazing opportunities and support, and as a family we couldn't have been more grateful," says Paul, whose parents were finally able to secure jobs, get an apartment, and were granted citizenship.
Paul has been working to become a trial attorney since his undergrad days at Suffolk. Internships at a personal injury law firm and an immigration law firm, as well as an internship at the State House for Massachusetts Sen. Mark Montigny, helped prepare him for his future career.
"I got the chance to work with multiple attorneys, learn from them, and even apply some of that knowledge on the job," he says.
Finding his direction at SULS
Throughout law school, Paul worked as a projects manager and paralegal for Fitch Law Partners LLP in downtown Boston, where he was exposed to various areas of the law, including family law, business litigation, criminal law, and international arbitration. "That was the ultimate learning experience," he says.
It was at SULS that Paul caught the attention of Professor Karen Blum, while enrolled in her Police Misconduct Litigation course in January 2021.
"I found Marc to be so thoughtful and insightful in his questions and comments," says Blum. "I set up a virtual meeting with him when the course was over to discuss his aspirations for his legal career."
When Paul told Blum that he was interested in a position at the Plymouth County District Attorney's Office, Blum made an introduction to one of her former students, Plymouth County District Attorney Timothy Cruz,'84.
After a series of interviews, both remotely and in-person, Paul was offered the job of assistant district attorney of Plymouth County.
"Professor Blum was incredibly helpful in assisting me with the steps beyond law school," says Paul, who begins his new job this month. "We had many conversations about career paths, and she was always very candid in her advice on the best course to follow."
"One of Marc's strongest assets is his thoughtfulness," says Blum. "He listens to others and truly thinks very carefully about an issue before responding.
"He reflects before he reacts and as an assistant district attorney, this trait, along with his intelligence and integrity, will serve him and the Commonwealth well."
Paul and his wife, Christelle Paul, MBA '21, director of operations and technology at the Center for Career Equity, Development, & Success at Suffolk, recently became the proud parents of a baby boy, Raphaël.
At 26 years old, Paul has already lived quite an eventful life. And he is just getting started.
"Teddy Roosevelt once said, "Do what you can, with what you have, where you are," says Paul. "If you believe in yourself and live by this creed, you will go far."