Suffolk Law Professor Appointed to White House Council on Environmental Quality
Suffolk University Law School Professor Sharmila Murthy, an expert on water policy, climate change, and environmental justice, has been called to serve in the Biden administration as senior counsel to the White House Council on Environmental Quality (CEQ).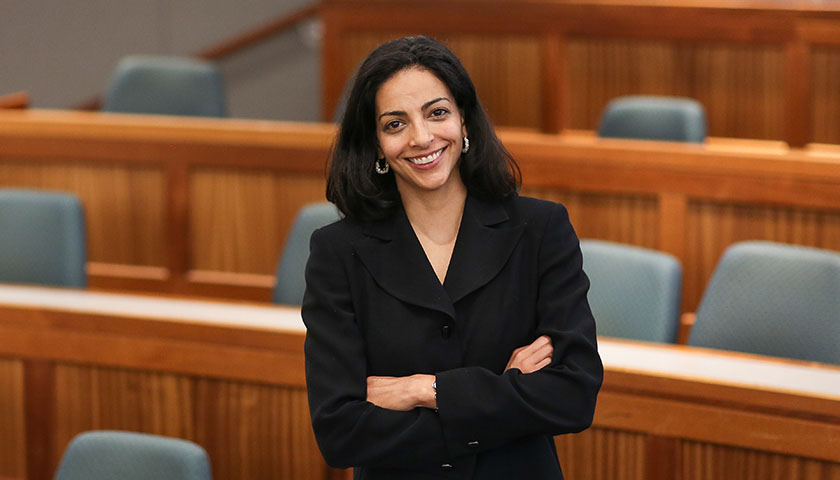 "It's an important job at a pivotal moment for the environment," said Suffolk Law Dean Andrew Perlman. "It's an honor for Suffolk Law that Sharmila Murthy has been appointed to serve on President Biden's environmental team. Professor Murthy will bring an exceptional background to the job as both a cutting-edge scholar and a champion of sound, practical environmental policy."
In her new role, Murthy's responsibilities will include providing legal and policy advice to CEQ staff on issues related to environmental justice; the National Environmental Policy Act (NEPA); and various interagency working groups in the Executive Office of the President.
"I am excited to be in a position to help further the Biden administration's environmental agenda, and specifically to help achieve the president's environmental justice goals," said Murthy, who will be on leave from Suffolk Law during her service at CEQ.
Murthy said that when she returns to teaching, the experience will dovetail with Suffolk's focus on practical, real-world learning. She is looking forward to sharing her new perspectives in the classroom, she said.
Murthy, who also serves as Suffolk's Director of Faculty Scholarship and Research, teaches environmental law and policy, among other subjects. She has received several awards for her scholarship, teaching, mentorship of students, and leadership.
Previously, Professor Murthy co-founded the Human Rights to Water and Sanitation Program as a Fellow at Harvard Kennedy School's Carr Center for Human Rights Policy and was a Visiting Scholar with Harvard Kennedy School's Sustainability Science Program. In 2014, Murthy was selected as a finalist for the United Nations Special Rapporteur on the human right to safe drinking water and sanitation. She began her career as a poverty lawyer through a Skadden Fellowship, served as a judicial law clerk on the U.S. Court of Appeals for the Sixth Circuit, and was a U.S. Fulbright Scholar in India.