Professor Shahriar Khaksari: A 360-Degree View of Global Business
Faculty Spotlight
Shahriar Khaksari, professor of finance in the Sawyer Business School, wants his students to thrive in today's global business world. That's why he gives them a truly 360-degree view of it.
"Every course has some sort of global dimension," he explains. "You cannot teach finance without really talking about the global market. Finance is very international. It's a discipline that really deals with the flow of funds in investments. Financial markets provide probably the most important links among countries."
When he's not leading courses in Suffolk's, MBA and MSF programs, Khaksari collaborates with a university in Morocco and another in Colombia.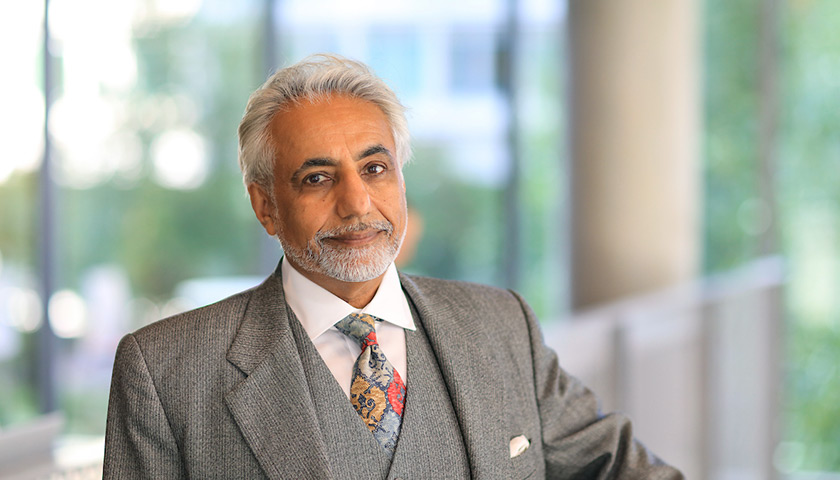 He also finds a microcosm in his Suffolk classroom at the start of each semester. "I admire the diversity of our student body," he says. "I ask the students to talk about themselves, and, all of a sudden, they realize there are students from 20 countries sitting next to each other."
Although Khaksari's main area of teaching is investment, he has had a wide-ranging influence on the Business School, including starting the MSF program.
"That's one of the unique characteristics of Suffolk," he notes. "The faculty has the opportunity for both innovation and leadership."
He also recognizes the power of sharing the most relevant trends and information with his Suffolk students. "I think research is critical to teaching," he says. "Faculty who research remain current in their field, not only with the technical aspect of their discipline, but with what is going on in the world. And they bring that knowledge into the classroom."
Khaksari is currently researching behavioral finance, which investigates how and why people make decisions that sometimes defy logic. Even as he shares his findings with his students—and writes case studies with them for publication—he has his eye trained on a loftier goal.
"I don't think that teaching is just the delivery of a body of knowledge," he says. "I think it is much more than that. I think it is giving students the skills to succeed in their careers and to inspire them—giving them confidence and instilling critical thinking in them."

Visit Professor Khaksari's Faculty Profile Page.