Celebrating Founder's Day
On September 19, Suffolk pauses to remember its roots — and the very first day of classes held in 1906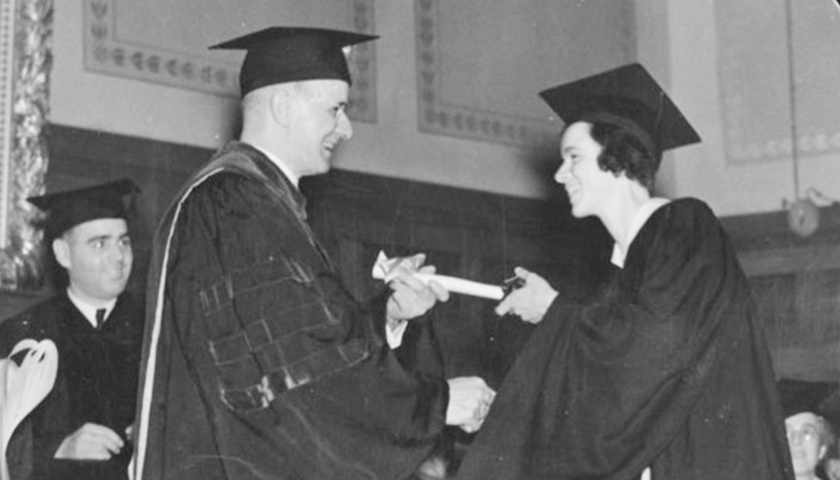 Every September marks a brand-new beginning at Suffolk, yet it's also an important time to reflect on the University's past.
On September 19, Suffolk celebrates Founder's Day, to commemorate the date in 1906 that Gleason Archer first began teaching evening law classes to a handful of students in the living room of his Roxbury apartment.
From its humble beginnings, Suffolk University has, over the past 115 years, grown into a global institution with campuses in historic downtown Boston and in Madrid, Spain. It now offers a wide range of undergraduate and graduate programs in its College of Arts & Sciences, Sawyer Business School, and Law School. And its evolution mirrors the kind of transformation that the University has made possible for generations of its graduates.
"Founder's Day is a time to pause and remember with pride the vision of our founder, Gleason Archer, to offer access, opportunity, and excellence to all who were hungering for education and its benefits, no matter their background," says President Marisa Kelly. "These values still permeate Suffolk's mission today."
Dean of Students Emerita Nancy Stoll makes a point of marking Founder's Day every year. "When we understand the institution's history, its traditions, and its heritage," she says, "we can more truly appreciate the generations of students, faculty, and staff whose contributions created the Suffolk of today."
Stoll was the dean of students at Suffolk for 29 years before retiring in 2016. She believes in what the University stands for — academic excellence and a commitment not only to access and opportunity, but also to diversity — and prides herself on being part of Suffolk's transformation over the years.
"Suffolk's history creates pride for its entire community. Together, its faculty, staff, students, and alumni have made Suffolk a place that you love and are willing to give back to," she says. "Understanding Suffolk's roots generates a sense of belonging to a community that is over a century old, yet remains true to its founding principles."
The Moakley Archive
In the summer of 2018, Stoll, with the backing of President Kelly, launched Suffolk University Retired Friends (SURF), an organization for retired faculty and staff. SURF began hosting a Founder's Day luncheon for its members, and while the pandemic has suspended that tradition this year, Stoll plans for the event to return on September 19, 2022.
As director of the Moakley Archive, a rich, searchable source of University history, Julia Howington has been a partner in developing the Founder's Day luncheon for retirees. She hopes to see a broader community celebration of the University's history moving forward.
"People should know about the impact that individuals at Suffolk, both personally and professionally, have made over the years, as well as the programs that have helped the University continually grow and prosper," Howington says. "Suffolk's history provides context for what it means to be a Suffolk Ram, and instills a sense of community and tradition."