Commencement 2.0
COVID kept Evelyn and Emely Nunez from participating in last spring's Commencement. So Suffolk hosted a special ceremony for them at Fenway Park in September.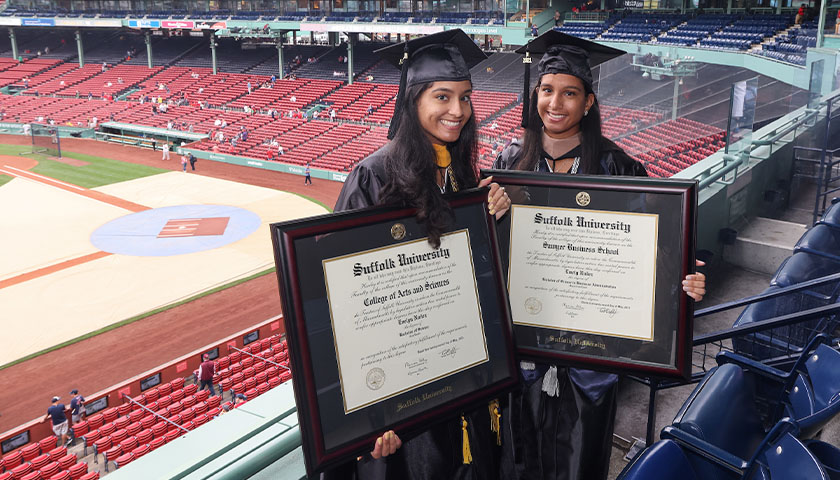 On May 22, as members of the Suffolk University Class of 2021 walked across the stage at Fenway Park to receive their degrees, twin sisters Emely and Evelyn Nunez, both graduating seniors, were sitting at home.
Just a few days before Commencement, Emely had tested positive for COVID-19, and couldn't attend the ceremony. Neither could Evelyn because she had been in close contact with her twin. They never got the chance to don their caps and gowns and celebrate their academic achievements with family and friends.
Until now.
Suffolk, a university with a strong sense of both family and tradition, officially honored the Nunez twins with a special graduation ceremony at Fenway on Saturday, September 18, held just prior to the start of the Red Sox-Baltimore Orioles game.
While their classmates weren't there, much of Suffolk's senior leadership was on hand to confer the degrees and offer their personal congratulations, including President Marisa Kelly, Chair of the Board of Trustees Bob Lamb, Dean of Students Ann Coyne, Dean of the Sawyer Business School Amy Zeng, Interim Dean of the College of Arts & Sciences Krisanne Bursik, Associate Provost Gary Fireman, Assistant SBS Dean Kim Larkin, and Assistant Dean of Students Amanda McGrath.
"This is a happy and joyous occasion for all of us, especially for you Emely and Evelyn, whose academic efforts and involvement have been properly recognized with today's graduation ceremony," said President Kelly.
"I'm very grateful and happy for this opportunity to graduate together with my sister," said Emely, BSBA '21, who now works as a management trainee at a local rental car company. "It was an amazing moment and another great memory of our time together at Suffolk, which will always be a special place for the both of us."
"My sister and I share a special bond, and this was our graduation time to shine," said Evelyn, BS '21, who is teen director at the Boys & Girls Clubs of Dorchester. "It was our pot of gold that we can share for the rest of our lives."
All in the family
The twins' brother, Nicholas Nunez, BS '20, hadn't been exposed to COVID and was able to take part in the Suffolk Class of 2020 graduation ceremony on May 23, 2021. He returned to Fenway on September 18 to help his sisters celebrate.
"It's great to see that Suffolk has honored Emely and Evelyn for all their hard work and commitment over the last four years," said Nicholas, who is now in his second year of graduate school at the University, and whose mother, Diana Gonzalez, BS '95, MPA '98, earned two degrees from Suffolk.
"I think it's a good thing to show that we all made it together."
No one was cheering louder at the special ceremony than Lieutenant Ramon Nunez, BA '95, of the Suffolk Police Department. To see his three children graduate from his alma mater, at Fenway Park, was akin to the former Rams' baseball player hitting three homeruns over the Green Monster.
"This is one of the greatest life moments for me and my family," he said. "I'm very appreciative for everything that Suffolk has done for us and going the extra mile to fulfill my daughters' graduation dream."
"Family comes first with us, so it's a blessing to have graduated from the same school as our dad did," said Emely. "Not many people have the opportunity to experience something like this."
Ramon Nunez was born in the Dominican Republic and looks back with pride at his days as a Suffolk student. He remembers how the ESL program helped him learn a new language, how professors worked with him one-on-one, and how being a four-year starter on the baseball team gave him the "confidence to conquer any challenge."
For as long as he can remember, Nunez has emphasized to his children the importance of getting a quality education and "choosing a career that you enjoy more than just making money."
"I'm so happy about the hard work that my children have done to get to where they are today," he said. "I've always told them that Suffolk is a family-oriented university that will help them and guide them on the right path."