From the Classroom to the Barnyard
An idea from a Suffolk class has become a successful company that reduces food waste and provides healthy feed to animals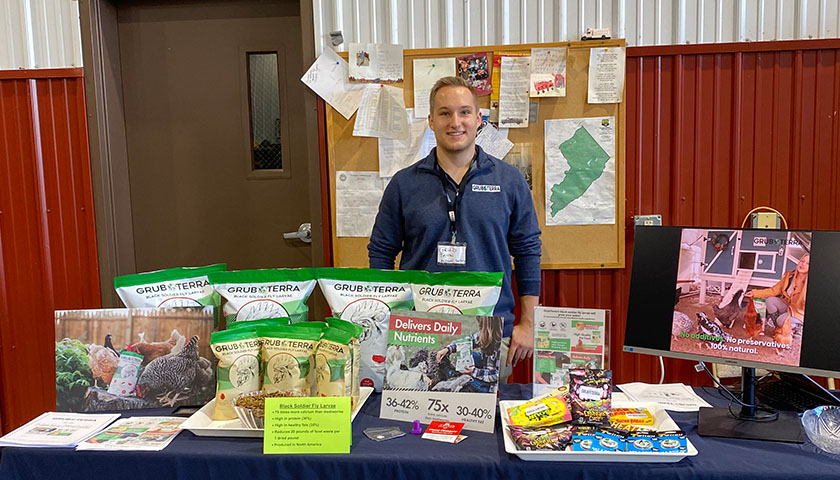 It's a simple business model: Give food waste to black fly larvae to eat. Then turn those well-fed larvae into healthy, natural feed for chickens and reptiles. Repeat.
It's green. It's sustainable. And it's turning Michael Servais, BSBA '20, into a successful businessman.
Servais launched his idea for GrubTerra in the Sawyer Business School's "Crowdfunding the Venture" class in 2019. Back then, he was growing the larvae in the basement of his off-campus apartment and trying to figure out if the business was viable. Servais officially started selling in August of 2020, even donning a chicken suit to help publicize the fledgling business.
Fast forward two years: Monthly revenue has grown 15-fold, and Servais has just hired his third employee.
"I knew after the crowdfunding class when I presented the idea that I was going to turn it into a business," Servais says. "And I knew that I'd be running it and crushing it."
Servais says just about all of his profit margin goes back into the company. One goal, of course, is to get and retain new customers, either through Amazon or the two dozen retail channels that carry GrubTerra. Servais also wants to use the revenue to focus on other aspects of the business: attending trade shows, developing new product, buying advertising, and increasing the company's already successful social media presence. In fact, GrubTerra's TikTok videos regularly garner hundreds of thousands of views; one of them even has over 15 million views.
Interestingly, while businesses around the world have had supply chain issues since the pandemic started, GrubTerra's main commodity — food waste — has never been in short supply. In fact, the bagel shops and grocery stores where he sources the grubs' food often give him more than he needs.
Servais, who's not yet 23, credits Suffolk and the crowdfunding class with teaching him how to be a "solopreneur" and giving him a comprehensive understanding of everything it takes to start a business. But now that the business is up and running, Servais has learned that he can't do everything anymore and that having employees who specialize in their roles can lead to further growth.
"Moneywise, it was a hard decision to hire a social media manager," he says. "But I realized if I do, that frees up 15 hours a week that I can focus on other stuff. Not only that, she helps bring in more money, which I can use to hire another employee."
And, perhaps, finding someone else to put on the chicken suit.