Boston Commissioner of Veterans Services urges vets not to pass up what they've earned
Thursday, Nov. 11 marks Veterans Day. But to Robert Santiago, Boston's commissioner of veterans services and the keynote speaker at Suffolk's Veterans Day Luncheon, the entire month of November is an opportunity to recognize the contributions of U.S. military veterans — including Suffolk students, employees, and alumni who have served.
A 20-year Navy veteran, Santiago is the first Puerto Rican and LGBTQ veterans' commissioner in the city's history. He stressed the importance of connecting veterans with the benefits they have earned through their service, including through outreach programs like Boston's Thank-a-Vet.
"Our veterans don't ask for much," he said. "Many times, when I speak to our veterans, they [decline] any assistance so that we can give it to veterans who they say 'need it more.' And I find myself explaining to them that all veterans have earned these benefits. They're not taking anything away from their brothers and sisters. It's there for them and their families.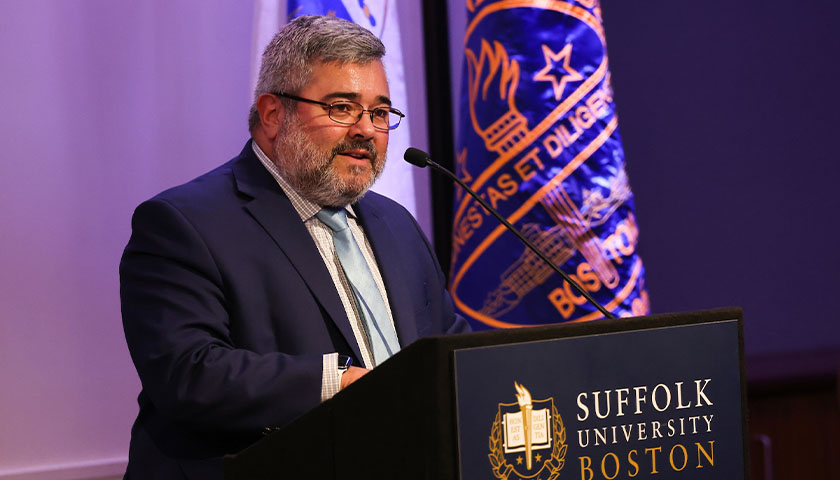 Boston's Commissioner of Veterans Services Robert Santiago gave the keynote address at Suffolk's Veterans Day Luncheon.
"If those benefits and services are underutilized," he noted, "they're in jeopardy of being discontinued. Any benefits and services that you qualify for, take advantage of them. To all student veterans here today, please research those benefits that you qualify for."
Though attendees were masked, this year's annual Veterans Day Luncheon, held Tuesday, Nov. 9, was a welcome return to in-person gathering, with Suffolk student veterans, along with faculty, staff, and alumni, connecting and sharing stories over a Thanksgiving-inspired meal in Sargent Hall.
Veterans Services Coordinator Alex Paterson welcomed the assembly with a word of thanks for the University veteran community.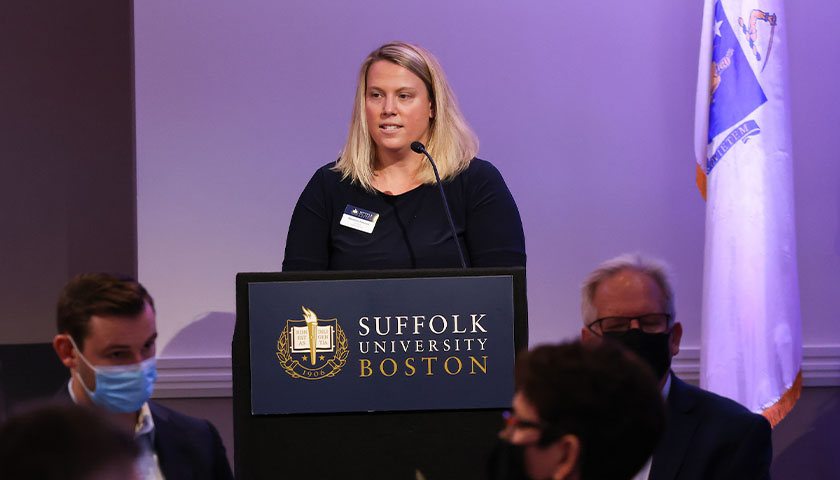 Veterans Services Coordinator Alex Paterson recognized Suffolk student, employee, and alumni veterans for their service.
"On behalf of everyone in the room, I want to be the first today to thank you for your willingness to serve our country," she said. "Your strength is inspiring, your dedication unwavering, and your sacrifices unending." Next to Patterson was a fully set empty table, a symbol of all the veterans who have given their lives in service to the country.
President Marisa Kelly thanked the veterans in attendance not only for their service, but for their contributions to the University.
"Your presence as part of the Suffolk community is enriching in so many ways," she said, "and it is an honor to be able to be with you here today to recognize that officially."
Suffolk veterans offered a traditional toast in honor of our nation's POWs and MIAs.
Suffolk University Veterans Day Luncheon
November 9, 2021
Santiago's keynote followed a traditional toast in honor of POWs and MIAs. He pointed out that Massachusetts veterans are more fortunate than many in terms of nonprofit and public support.
"Here in Massachusetts we are so lucky to have many different programs: we have Home Base, we have the Veterans Collaborative, we have our Department of Veterans Services. There is a veterans services officer in every city and town in Massachusetts. This is the only state in the country with that mandate."
Santiago wrapped up his address with an appeal to volunteer time and effort in service of veterans. He explained how his own post-military career path was advanced through volunteering on the Boston Veterans Advisory Council, ultimately positioning him for the commissioner's office.
"It was my volunteerism that got me where I am today."