A Man of the World
University honors Edward McDonnell for his travel scholarship fund and celebrates the publication of his memoirs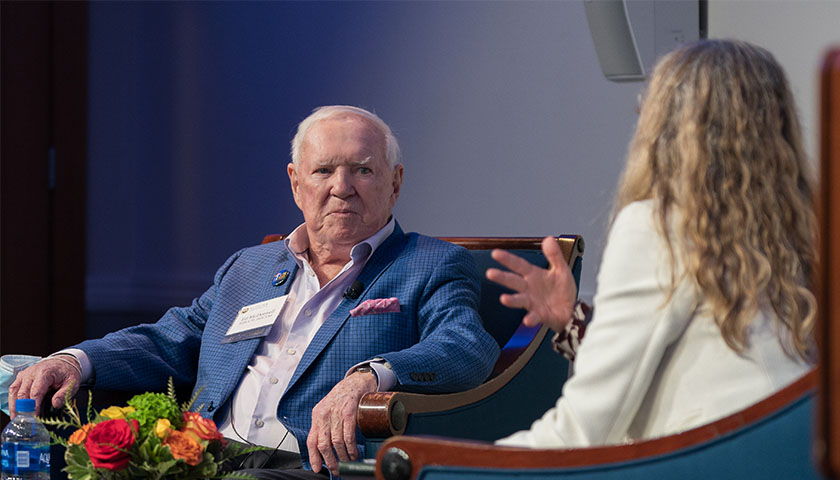 Prepare Yourself to Be Lucky is the title of Sawyer Business School graduate Edward "Ed" McDonnell's new book. It's a fitting mantra for the kid from South Boston who grew up in a poor Irish immigrant family, attended Suffolk University, then rose to become president and CEO of the spirits and wine group of the Seagram Company.
McDonnell, BSBA '59, HDCS '84, has lived and worked in London, Brazil, and Asia. He's met notables like Princess Margaret, Ronald Reagan, and Margaret Thatcher. He helped turn Seagram into the world's largest producer and distributor of distilled beverages. And he's loved every minute of it.
Because his international career has meant so much to him, McDonnell is determined to create life-changing global experiences for others, including endowing a travel scholarship fund that provides financial assistance for Sawyer Business School students to travel abroad. Since McDonnell established the fund a quarter of a century ago, more than 300 McDonnell scholars have had the opportunity to explore the businesses and cultures of other countries. And the fund isn't the only example of McDonnell's lifelong commitment to Suffolk University: From August 1995 to July 1999 he was a trustee.
The Business School community recently gathered to thank McDonnell for his generosity and to congratulate him on the publication of the book, which is filled with advice and anecdotes from his 55-year career. Between remarks from Sawyer Business School Dean Amy Zeng and Suffolk University President Marisa Kelly, McDonnell engaged in a discussion moderated by Professor Jodi Detjen. When she asked what the key to his success was, McDonnell replied that treating people with respect was vital. One example was when he was stationed in Brazil overseeing 4,600 employees, most of whom spoke no English, McDonnell set out to learn Portuguese and devoted one hour every morning to learning the language. "Bend over backwards for people, and they'll do the same for you," he said.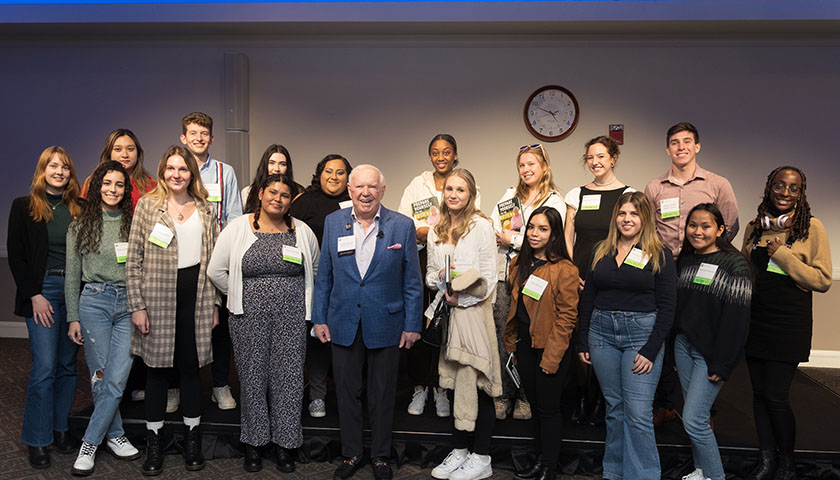 McDonnell also talked about how important it is to give Suffolk students the opportunity to travel abroad. "The more you understand people from another country, the more they'll understand you," he said. As for building long-lasting business relationships throughout his career: "There's no secret to winning people over — just be supportive and be fair."
The event took place during Suffolk's First Gen Week, which celebrated first-generation college students like McDonnell. The new class of McDonnell travel scholars were in attendance to meet McDonnell and express their appreciation, including Mayra Gonzalez, BA '21, who attributed her travel experience to Israel for changing her perspective on the world.
President Kelly thanked McDonnell for providing "transformational opportunities" for Suffolk students and supporting the University's goal of helping those "who are looking for a way to prepare themselves to be lucky." She also presented McDonnell with a book of thank-you notes from dozens of past travel scholarship recipients.
Prepare Yourself to Be Lucky is available through Amazon.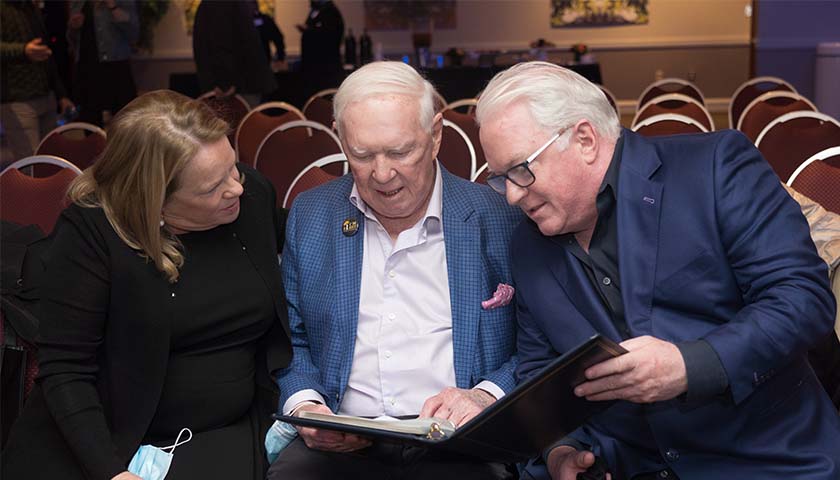 Contact
Greg Gatlin
Office of Public Affairs
617-573-8428
Ben Hall
Office of Public Affairs
617-573-8092