Suffolk Law Graduate Enters the Shark Tank
Julia Rodgers JD '15 lands investment in her do-it-yourself prenup app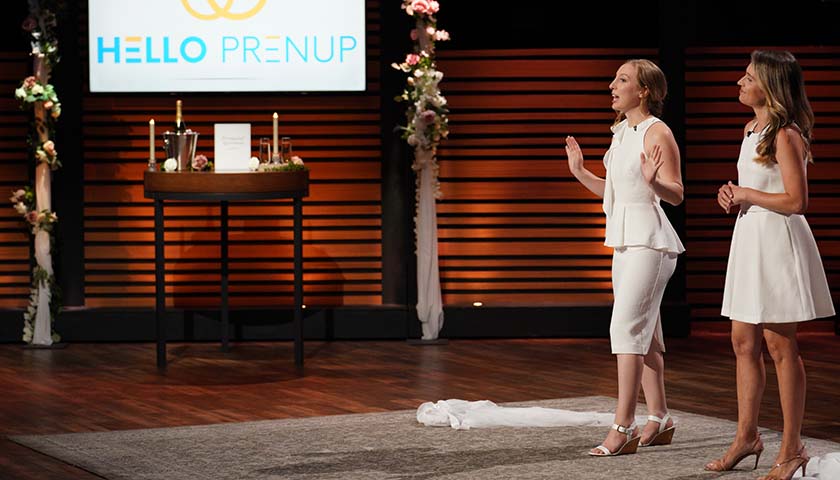 Suffolk Law graduate and family law attorney Julia Rodgers JD'15 came away from her Shark Tank debut on November 12 with a deal. A big one: $150,000 for a 30 percent stake in her company, Hello Prenup.
Two venture capitalists, called "sharks" on the show, Nirav Tolia, the founder of Nextdoor, and "Mr. Wonderful" Kevin O'Leary, teamed up to offer Rodgers and her co-founder, Sarabeth Jaffe, the funding.
"Hello Prenup is the first digital platform to allow couples to create a prenup agreement in hours instead of months and for a fraction of the cost, without ever leaving their couch," Rodgers told the sharks in her pitch. A "prenup," short for prenuptial agreement, is a written contract created by two people before they marry.
Learning the Concepts at Suffolk Law
The idea for an automated prenuptial app germinated from Rodgers's exposure to legal automation tools in Suffolk Law Professor Gabe Teninbaum's Lawyering in the Age of Smart Machines class. "This form of automation really struck a nerve with me," Rodgers says. "I started asking: 'What else could be automated?' and I'm still working at it."
During Teninbaum's class, she began automating client intake forms at the law firm where she worked at the time, and later, for her current employer, Mavrides Law in Boston. Her co-founder, Jaffe, is a software engineer.
Better to be scrappy
Tolia complimented Rodgers and Jaffe on their do-it-yourself approach. "There are two ways to start tech companies in Silicon Valley," he said before making his offer. "One way is to go get a lot of venture capital and go big or go home. The other way is to be scrappy, to be entrepreneurial. I believe in you guys. I believe in the space. I do believe there's a market, and I think it will come to you."
For $599, Hello Prenup walks each member of a couple through questions on finances, marital property, debt, inheritance, and spousal support, among other topics, storing responses and flagging areas of potential disagreement so that the couple can settle them and create a legal document for download. Rodgers said a traditional prenup, on average, would cost about $5,000.
The creation of a prenup can create an awkward conversation, and many millennials don't want to have that conversation with an attorney, Rodgers told the sharks. But they recognize that they need a prenup and will pay a smaller fee to get one from their living room.
Democratizing the Law
Not everyone in the legal community is on board yet with legal tech solutions, Rodgers says, "but Suffolk Law legal innovation students start with the idea that tech innovation can be a powerful positive step and that it can democratize the law, put legal services within an average person's reach."
Prof. Teninbaum agrees that legal tech innovations can make legal help more affordable and accessible. He points to one recent initiative from Suffolk's Legal Innovation & Technology Lab students, CourtFormsOnline.org, a Turbo Tax-style tool that has helped thousands of people access the courts during the pandemic to prevent evictions and seek protection from an abusive spouse, among other vitally important matters.
A big enough pie?
Is Rodgers afraid that Hello Prenup will cut into the profits at her current law firm? That's not a concern, she said. "There are people who will happily pay us for a higher level of service, but there are a lot of millennials out there with school debt, and they can't spend as much on their prenuptial agreement. It's a different market."
The legal market is indeed large enough to encompass new approaches, says Prof. Teninbaum. "There is a massive, underserved population in the United States in need of legal services who are able to pay something for them, but unable to pay the going-rate for traditional help. Hello Prenup is a terrific example of the type of solution that can assist."
"It was exciting to watch Julia interacting with the sharks," said Law School Dean Andrew Perlman. "We created Suffolk Law's cutting-edge legal innovation curriculum with people like Julia in mind. We wanted to teach the next generation of lawyers the skills they need to thrive in the 21st century and to better address the public's legal issues. It is wonderful to see those efforts pay off in such a tangible way for one of our graduates."