Prospering Together: How Racism Hurts Everyone
President Kelly hosts a conversation with bestselling author Heather McGhee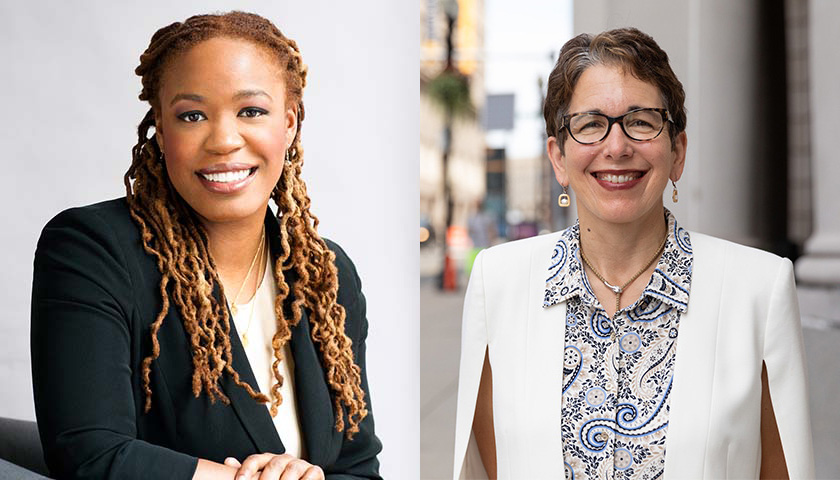 Why hasn't the United States turned its wealth and will into a bounty of public services to improve the health, education, and happiness of residents of all races and social classes?
Racial inequities and polarization have prevented desperately needed progress for all Americans, according to economist and attorney Heather McGhee, author of the critically acclaimed New York Times bestseller, The Sum of Us: What Racism Costs Everyone and How We Can Prosper Together.
McGhee recently headlined the 2021 Fair Housing Conference, sponsored by Suffolk University Law School's Housing Discrimination Testing Program, sharing her research in a virtual conversation hosted by Suffolk University President Marisa Kelly.
Kelly praised McGhee's groundbreaking book, which is slated to be adapted into a Spotify podcast series by Michelle and Barack Obama. She asked McGhee to explain the stubborn cultural belief in "zero-sum thinking" — that for one group to prosper, another must lose status.
"This was the first big 'a-ha moment' I had on my journey," said McGhee, who left her position as president of New York justice-focused think tank Demos in 2017 to spend the next three years traveling around the nation interviewing hundreds of subjects for the book. "It said there is a fixed pie of well-being in society and we are in a racial and cultural group competition with one another for pieces of that fixed pie. The 'zero-sum' says that that progress of one group has to come at the expense of the other."
Drained-pool politics
McGhee found a powerful symbol of zero-sum thinking in the closing of grand public swimming pools once found across many Southern states. Many were built as New Deal projects in the 1930s, along with roads, bridges, and parks — in an era of public spending that also gave rise to Social Security and the GI Bill. That era, marked by the idea "that government and business and workers should share in a social contract," created a middle class with an enviable standard of living that, like the public swimming pools, was also racially exclusionary.
"When Black families and communities were able to successfully litigate and advocate for integration of public pools," McGhee said, "towns and cities across the country opted to drain their public pools rather than integrate them." Black people couldn't enjoy the pools, but neither could whites.
With the advent of the Civil Rights movement and the integration of public schools, this same "drained-pool politics" prevailed. There was a pronounced shift away from support of governmental safety nets and programs among many working-class whites, McGhee said. The current lack of political support for President Biden's efforts to update infrastructure in many states can even be traced back to this.
Kelly and McGhee also discussed persistent racial discrimination in housing, both in mortgage lending and the rental market.
Suffolk Law students have been active for years in battling racism in the Boston housing market. In 2020, they delivered a high-profile study that documented a widespread pattern of discrimination among real estate agents and landlords, who showed white renters roughly twice as many apartments as equally qualified black renters.
Suffolk students' housing research 'critical'
McGhee praised the Suffolk students' work as "so critical," because this area of study is underfunded. "I was thrilled to see that this data is here and it can be used in so many powerful ways."
Kelly asked how else the University can help advance economic equity. "Education has to be part of the solution because we can help our students understand the fallacy of zero-sum thinking," she said. "Beyond that … what can we do as individuals?"
As students enter the workforce, McGhee said, there are many areas where they can help advance equity and justice, including the environment. While well into her book writing, she told the conference attendees, she realized she needed to add a chapter on environmental justice, eventually titled "The Same Sky."
Because of housing and zoning discrimination, she noted, communities of color are more likely to live in areas impacted by climate change and environmental hazards — and more likely than white Americans to support systemic changes to address them.
"The major reason why our country has yet to do what it needs to do to address global climate change is that there is a racial disparity in support for climate change action," said McGhee.
"That zero-sum fallacy is stopping people with the most power from having the sense of urgency that the people with the least power do," McGhee said.