A Championship Season
How the women's cross country team captured Suffolk's first-ever Commonwealth Coast Conference title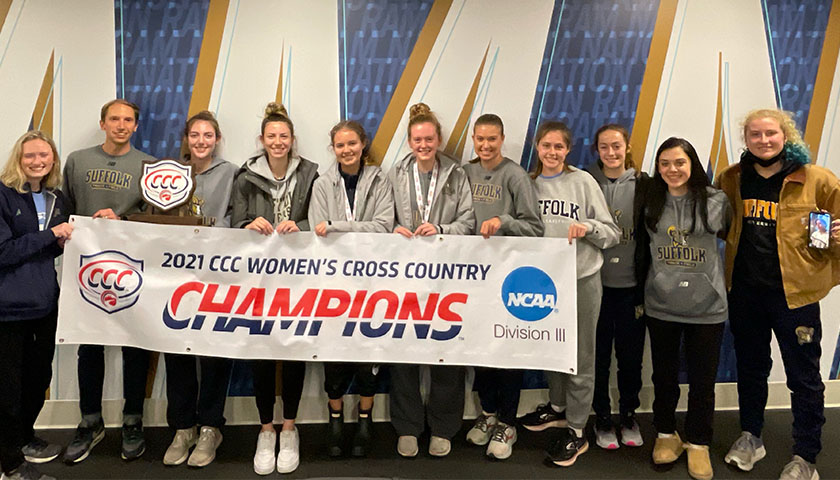 When Coach Will Feldman, BA '10, looked over his roster prior to the start of the Suffolk women's cross country season, he admits he had mixed emotions.
"I was confident that we had talent on paper, but we were very young and inexperienced," says Feldman, head coach for both the women's and men's cross country and track & field programs. "I just wasn't sure what our journey would look like."
As it turns out, that journey led all the way to the team's first-ever Commonwealth Coast Conference (CCC) championship title. The squad is the first Suffolk team to capture a league title since the school became a CCC member in 2020. Feldman himself was named the women's Coach of the Year by the league.
Teamwork made the dream work
How does a team with just one senior, nine freshmen, and a handful of sophomores and juniors pull off such a banner season? For Feldman, the team's camaraderie was an essential ingredient.
"The bonding started right away," he says. "Some of our young recruits started getting to know each other on Zoom even before they came to Boston. Then once we started the season, everyone just came together and got along with one another."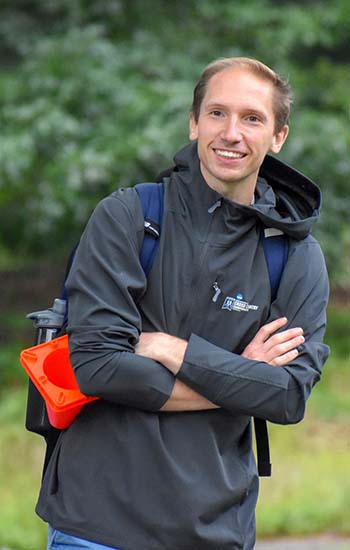 While the season had its ups and downs, he adds, "everyone always responded to any challenge or adversity that came their way. They looked at everything as a learning opportunity, and that helped us get progressively better as the season went on."
"We all cheered each other on and wanted to see everyone do their best," agrees runner Sydney Fogg, Class of 2024, a sociology major from York, Maine. "While we worked very hard, we also had fun. We were always cracking jokes, laughing, and hanging out with each other as much as possible."
Fogg, who is also a member of the indoor and outdoor track teams, knows when it's time to focus. For motivation before every race, she writes FYMTYB (short for "Free Your Mind, Trust Your Body") with a black Sharpie on her left forearm, along with 128 (for January 28, the day she was born).
She brings that same focus to the classroom. "Just like I concentrate on running one mile at a time, I take it one class at a time, one test at a time, one paper at a time," she says. "I never look too far ahead."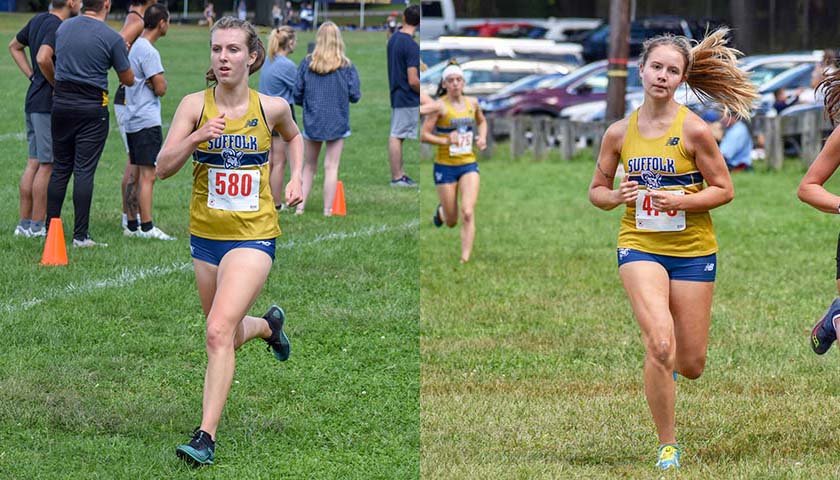 Coaching the whole student
Gwen Koziara, Class of 2025, the Rams' top finisher in the league championship, credits Feldman's strict but fair coaching methods for her success.
"He sets high goals for everyone, and you can reach them as long as you put the work in," says the global and cultural studies major, who ran cross country at Lower Merion High School, the alma mater of Kobe Bryant, located just outside Philadelphia.
"He prepares us for every meet, and he is very encouraging and motivational in how he relates to us. He's also good at expanding our experiences beyond running."
Perhaps that's because Feldman has literally run a mile in their shoes: He was a three-time team MVP while a cross country runner at Suffolk. Later, he went on to coach at Emanuel, MIT, Duke, and UNC Greensboro before returning to Suffolk in 2017 to head up the cross country and track & field programs. He was twice named women's Coach of the Year in Suffolk's previous league, the Great Northeast Athletic Conference.
"Will is a good recruiter, a hard worker, and a confident leader," says Suffolk Director of Athletics Cary McConnell. "He has a vision of where he wants to take our cross country and indoor and outdoor track programs, and it's exciting to watch our student athletes continually develop not only on the local and regional levels, but nationally as well."
Feldman says his coaching philosophy goes well beyond wins and losses. "I want my runners to have a normal college experience," he says. "I want them to enjoy the city of Boston, get internships, and do other things.
"I need them to be healthy, have fun, and be good teammates to one another. Everything else will take care of itself."