Racing Into the Record Books
At the NCAA Division III championships, Matyas Csiki-Fejer became the first All-American cross-country runner in Suffolk history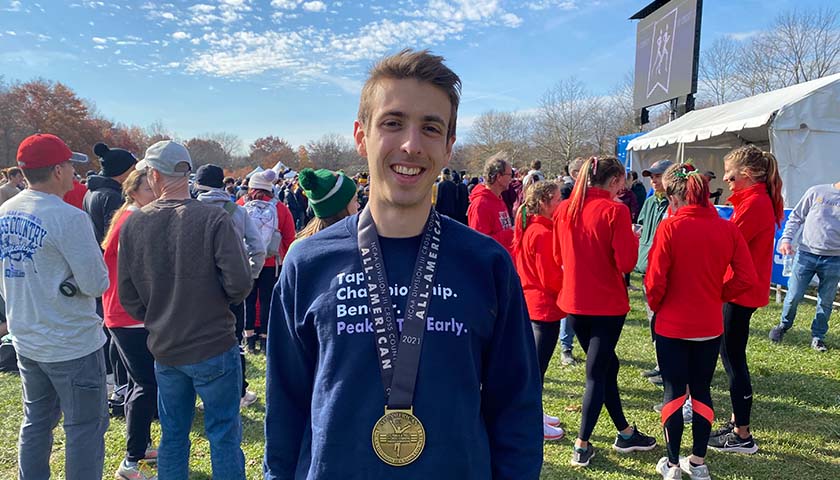 Day has not yet broken, and Matyas Csiki-Fejer, Class of 2022, is already on the run.
At 5:30 a.m. he races out the door of his downtown Boston apartment to catch the Blue Line train headed to East Boston Memorial Park for cross country practice. After a track workout or an eight to 12-mile run, it's back on the train to Suffolk and the Smith Fitness Center for a weight-lifting session, followed by classes all afternoon and studying all evening. His head hits the pillow close to midnight.
Welcome to a day in the life of one of Suffolk's top student-athletes. Not only has Csiki-Fejer, a political science & legal studies major, maintained a 4.0 GPA for six terms, he also just became the first-ever Suffolk cross country runner, male or female, to earn All-American status. He joins a small, select circle of 14 other Ram athletes who've achieved this honor.
"After seeing Matyas run during his first month on campus, I knew he was going to be special, and one of the best runners in the country," says Head Coach Will Feldman, BA '10, a former three-time team MVP runner for the Rams. "He has a great work ethic and the ability to grind every single day. He's physically tough and holds himself to a very high standard. He's a coach's dream."
Eric Bellone, professor of Political Science & Legal Studies and co-director of the Undergraduate Law Program, says Csiki-Fejer brings that same discipline to the classroom. "He was always prepared and his insights in our discussions were always right on target. He knew how to grasp concepts immediately and link them to others. He is the kind of model student that every professor wants."
'My talent is challenging myself'
Asked the secret of his success, Csiki-Fejer — who was born in Romania and lived in Hungary until he was 10, when his family moved to St. Louis — is matter of fact, even modest.
Good time management helps, he says, "but the secret is that there is no secret. I don't think I'm a talented runner; I think my talent is challenging myself. I put a lot of time and effort into it, but like anything else in life that's worthwhile, you need to work at it for a long time. I'm proud to be able to follow my passion."
Csiki-Fejer completed his cross country career in splendid fashion, finishing in 35th place at the 2021 NCAA Division III Cross Country Championships in Louisville, Kentucky in a field of more than 280 runners from across the country. He ran the 8K course in a time of 24:20 and earned All-American status, which is presented to the top 40 finishers.
"I was happy with the way I ran, despite some setbacks in training," he says. "I want to give credit to Coach Feldman, my teammates, and my trainers for helping me get to this point. It was a culmination of a lot of people's efforts."
Csiki-Fejer won Suffolk's Charles Law Student-Athlete Award in 2021, named for the man who established the University's athletics program in 1946. After finishing first earlier this season in the Commonwealth Coast Conference league championship, he was also recognized as the CCC Scholar Athlete of the Year. And for the past two years, he was an Academic All-American selection by the College Sports Information Directors of America (CoSIDA).
Csiki-Fejer credits Feldman for helping him to keep everything in perspective.
"I've learned an incredible amount of patience and control from him," he says. "He has taught me to trust the process and be conscious of what I'm doing on any given day as a runner, and outside of running as well."
And Suffolk has become a second home to him. He met his girlfriend, Julia Lewis, Class of 2022, at a student welcoming event the night before his first freshman class, and he is currently enrolled in Suffolk's accelerated Global Public Policy master's program. Eventually, he'd like a career in international or environmental law.
"One of the biggest lessons I've learned is to stay in the moment and have fun," he says. "I don't like to rest on my laurels."