Expanding Equity in the Curriculum
Suffolk welcomes Access & Opportunity Fellows Tabetha Violet and Maria Hwang, who will each teach a course during the spring semester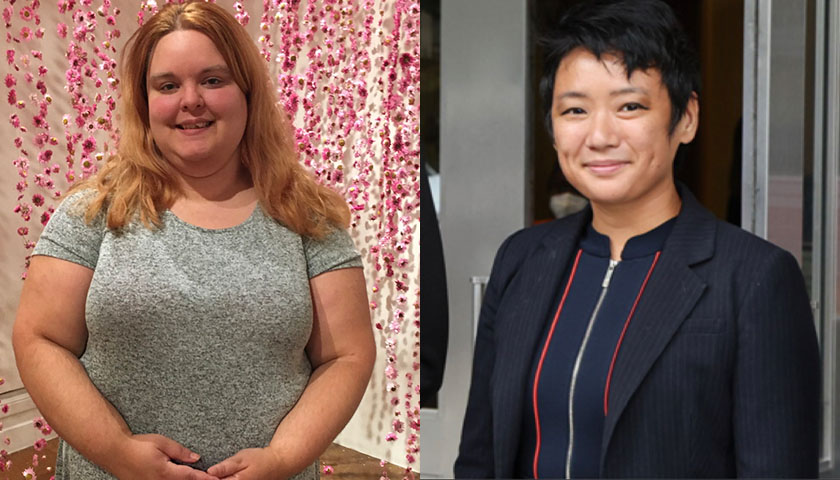 Established as part of Suffolk 2025's Strategic Plan, the Access & Opportunity Fellowship has two interconnected goals: Build a pipeline of diverse faculty candidates and increase the academic cultural intelligence of Suffolk students.
The program now brings two to three fellows to Suffolk every year, and provides them with research support, mentoring, and the opportunity to teach a course during the spring term.
"What makes this fellowship attractive is that it literally centers access and opportunity," says Tabetha Violet, the College of Arts & Sciences Fellow and a PhD candidate from Bowling Green State University. "That's what we should be doing in higher education."
Violet's doctoral research focuses on disability studies, particularly hidden disabilities and "contested illnesses" like fibromyalgia, which causes bodily pains, sleep problems, fatigue, and often emotional and mental distress. Such conditions are often misunderstood and misdiagnosed by the medical community.
Both Violet and Law School Fellow Maria Hwang, JD '16, come from blue-collar, working-class families in the Midwest. Both have known what it's like to sit in college classrooms and feel like they don't quite belong, and both are determined, as Hwang puts it, "to create spaces where students don't have those kind of doubts."
Violet will teach a first-year Creativity & Innovation course on social movements. "No one creates social change alone," she says. "You have to work with other people. You have to compromise, and listen as much as you talk. These are social movement skills that you learn and practice." She'll focus on the Americans With Disabilities Act and "the fight that it took to get it passed, what got left out, and what remains to be done."
As the daughter of Taiwanese immigrants, Hwang says she understood "the gravity" of immigration from an early age, the way it touched every aspect of her family's life. She's made it her life's work, studying immigration law at Suffolk and serving as a judicial law clerk and attorney-advisor at the Boston Immigration Court. And since 2019, at the invitation of one of her former professors, she's been teaching immigration law courses at Suffolk as an adjunct instructor.
For her fellowship, she'll teach the Legal Practice Skills course, which focuses on professionalism, legal research and writing, and oral advocacy.
Learning to "think like a lawyer" can seem quite foreign to some students, she says, who worry their life experience doesn't match what a lawyer's should look like. "I tell them to just leave that attitude at the door," Hwang says. "Let's take the experiences you do have and hone them, so they can be skills in your legal profession."