How To Grow a Growing Business
Sawyer Business School MBAs help Boston robotics company enter the market for grow-your-own cannabis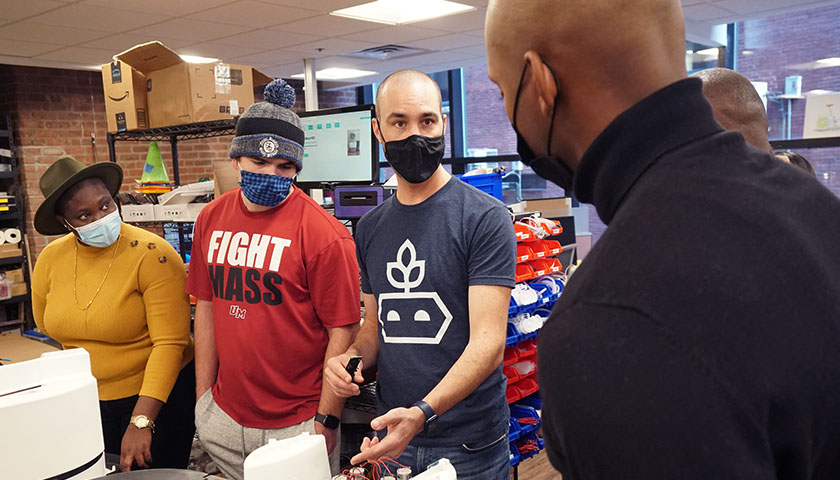 The legal marijuana market is on track to be worth more than $70 billion globally by 2028. That's a lot of cannabis...and a lot of opportunity for companies like Boundless Robots.
It's an AI, hydroponics, and robotics company based in the Fort Point area of Boston that's developing a device called the Annaboto that lets people grow cannabis at home. Called a robotanist in the industry, it's a set-it-and-forget it sort of machine that tends the cannabis plant on its own — ideal for people who have no growing experience.
Currently, Annaboto is in the product development stage. And, like any startup, Boundless Robotics has limited resources as it moves toward full production in 2023. Which is why founder and CEO, Carl Palme, jumped at the chance when Strategy and International Business Professor Kim Wang offered to have students in her "Understanding World-Class Clusters" act as consultants. Their goal? Help the company better understand the cannabis market and suggest how to maximize opportunities moving forward, not just for Boundless but for other cannabis companies in the area, too.
Five groups of SBS students spent the fall semester researching the cannabis and robotics industries, developing ideas on marketing, how the company can help destigmatize cannabis use, how Boston could become a cannabis cluster, and how to create cannabis communities. One of the extra challenges was that, because marijuana use was illegal for so long, there isn't a lot of data they could dive into. While growing numbers of states, including Massachusetts, have legalized marijuana, it remains illegal under federal law.
For Palme, who attended the end-of-semester presentations along with company advisor Ann Whittaker, one of the groups' strongest ideas was for Annaboto to target not recreational cannabis users but those who consume it to ease chronic pain. "We hadn't thought about rallying around a common cause like that," he told the students in his post-presentation comments.
Overall, Palme was very impressed with the perspectives the students were able to give him. "It's always great to learn how others see our company," he said. "Not only are we a start-up, but we're in a controversial space." At the end of the presentations, he even surprised students by inviting them to apply for a paid internship at Boundless Robotics to help it further explore some of the ideas that came out of the class.
Contact
Greg Gatlin
Office of Public Affairs
617-573-8428
Ben Hall
Office of Public Affairs
617-573-8092