Women's Hockey Heats Up
In the four years since Suffolk launched its women's ice hockey program, Head Coach Taylor Wasylk has built a powerhouse team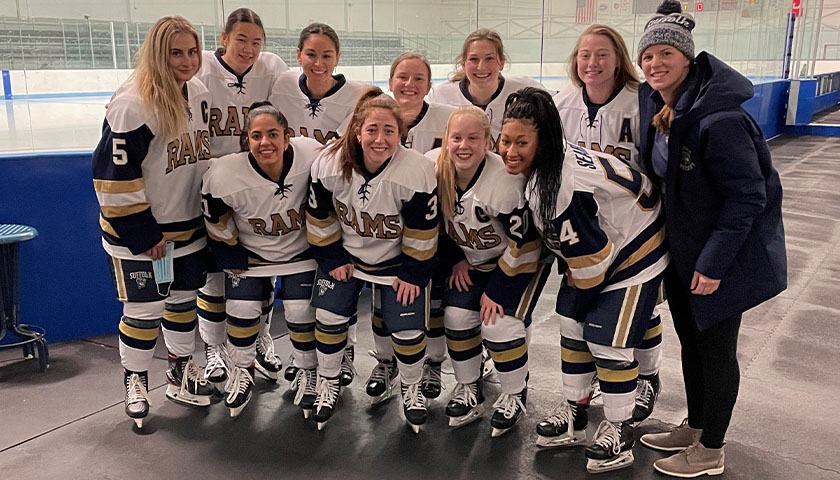 When Taylor Wasylk was hired as the first-ever women's ice hockey coach at Suffolk University, she had everything she wanted — except a team.
It was March of 2017, and Wasylk, a first-time head coach, was tasked with building a program from scratch. So she hit the recruiting trail, traveling throughout the United States, Canada, and Europe in search of talent.
"The things I look for in a player are speed, hockey IQ, coachability, and a team-first attitude," she says.
Like a puck drilled to the back of the net, Wasylk's global recruiting efforts were right on target. Under her leadership the past four years, the women's ice hockey program has posted impressive results, particularly in the current 2021-22 season. The Rams won their first eight contests this season, before finally losing a game in December.
"We have a very talented and competitive team," Wasylk says. "We're just trying to keep things positive and upbeat every day."
Wasylk's first team in 2018-19 included 17 freshmen. Over four years that veteran cast has grown and developed, and 10 of the original players are now seniors on the team. Wasylk is thrilled to see them reaping the rewards from their hard work over four years with the outstanding start this season.
"I love all my players, but that first group will always be special," she says. "They came here with a purpose to get where we are today. They have really worked hard and deserve so much credit for helping to build the program. I'm very happy and excited for all of them."
"Being part of that first recruiting class adds sentimental value to what we're doing now. We're very close and we would do anything for each other."
Shana Cote, Class of 2022
Captain, Women's Ice Hockey
Women's ice hockey is part of a major University investment in athletics and an expansion of varsity sports that started in 2015. Suffolk added six varsity teams, including women's ice hockey; men's and women's track and field, both indoor and outdoor; and women's golf.
A Port Huron, Mich., native, Wasylk came to Suffolk with excellent credentials: a four-year playing career at Boston College, where she helped lead the Eagles to three consecutive trips to the NCAA Division I Frozen Four, along with two Beanpot and Hockey East titles. She followed that up with assistant coaching positions at UMass Boston and SUNY-Canton.
When it came time to seek a head coaching position, Suffolk was the only job she applied for. "I love Boston and I knew 1,000 percent that this was the place for me," she says.
Director of Athletics Cary McConnell was immediately impressed. "I could tell she had what it took to succeed at a high level," he says.
"The things I look for in a player are speed, hockey IQ, coachability, and a team-first attitude."
Taylor Wasylk
Head Coach, Women's Ice Hockey
In her first season, Wasylk led the Rams to an overall record of 15-9-2 and was recognized by her peers as New England Hockey Conference Coach of the Year. The team won 10 games in her second year and finished with a 2-6 record during the shortened COVID-19 season.
"Taylor is competitive and a hard worker who has a knack for recruiting student-athletes who can excel at Suffolk," says McConnell. "She has done an unbelievable job building this program."
One of Wasylk's first recruits was forward Shana Cote, Class of 2022, who was born in Broomfield, Colo., and played AAA hockey for the junior ice hockey Northern Cyclones in Hudson, N.H. before joining the Blue and Gold. She has seen the transformation of the program firsthand and considers herself fortunate to be part of the team's success.
"I think we have gotten better as a team every year," says Cote, a computer science major, who is now the Rams' leading scorer with 20 points (10 goals, 10 assists). "Being part of that first recruiting class adds sentimental value to what we're doing now. We're very close and we would do anything for each other."
The fact that COVID curtailed the 2020-2021 season to just eight games has made Cote and her teammates appreciate this year all the more. "The pandemic taught us that you never know what's going to happen tomorrow," she says, "so you have to give everything that you have today."
"The seniors help the younger players all the time, and Coach is tough but fair. I can only see bright things for our future."
Sofia Scilipoti, Class of 2023
Forward, Women's Ice Hockey
Originally from Toronto, Sofia Scilipoti, Class of 2023, was a student at Suffolk's Madrid campus for two years before coming to Boston and joining the squad this year. A member of the Spanish National Team, the standout, all-around forward says she quickly fit into her new surroundings.
"I loved everything about Boston and the girls welcomed me with open arms," says the psychology major, who has scored 14 points (six goals, eight assists) to date. "This has to be one of the closest teams I've ever been on."
Scilipoti attributes the team's 8-1 record to the leadership of the senior class and the guidance of Wasylk, who is assisted by third-year coach Bridget O'Brien.
"The seniors help the younger players all the time, and Coach is tough but fair," she says. "She really cares about everyone and wants to see us all improve. I can only see bright things for our future."