Student Team Wins $1,000 in Legal Design Challenge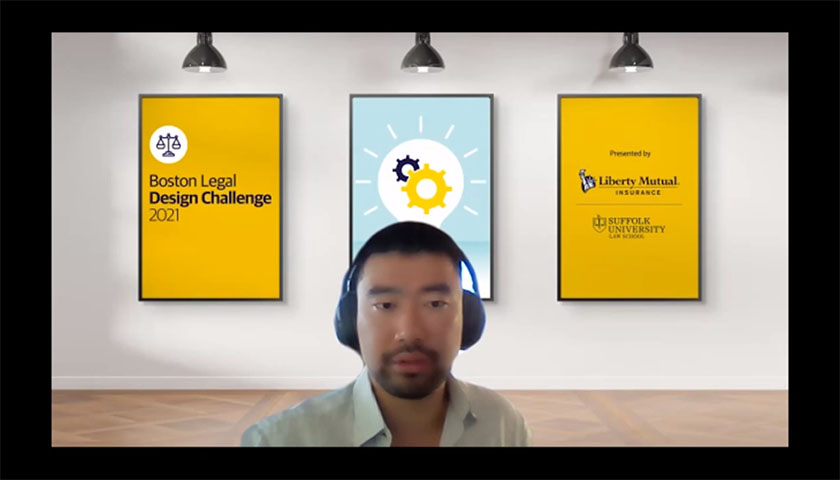 Developing a creative approach to bringing cutting-edge knowledge and tools to lawyers proved to be a winning concept for Suffolk Law and business students as they captured third place in the 2021 Legal Design Challenge.
Suffolk Law's fifth annual event, conducted virtually and presented in partnership with Liberty Mutual Insurance Company, brought law and business students together from across the United States to invent and prototype products that solve legal problems and often societal ones as well.
The eight participating teams had one day to generate their ideas and then deliver a five-minute presentation, using pitch decks and prototypes. In the end, the Suffolk team, took home the third prize. First place went to Emory University School of Law, and second place to Stanford University Law School and the William S. Boyd School of Law at the University of Nevada, Las Vegas.
The Suffolk squad presented their concept, The Legal Tech Almanac, a virtual legal training tool for practicing attorneys to help address the gap when lawyers in practice fall behind the times of booming new technologies that impact everyday law practice.
Given the acceleration of legal tech start up growth, The Legal Tech Almanac offers a multi-media platform that would include virtual "how-tos," and a quarterly E-book.
"Knowledge is power; that's the common theme of what we created," says Cassandra Nedder, who along with fellow 2022 JD/MBA candidates Conner Marshall and Victoria Leisey, and 2L Brittany Correia, comprised the Suffolk team. "What we created is designed for lawyers of all ages and experience to discover new legal technologies and how they can best leverage them in doing their jobs.
"There are many lawyers that don't know what technologies are available to them. And in today's world, that puts them at a big disadvantage. Our product will not only help lawyers learn what technologies are out there, but how technology can benefit them in saving time and money."
"The Suffolk team offered a clear and concise overview of their idea and demonstrated a prototype to show how the tool could tailor results to attorneys in particular fields," says Dyane O'Leary, professor and director of the Legal Innovation & Technology concentration at Suffolk Law, and one of the event's organizers. "The tool would then suggest particular platforms depending on the attorney's search and area of practice."
Nedder's teammate, Conner Marshall, credits the collaborative effort of the Suffolk team for its successful presentation.
"We've done this competition before, so we have a team dynamic where everyone had a specific role playing on their strengths," he says. "After brainstorming our ideas, we all came together to help each other articulate them and come up with our final product."
When he graduates from Suffolk, Marshall wants to begin his career in the legal department of a company, preferably dealing with contracts and acquisitions. He believes that the experience of working as a team in the Legal Design Challenge will benefit him moving forward.
"I know that I'll be working closely with people no matter where I work, so this competition gave me some exposure to that," he says.
Emory's first place team focused its concept on a problem and solution in the context of the virtual administration of law, recognizing that tools such as Zoom do not fit all virtual legal environments, and especially courtrooms across the country. In the context of virtual legal education, second place Standford/UNLV looked at the problem of disengaged students with traditional, minimally engaging powerpoint lectures being presented online. The team proposed a new program with a modular approach that would train professors teaching law virtually to be efficient and engaging.
The top three teams received cash prizes of $2,500, $1,500, and $1,000, respectively. Other schools represented in the Legal Design Challenge were Michigan State University, Southern University Law Center, and the University of Richmond.
The judges were Bob Ambrogi, lawyer, journalist, legal tech blogger; Jeff Marple, director of digital transformation strategy at Keesal Propulsion Labs; Jackson Liu, global vice president at Neota Logic; and Beth Morahan, executive vice president & general counsel of global risk solutions at Liberty Mutual Insurance.