This 'Rose' Breaks Records
Jenni-Rose DiCecco is now Suffolk's all-time leading scorer in women's basketball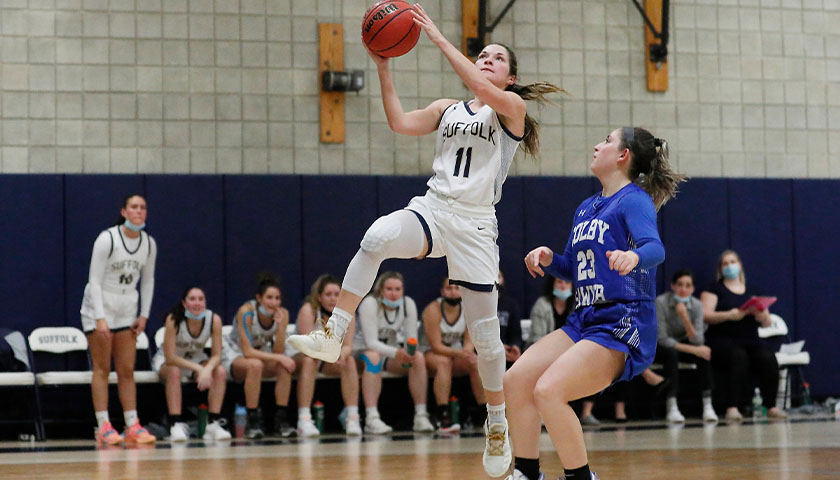 The countdown began on November 9, when the Suffolk women's basketball team won its season opener against Emerson. It ended a month later when, with just 29 seconds left in the first quarter of the Rams' match-up with Fisher College, point guard Jenni-Rose DiCecco, BS '21, sunk a left-handed layup — and became the University's all-time leading scorer in women's basketball.
The Larry and Michael Smith Court erupted in celebration. But for DiCecco herself, the moment was "less about breaking a record and more of a reward for my love of basketball. Accomplishing something like this shows how all the time and hard work I put into the game pays off."
The fifth-year starter surpassed the previous mark of 1,516 career points held by Katie Norton, BS '01, scoring 17 points in the 76-43 win versus Fisher. The Rams' victory meant a lot to DiCecco, a three-year co-captain. "I'm a team-first type of a player," she says. "I leave everything on the court, win or lose. It's the only way I know how to play."
'The bigger the game, the better she plays'
Suffolk veteran Head Coach Ed Leyden knew that DiCecco, also the Rams' all-time leader in assists and steals, was special the first time he set eyes on her playing for Falmouth High School.
"Her skill level, quickness, and competitive spirit stood out right away," says Leyden, now in his 28th season with the Rams. "I thought she had the potential to become an impact player here at Suffolk from day one, and she has been.
"She can drive, shoot, and play defense. She also has a great work ethic and is a good student, leader, and teammate. What truly separates Jenni-Rose from everyone else is that she loves a challenge. The bigger the game, the better she plays." Midway through the season, DiCecco has led the Rams to an overall record of 9-3 and has 1,556 career points to date.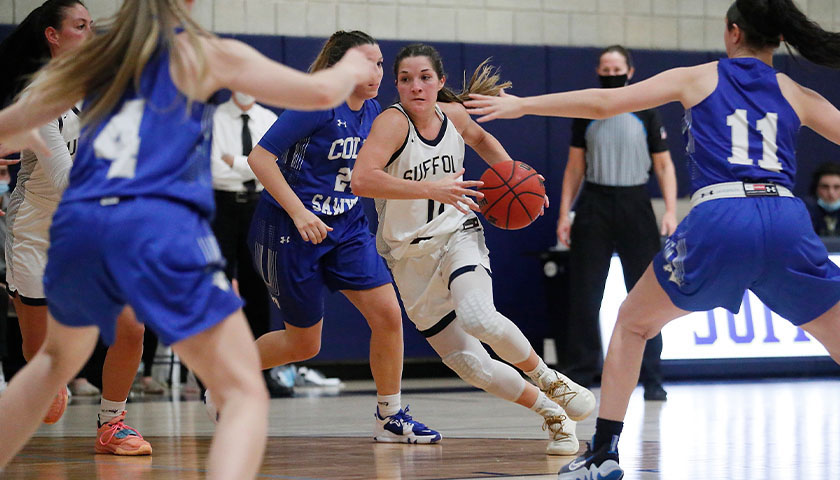 Adds co-captain and shooting guard Gabriella DeComo, Class of 2022 and an English major, "I love playing with Jenni-Rose because she hustles on every play, and she will get you the ball. She always goes above and beyond what she has to do."
While DiCecco was heavily recruited by other Division III schools, she chose Suffolk because of its educational reputation and downtown Boston location, as well as the chance to play for Coach Leyden. "He is one of the most passionate coaches I've ever been around," she says. "He is very understanding and listens to what we as players have to say. He trusts all of us to do what's best for the team."
A future in law enforcement
What's best for DiCecco is playing hoops and pursuing her master's degree in crime & justice studies at Suffolk. "Basketball has shaped who I am today when it comes to other aspects of my life," she says. "It has given me more confidence as a student, especially when it comes to making presentations and public speaking."
Away from the court, DiCecco works as a grad school fellow for Suffolk Sociology & Criminal Justice Professor Rebecca Stone. Her ultimate goal is to become a U.S. Marshal, a position where she can continue to demonstrate her intense competitive nature.
"I've always been one who likes the action," she says. "I want a job that keeps me moving and brings me to different parts of the world."
DiCecco also hints about coaching someday. "It will keep me in the game," she says, "and that will be awesome."