A Storybook Start
Playing in front of crowds for the first time in close to two years, the men's basketball team racked up a seven-game winning streak — on a squad with nine freshmen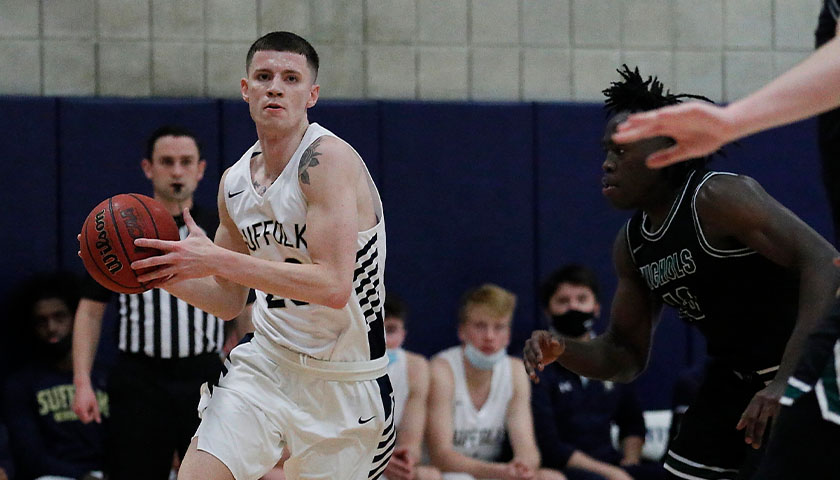 First home game of the 2021-22 season. Marquee matchup. Cheering crowd. Players yelling "Let's go" and exchanging fist bumps.
The stage was set. And following the script to any feel-good sports movie, the Suffolk men's basketball team defeated Tufts, the 11th-ranked Division III team in the country, 90-81.
The victory launched the Blue & Gold on a seven-game winning streak and an 8-1 record at the winter break — the program's best start since the Rams' 9-1 mark to begin the 1976-77 season.
"Tufts was our first game played in front of a home crowd in two years," says Rams' Head Coach Jeff Juron, whose team played in empty arenas during the COVID-shortened eight-game 2020-2021 season. "The energy generated from our home fans gave us the confidence we needed to pull off that big win and get us off to a good start." That good start has carried through to late January: the team's record now stands at 11-4, and 6-3 in the Commonwealth Coast Conference.
Juron, who is in his seventh year at the helm, says he's pleasantly surprised with the Rams' early season success, particularly since the 15-man roster includes nine freshmen.
"I knew our freshmen were talented, but I wasn't certain how long it would take for them to learn our system at both ends of the court," says Juron, who is assisted by coaches Dana Harris, Joe Sharkey, and Chris Lydon. "We still have a long way to go, but I'm excited that our younger players are continually getting better."
"The most rewarding aspect of what I do is teach life lessons through the game. Making an impact in the lives of others is what it's all about."

Jeff Juron
Head Coach, Men's Basketball
Leading the way
Juron credits the current winning campaign to the leadership qualities portrayed by his team captains — graduate student guard and fifth-year player Nate Hale, BSBA '21, senior forward William Rowe, senior guard Conor Creane, and junior point guard Aidan Sullivan.
"They have bought into what we are trying to do and have encouraged their younger teammates to do the same," explains Juron. "Some of our captains are vocal and some lead by example. Either way, it has helped the team become a close-knit group and that's always a good thing."
Another positive aspect of the team is its offensive attack, highlighted by a number of accurate 3-point shooters. The Rams can score points in bunches, averaging 87.1 points through the first 15 games.
The team's No. 1 marksman is Hale, a talented 6-foot-4 guard who scored his thousandth career point during the Tufts victory. Hale is the Rams' leading scorer, averaging 19.7 points per game, connecting on 42.7% of his 3-point attempts and 87.7% of his free throws.
"Nate can score from anywhere on the court," says Juron. "He is very coachable kid who understands his strengths and weaknesses and is willing to work on them every day to get better."
Hale is enrolled in the master of arts in communication program at Suffolk, while working full time as a sales representative for a local software start-up company. He is thrilled about how quickly this year's squad has come together.
"It's one of the most selfless teams I've ever been on," says the Nashua, New Hampshire native. "Everyone gets along with one another. We're still a work in progress, and our overall goal is to win a championship."
Life lessons taught here
"We've been on the same page from day one," says William Rowe, the Rams' 6-foot-8 front-court ace from Reston, Virginia. "We have embraced the culture of working hard and having fun on and off the court. We're a true team. Instead of guys looking for stats, we pass up the good shot for the great shot."
Rowe, Class of 2022 and a finance major, has been a member of Suffolk's Student-Athlete Advisory Committee (SAAC) for two years. He and other student-athletes representing the University's 19 varsity teams work to encourage student participation on campus and in the community.
"It has been a huge learning experience that has helped me become a better leader on the team," says Rowe, who plans to open his own gym one day. "I'm hoping skills like how to communicate with others and plan events will help me in my career."
Juron's goal is for the Rams to improve each and every day and peak by late February. His priorities extend well beyond wins and losses.
"The most rewarding aspect of what I do is teach life lessons through the game," he says. "Making an impact in the lives of others is what it's all about."