State Sen. Lydia Edwards Delivers MLK Keynote Address
'I try to lead with the same convictions that I saw in Dr. King, and with the belief that we are more connected than we are not.'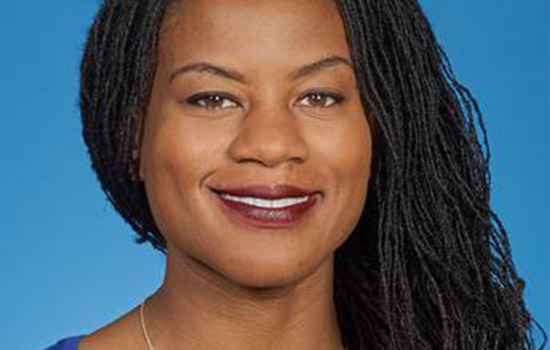 On the same day that she was sworn in as Massachusetts' newest state senator, Lydia Edwards — the first woman and the first person of color ever elected to the First Suffolk and Middlesex seat — delivered the University's annual Martin Luther King Day keynote address.
"There has not been a time when dealing with social justice or politics that I have not thought about Dr. King," Edwards said at the virtual event, which was held January 20 and sponsored by the University's Center for Student Diversity & Inclusion.
King's teachings about "radical truth and conscious love" have, she said, been integral to her ability to bridge divides and build coalitions, first as a community activist and public interest attorney and then as a three-term member of the Boston City Council.
Speaking About Race, Pain, and Anger
In 2014, Edwards coordinated a successful statewide campaign to pass the Domestic Workers Bill of Rights, ensuring their access to the same kind of work standards and protections guaranteed to other employees. With little money to fund their campaign, Edwards says her coalition employed radical truth and conscious love to persuade the bill's potential opponents, including professional women who rely on domestic workers to care for their children and clean their homes.
"We made it a moral issue," Edwards recalled, telling women who were fighting to break the glass ceiling at law firms, hospitals, and major corporations that "you can't ask for a seat at the table if you deny [your nanny] the funding she needs to put food on hers."
In 2020, in the wake of George Floyd's murder, Edwards — by then a member of the Boston City Council representing East Boston, Charlestown, and the North End — employed a similar approach to create a series of weekly dialogues between young public housing residents, their white neighbors, and local police. They haven't missed one for 24 months.
"Either by Zoom or in the room, we have spoken about race, about pain, and about anger, led by our Black and brown youth," Edwards said. "I'm not sure people believe or understand how incredibly talented, passionate, and beautiful our youth are until you stop to listen to them. I think it's so vital we do more of that."
Don't Call Me Loud Because I Want to Be Heard
The MLK Keynote featured remarks from numerous student leaders, including moderator Ahria Ilyas, vice president of the Black Student Union (BSU) and a diversity peer educator, who said it is "more important than ever that we invoke the revolutionary spirit of Dr. King, an uncompromising activist against systemic oppression."
BSU President Lindsay Dieudonne introduced Sen. Edwards, praising her as a "career advocate, activist, and voice on behalf of society's most vulnerable."
S'corra Thimas and Hanan Tuffaha, both diversity peer educators and members of Suffolk's Unspoken Feelings arts club, each shared original poems about the experience of being othered, whether in the classroom or on a census form. "I don't want to be angry or vengeful / I just want teachers to give us a chance / Before putting us on a checklist / Before checking off 'loud' because I want to be heard," wrote Thimas, who is African American.
Tuffaha, a Palestinian American, wrote: "The US Census asks me to state my race / And I'm not sure which box to check / What do you call yourself / When America wants to completely ban your existence / Never American enough and always a threat / But I get counted as a white girl."
Rev. Amy Fisher, the University chaplain and director of the Interfaith Center, cited a 1947 essay that King wrote as an undergraduate at Morehouse College, stressing that the fundamental purpose of education is to enable us "to sift and weigh evidence, to discern the true from the false, the real from the unreal, and the facts from the fiction."
Fisher urged listeners to use their ability to sift and weigh evidence to continue King's work. "We have an obligation as an educational institution to teach antiracism, to uncover white supremacist roots, and to admit all forms of prejudice and economic disparity," she said.
Suffolk's celebration of Dr. King's legacy continues on Monday, Jan. 31, with the annual Creating the Dream Award, which will be held at 6 p.m. in the Blue Sky Lounge. The event will also be live streamed. For more information, contact the Center for Student Diversity & Inclusion at 617-573-8613 or [email protected]