Hockey Is This Ram Family's Tradition
Father Brian Gruning, BSBA '92, and daughter Cassidy, Class of 2023, share a passion for ice hockey and for Suffolk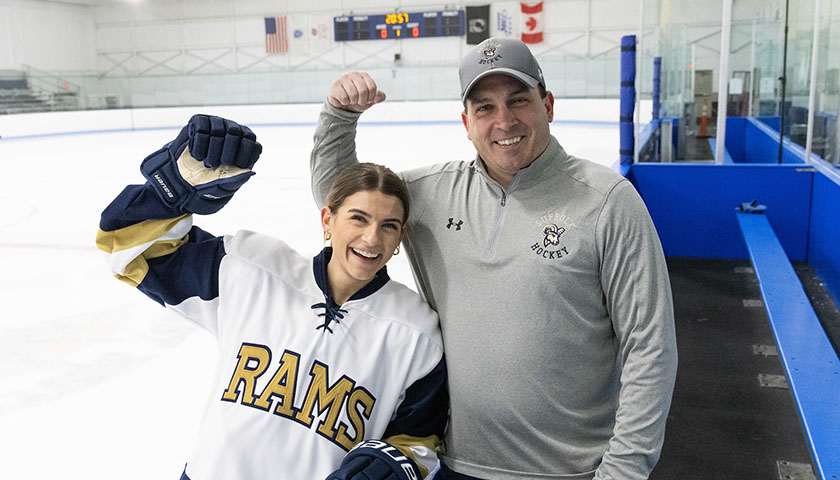 All athletes have their pregame rituals. After she dons her uniform and laces up her skates, Cassidy Gruning, a forward on the Suffolk women's ice hockey team, always pauses to check her phone for texts. She knows she'll find a message of encouragement from her father.
"He's my No. 1 fan," she says.
But Brian Gruning, BSBA '92, is no ordinary fan. As a center on the Suffolk men's hockey team, he led all three NCAA divisions in goals (48) during his senior year, and became the Rams' second all-time leading scorer with 226 points (119 goals, 107 assists). He's also a two-time member of the University's Athletics Hall of Fame, inducted for both his individual accomplishments and as a member of the 1990-91 men's hockey team.
"He made a big mark at this school and I'm trying my best to keep it going," says Cassidy, who previously led her Tewksbury High School team to the state championship in 2019. "I'm not the goal scorer my dad was. I'm more of a playmaker, setting up my teammates with assists as much as I can."
"Watching Cassidy brings back some wonderful memories," says Brian, now a computer programmer in the healthcare industry. "I remember some of the games that we won or lost. But really it's the relationships with my teammates that I will never forget."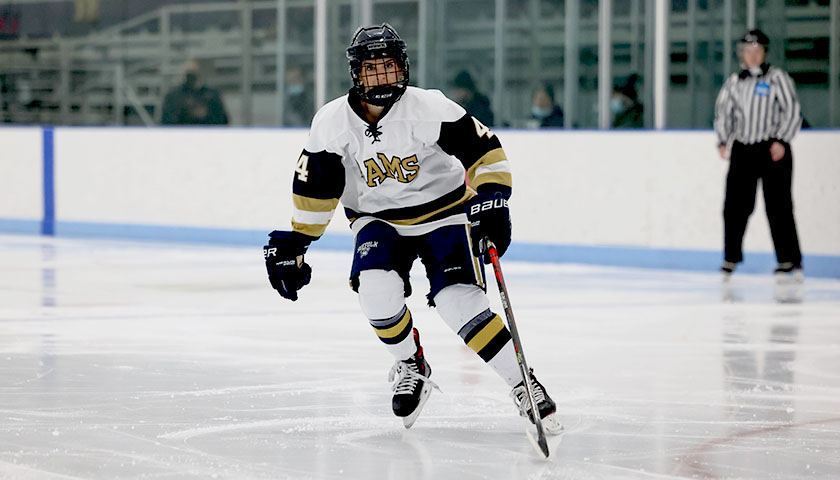 Skating before she could walk
When Brian played for the Rams, there was no women's ice hockey program. But in 2015 the University made a major investment in athletics, adding six varsity teams, including women's ice hockey, men's and women's track and field (both indoor and outdoor), and women's golf.
"I love Boston and I wanted to be part of a new program," says Cassidy. "I also thought that playing for the same school as my dad would be kind of cool."
"When I recruited Cassidy, I knew she had a lot of potential," says Rams' Head Coach Taylor Wasylk, who has led her team to a program-best 18-4 record to date. "She is someone who has a lot of energy and a positive attitude. She has improved tremendously since her freshman season, and she's a big part of our success."
The running joke in the Gruning household is that Brian "had me on skates before I could walk," says Cassidy. He coached her throughout youth level and now attends all her Suffolk games. He's often joined by the rest of the Gruning family: Cassidy's mother, Maria, and her siblings, Chelsea and Cameron.
"It's always great to see them in the stands," says Cassidy, an undergraduate law major and honors student. "I want to make them proud because they have always supported me, on and off the ice."
Brian's advice to his daughter has remained the same over the years: "Work hard and give 100% on every shift," he says. "And support your teammates as much as possible because hockey is a team game, not an individual sport."
That's a message Cassidy takes to heart. "Playing college hockey at Suffolk has been one of the best experiences I've ever had," she says. "We're like a little family because we do everything together. I know that some of us will be friends forever." The lessons that hockey and her father have taught her — about teamwork, commitment, and perseverance — will stay with her, she says, after she leaves the ice to attend law school.
And for Brian, there's a whole new set of treasured memories. "I love the thought that Cassidy and I both played hockey and graduated from Suffolk," he says. "It's a special bond that we will be able to share for the rest of our lives."