Equity in the Office
A new minor increases student employability by focusing on diversity issues in the workplace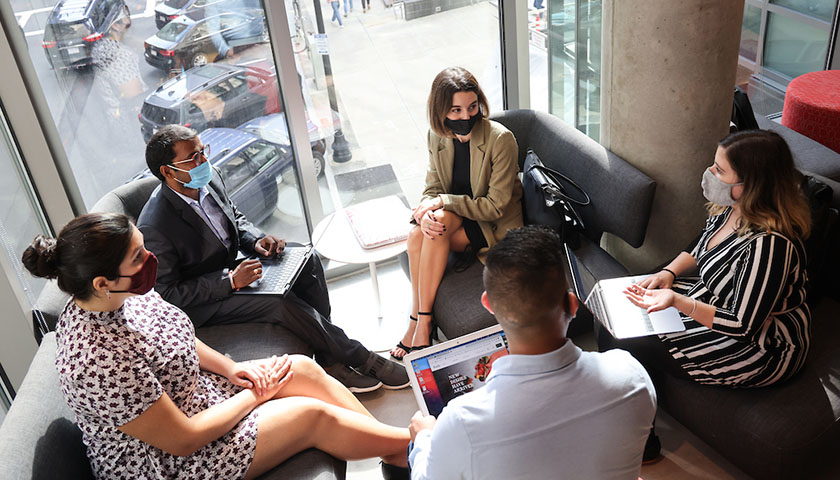 Beyond navigating sophisticated spreadsheets and making compelling presentations, there's a business skill set that both employers and employees are seeking these days: a deeper understanding of diversity, equity, and inclusion.
That's why Suffolk University's Sawyer Business School has created a new Diversity, Equity, and Inclusion (DEI) minor. As part of the curriculum, undergraduates use a DEI lens to explore business policies and practices, human resource management, operations, and other areas. They gain a greater understanding of the crucial role that DEI plays in working and leading in an increasingly diverse and global environment.
"If you're able to prove to a potential employer that you've got critical thinking skills and the ability to recognize and examine your own biases, those are all valuable skills to an organization or business," says Assistant Professor of Management and Entrepreneurship Greg Beaver, who's overseeing the minor and serves as the provost's faculty fellow for Diversity, Equity, and Inclusion.
Indeed, the goal of the minor is not just for students to identify DEI challenges, but also to learn how to help their business or organization remedy them. The minor reflects the values of access and inclusion that are at the heart of both the University's mission and its "Suffolk 2025" strategic plan. And it aligns with Suffolk's focus on teaching students to help change their chosen fields by making them more equitable. Last fall, the University launched a dramatically expanded and re-envisioned Center for Career Equity, Development & Success.
"We're preparing students not just to recognize problems but to bring solutions," says Dave Merry, associate provost and executive director of the Center for Career Equity, Development & Success. Merry has helped lead the comprehensive reboot of career services at Suffolk. "We're helping students think about their own identities and how they can serve the equity missions of their institutions."
The Business School's DEI minor comprises existing courses (including the wonderfully named Managing Difficult People at Work) as well as new courses for the spring 2022 semester, including Global Human Resource Management and People Analytics.
"Understanding and applying DEI is a job requirement now," says Joyya Smith, the University's vice president for Diversity, Access & Inclusion. "Business School students will not only be on the cutting edge by having this knowledge and experience, but they will be leaders in this space."
Contact
Greg Gatlin
Office of Public Affairs
617-573-8428
Ben Hall
Office of Public Affairs
617-573-8092