MPA student Donna Lee launched a company that makes washable yoga mats — and rode it all the way to this year's Academy Awards
MPA student Donna Lee, Class of 2023, knew that creating a machine-washable yoga mat was a good idea. What she didn't know was that her good idea would one day lead to her rubbing elbows with Viola Davis, Anthony Anderson, and other celebrities in the lead-up to the 2022 Academy Awards.
"It's been an incredible journey," says Lee, who founded her R-Yolo (Remember You Only Live Once) company as part of a Sawyer Business School course. "I never expected any of this to happen."
The R-Yolo yoga mat became an instant hit, earning Lee media coverage and — in a scene straight out of a Hollywood movie — an invitation to pre-Oscar festivities, where the R-Yolo mat was featured in the luxury swag-bag presented to Academy Award nominees and other A-listers.
Lee's path to Hollywood began during her Moakley Entrepreneurship Practice Program course in the spring 2021 semester. That's when she met Suffolk faculty who coached her on the tools of the trade — pitch decks, market research, business and fundraising plans — she would need to launch her yoga mat company later that year.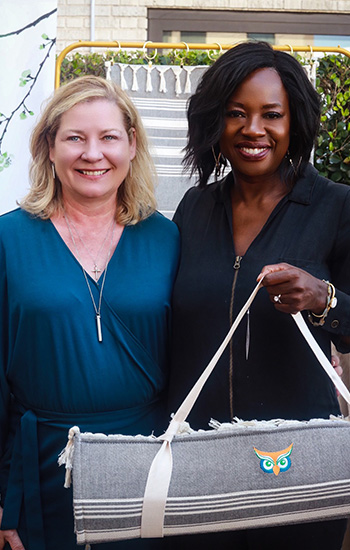 "Suffolk was instrumental in helping me take my business to the next level," says Lee, 58, of Harvard, Massachusetts. "I'm grateful to all the people who provided me with the resources and support to get to where I am today."
"Donna is the epitome of the Suffolk student — hard-working and hustling to get the job done," says Management and Entrepreneurship Instructor Joanna Trainor, who became Lee's mentor and met with her on a weekly basis. "She has fantastic business acumen from all of the random situations she has had to deal with.
"Some people would have given up, but not Donna. She is tenacious and doesn't take no for an answer. The opportunity she just had at the Oscars is phenomenal. It's so rewarding to see how far she has come."
In November of 2021, R-Yolo won the Suffolk IP Pitch Competition. Just as valuable as the cash prize, says Lee, were the pro-bono legal services she received from the Suffolk Law Intellectual Property & Entrepreneurship Clinic. She also hired two Suffolk interns, Izzy Puziewicz, Class of 2022, and Grace MacDonald, Class of 2025, who are responsible for everything from public relations and advertising to social media and maintaining the R-Yolo website.
"Both Izzy and Grace have brought their own set of skills to help promote my brand," says Lee, whose daughter, Veronica, is a second-year Suffolk Law student. "They are passionate about what they do and we have all benefited from this experience of working together."
In 2018, Lee, who works as a project manager for the Massachusetts Department of Transportation, was driving home from a yoga class when she was involved in a freak car accident. As she recuperated from her injuries, Lee began thinking about designing an alternative to traditional rubber yoga mats, which can spread bacteria and germs.
She came up with the idea of producing a washable mat made from Turkish cotton towels, with a non-slip rubber bottom and a foam layer in between. The mats are now manufactured in Rhode Island.
In January, Lee attended a yoga expo in Pasadena, California to promote her brand. There, she met the owner of GBK Brand Bar, a high-end L.A. gift store, who invited her to include her R-Yolo mats in the luxury gift bags that are presented to nominees and other Academy members at a two-day event prior to the Oscar ceremony.
Lee says she was thrilled to be part of this event, which was held March 25-26 at the Beverly Wilshire Hotel, where scenes from the movie Pretty Woman were filmed. "I felt like Cinderella," she says. "The whole experience was like a dream come true. Actor Eric Roberts [brother of actress Julia Roberts] gave me a kiss on my head."
In addition to meeting scores of celebrities, Lee made some good business contacts. (She did not attend the actual ceremony, and missed the clash that has since dominated the headlines.) Reflecting on her "once in a lifetime" experience, she says she couldn't have written a more perfect script. "And I think my story is just beginning," she says.