Elevating the T
Professor Randal Thurston brings soaring artwork to the new Lechmere train station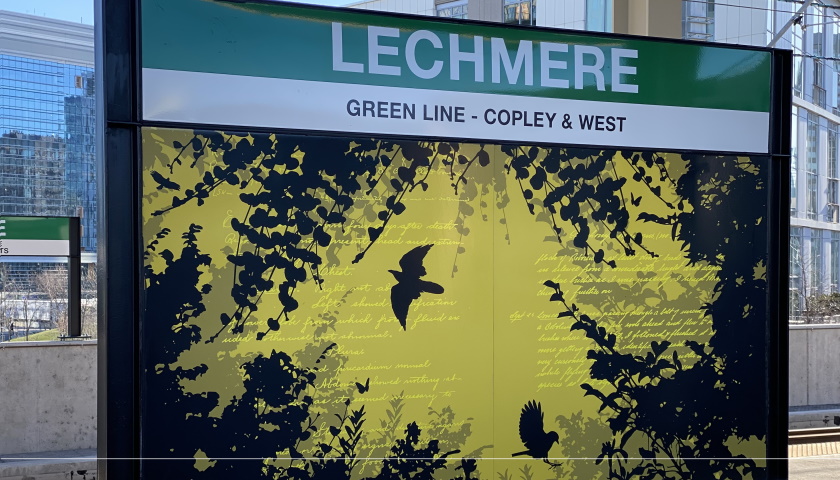 When the first commuters flooded into the newly-redesigned Lechmere MBTA rail station last week after its nearly two year closure they were greeted by something unexpected -- soaring natural imagery inspired by local ecology.
Created by Suffolk University professor Randal Thurston, the artwork, entitled 'Field Notes,' was inspired by the landscape just beyond the Cambridge, Massachusetts, station.
Thurston explains that the name originates from the practice of observation and reflection naturalists use to understand the world. By taking note of the migratory patterns of birds, the ebb and flow of the river and the cyclical rhythms of flowers and trees, he says, we develop both knowledge and memory of a place and its inhabitants.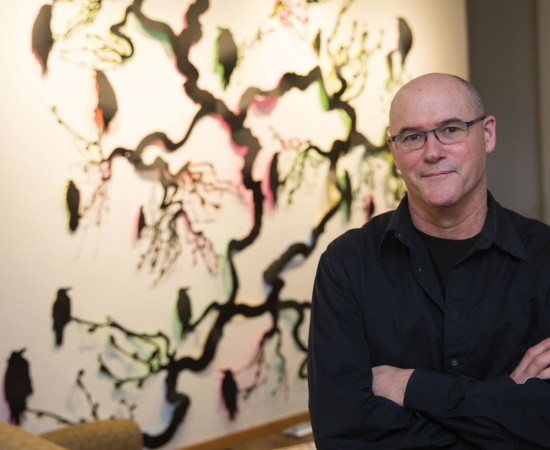 Silhouettes of birds in flight and lush plant life adorn wayfinding signage, as well as the glass housing the station's elevators. Six panels installed on the station platform present a series of vignettes featuring the flora and fauna found in North Point Park throughout the year. In the background of the panels are excerpts from the notebooks of William Brewster, a 19th century ornithologist who spent his life studying the birds of Cambridge, Somerville, and the surrounding area.
"My interest in creating artwork that incorporates nature comes from a sensibility that is very much like Brewster's," says Thurston. "By paying attention to both wing and leaf, I get a clearer sense of my place in the world through a deeper understanding of who I am sharing it with.
The Green Line Extension project has gone through its own ebbs and flows, including scope changes and years of delays. After Thurston's concept was chosen from among 100 artists' bids in 2015, reconsideration of the transit project's budget threatened the public art, though eventually it was restored on a smaller scale.
"I learned the importance of adaptability in creativity," he said recently of the T's decision to scale back from an enclosed glass-and-metal station to the open-air platform approaches and signage of today.
Now, after almost a decade of careful planning (and replanning), thousands of daily commuters can enjoy Thurston's uplifting artwork as they pass through Lechmere, including the artist himself.
"I know what it's like to spend 20 minutes looking at the station surroundings, so I wanted to create something that people can come back to over and over again," says Thurston.