A 'Venti' Victory for Starbucks Workers
Suffolk Law student and Starbucks barista Kylah Clay leads the first successful union drive in Massachusetts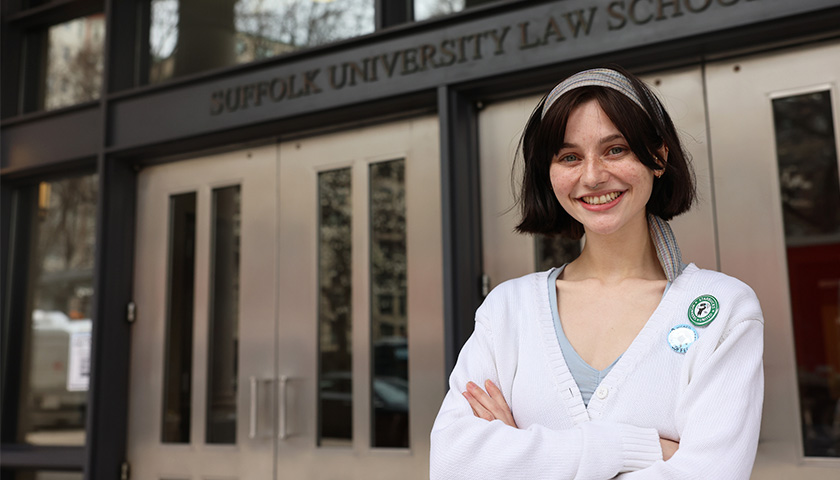 Kylah Clay, Suffolk Law Class of 2022, loves her weekend job as a Starbucks barista, making lattes and Frappuccinos while learning the names of all her customers.
Now some of her customers are getting to know her as well. That's because Clay has made a name for herself—throughout the state and across the country—as the driving force behind her Allston store becoming the first Starbucks in Massachusetts to unionize, on April 11, 2020.
"It was a huge milestone on so many levels for the whole labor movement," she says. "My fellow employees and I received a lot of support from other partner stores and we used everyone's strengths and skills to make this happen."
"My law background has helped me become more confident in navigating the entire unionizing process with my team."
Kylah Clay, Class of 2022
What Clay brought to the table was her knowledge as a Suffolk Law student. "I've been fortunate to have some inspiring professors who have prepared and motivated me to become the best advocate I can be," she says.
Particularly influential is Professor Renée Landers, whose Administrative Law course "provided me with a lot of context for what I'm doing now," says Clay, one of the lead statewide union organizers for Starbucks employees. "My law background has helped me become more confident in navigating the entire unionizing process with my team."
Student, union organizer, law clerk
It took Clay and her co-workers just over six months to get their store unionized, meeting by Zoom, working closely with an attorney, filing a petition with the National Labor Relations Board, and appearing at legal hearings.
Clay took everything in stride, challenging herself each step of the way. Her unionizing efforts have been covered by media outlets nationally and globally, including TIME magazine and Japanese television.
"Kylah is bright, engaged, and intellectually curious," says Landers, who is faculty director for the Health and Biomedical Law concentration and the Master of Science in Law, Life Sciences Program. "She also appreciates the impact of social and economic inequalities, including inequalities in wages and working conditions. Her intelligence and engagement with these issues, combined with the advocacy skills she honed through the health law moot court team, make her a persuasive and effective advocate."
Clay says that Starbucks is a great company to work for, but there were a number of issues—including improved safety conditions and better wages and hours—that led some employees to support unionizing. "We never had a voice before," she says, "but now we do."
There are currently more than 15,000 Starbucks locations in the US. The first one to unionize was in Buffalo, New York, on December 9, 2021. Since that time, other stores are joining the movement on a daily basis.
"We've accomplished so much already, but we still have so much more to do," says Clay, who also works as a clerk for Amy Codagnone, JD '10, a Boston criminal defense attorney.
On Sunday, May 22, Clay will pull double duty—receiving her JD degree from Suffolk University Law School in the evening, and her master's degree in criminal justice (which she completed online) from Boston University in the afternoon.
Clay hopes that her education, coupled with her hands-on experience as a law clerk and union organizer, will help her become a public defender.
"I want to advocate for people in the community and those who are victims of mass incarceration," she says.