'Black Excellence Lifts Everyone'
Suffolk's Celebration of Black Excellence Honors Seven Outstanding Alumni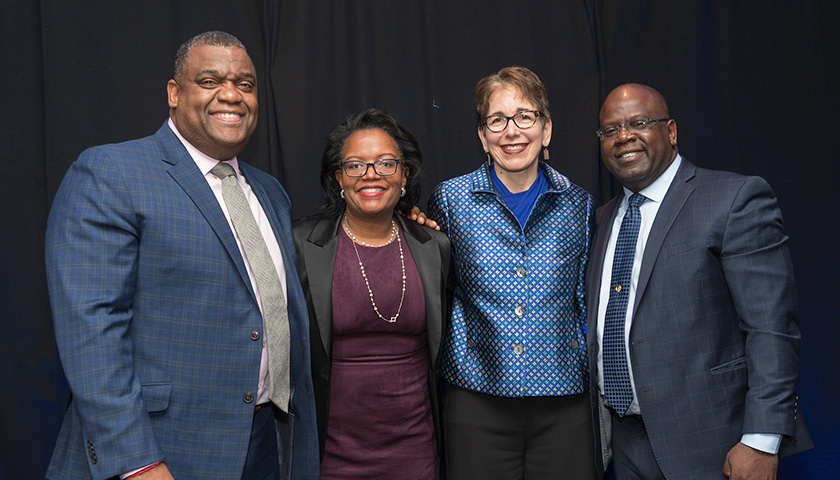 The University presented its fourth Celebration of Black Excellence—honoring seven alumni who embody Suffolk values of inclusion, equity, and opportunity.
"Black excellence lifts everyone and it's always been so," said keynote speaker Linda Dorcena Forry, a former state legislator and vice president of diversity, inclusion, and community for Suffolk Construction. "Our greatness enhances the fabric of America, making it stronger and nimble and resilient."
The honorees have been active members of the University community for decades. This year's faculty/staff award recipients were Sonia Alleyne, MPA '01, executive-in-residence, Institute for Public Service; Jennifer Blakely, MED '20, head of access services, Mildred F. Sawyer Library; and Lolita Darden, JD '91, associate clinical professor of law and director of the Intellectual Property and Entrepreneurship Clinic.
Alumni honorees came from each of Suffolk's three schools. They were the Honorable Serge Georges, Jr., JD '96, HLLD '21, associate justice of the Massachusetts Supreme Judicial Court; Tony Richards, MPA '21, vice president of equitable business development at the Massachusetts Housing Finance Agency; and Rachel Deleveaux, MED '07, assistant vice president of organizational culture, inclusion, and equity at Simmons University and the first Black woman president of the Suffolk University College of Arts & Sciences Alumni Board of Directors.
University Trustee Ernst Guerrier, BS '91, JD '94, was honored with the evening's Black Excellence Trailblazer and Icon Award.
Download video transcript [PDF]
'You are not done making a difference…Not by a longshot.'
"But this isn't a rest-on-your-laurels kind of night, right?" Dorcena Forry asked the cheering crowd. "This is definitely a past, present, and future sort of night, because we're not done making a difference. You are not done making a difference. You're not done being leaders. You're not finished with the journey that led you here tonight, not by a longshot."
President Marisa Kelly said the night—rescheduled from late February due to a snowstorm—was one of her "favorite new Suffolk traditions."
"Why? Because tonight and every occasion when we gather in the celebration of Black excellence, we are celebrating inclusion and achievement—and those two things are both essential to who we are, as an institution," Kelly said. "We celebrate alumni, faculty, and staff who are working in various ways to advance important JEDI [justice, equity, diversity, and inclusion] goals here in our community and outside of it, individuals who are helping us get closer in word and deed to our ideals."
She praised the months of planning and preparation by the University's Office of Advancement, the Suffolk University Black Alumni Network, and the Celebration's planning committee.
The University will continue to advance equity and inclusion in many arenas in the coming months and years, Kelly said.
"We are recommitting ourselves to partnerships that support our mission, such as our dual enrollment program in partnership with Boston public schools. We have expanded our JEDI work to include a new procurement initiative so that we can use Suffolk's purchasing power to help close the wealth gap, a problem that has been ignored for far too long. And we are focused on creating more opportunities to hear from our students of color so that we can better support them in the ways they tell us they need," she said.
"Black excellence lifts everyone and it's always been so. Our greatness enhances the fabric of America, making it stronger and nimble and resilient."
Linda Dorcena Forry
Former state legislator and vice president of diversity, inclusion, and community for Suffolk Construction
Several Celebration honorees gave moving remarks about their personal journeys and challenges, and expressed gratitude to supporters in the Suffolk community.
Deleveaux described her struggles with illness and poverty after her 2007 graduation and a decade of hard work that resulted in her current role. "You never know when your time is going to come and you won't ever know if you quit," she said. "I encourage everyone to fall into their passion, because then you will stumble upon your purpose. Your purpose, by the way, is not what you do—it's the impact that you make by doing what you do."
Justice Georges paid affectionate tribute to his fellow honorees, including classmate Guerrier, whom he called "the Mayor of Suffolk Law School," when they were students, and Tony Richards, who supported Georges' 2021 nomination to the SJC.
"All of the things that you heard in my introduction might make you think that it was an upward trajectory that always kind of led to this, [when] like Rachel my life and my trajectory have been more like an EKG," said Georges. "The reality is it's a thin line between standing here and standing out there.
"So when you see me, I again remind you, I am an amalgamation of everyone [and] everything that was done to help me get here. There were plenty of people that could be in this position, and there are plenty of people who didn't [get to be] and the reason is because they never thought to give someone like me a chance without somebody else in the room saying, 'Give him a chance,'" Georges said.
Guerrier, the final awardee of the night, praised University leadership and pledged to continue his commitment to funding scholarships for students. He described the hardships he encountered as a child of Haitian immigrants growing up in Dorchester, and the deep-seated drive he feels to give back to his community.
"I came to Suffolk because of the principle on which this university was founded: [To ensure] that people like me, who dream of becoming a lawyer, can get an education," said Guerrier, a double Ram. "I can tell you, as a trustee, we remain true to the core values of Gleason Archer. We work extremely hard to maintain opportunities for those who will follow."