Big Data Dreams Come True
Graduating senior who left Spain to study business analytics at the Sawyer Business School is well on his way to a career as a data scientist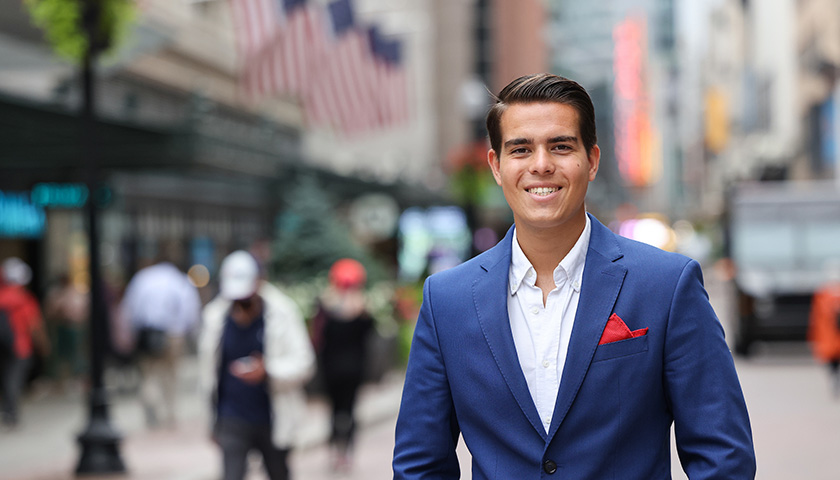 Alfredo Serrano Figueroa's American dream began on the other side of the Atlantic Ocean.
Serrano grew up in Madrid, Spain, a business-minded student with an early interest in data analytics, as well as proven skills as a soccer player. When the time for college arrived, he carefully examined the data and decided his best prospects for success lay in America. At 18, he bid farewell to home and family and boarded a plane to the US.
"It was the most difficult decision I've made in my life, but I couldn't be happier with what I've gotten in return," the 22-year-old Sawyer Business School senior says today. "I'm starting to see the rewards of all the hard work I've put in over the years."
Serrano, who initially enrolled at Missouri's Lindenwood University, transferred to Suffolk for the chance to study with the Sawyer Business School's Big Data & Business Analytics program. He quickly established himself as a respected student leader: president of the student-run Information Systems Business Analytics Club and a goalie on the men's varsity soccer team. "Suffolk has helped transform me into the man I aspire to be," he says.
Serrano says he was drawn to Big Data & Business Analytics because he wanted to learn how to use data to help people solve problems and make better-informed decisions across a range of industries. And he found inspiration in Sawyer Business School faculty like Billy Mee, MBA '96, a senior instructor in Information Systems and Operations Management, who taught his courses in Business Intelligence and Coding for Business.
"Alfredo brought a graduate school mentality to undergraduate classes," says Mee. "He was very strategic in everything he did, and not only wanted to know what we were doing, but why we were doing it. I see him running his own company someday dealing with analytics and technology." Serrano has already secured a job as a data science consultant with the Boston office of Management Solutions, an international consulting firm.
He brought a similar sense of purpose to his role as president of the Information Systems Business Analytics Club, growing its membership from 34 to 127 students, and hosting 10 big data workshops and five conference speakers.
"Alfredo is very passionate about technology and committed to everything he does," says ISOM Professor Mahed Maddah, the club's faculty advisor. "He had a lot of connections around campus, which he used to help support the club's activities."
Finding family on the soccer field
Serrano's deepest roots lie in the men's soccer program. "My teammates have become brothers to me, and they have influenced my soccer and academic life since Day One," he says. Last fall, the multitalented goaltender recorded two shutouts in the six games he started. He was also the recipient of the team's Unsung Hero Award, voted on by the players and coaches.
This spring, Serrano lent his analytics experience to the team. Working as an intern for Head Coach Bill Maddock, he developed an optimization algorithm to help players understand how to make the most of their workout and nutrition plans.
"Beyond being athletic and technically skilled, Alfredo was a team player and leader on and off the field," says Maddock. "He is a role model and great ambassador for our program."
Serrano says he will always remember how his teammates welcomed him with open arms when he first arrived at Suffolk. "I've been able to meet my best friends thanks to the program. This means more to me than words can express, especially when you're far away from home."