Innovative Law Student Receives National Acclaim
There are just ten "Law Students of the Year" nationally
National Jurist
magazine has named Aubrie Souza, Suffolk University Law School Class of 2022, one of its "
2022 Law Students of the Year
."
Souza is one of just ten students from across the country recognized for their contributions to both their communities and the law schools they attend.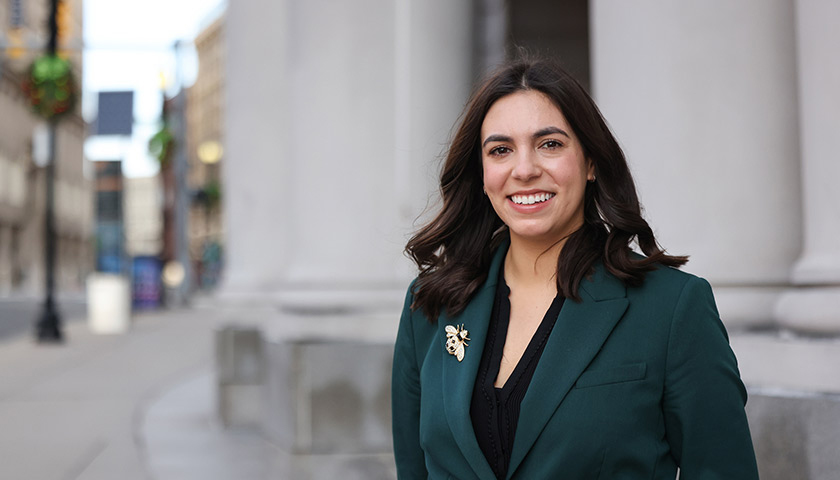 National Jurist editor Michelle Weyenberg highlighted Souza's work as a student leader in Suffolk's Legal Innovation & Technology Lab, where Souza worked on a Turbo Tax-style "smartform" app used by pro se litigants, many of them on their cellphones, to create 16,000 court documents.
"Pro bono and legal aid attorneys will be the first to tell you that they don't have enough hours in a day to help people who are desperate for assistance," Souza told the publication. "With the smartforms, judges receive filings that contain the topics they actually need to make a decision, without as much extraneous information. And litigants can fill them out on a phone anytime, night or day, right in the moment when help is most needed."
Souza described how one litigant was able to use the smartform to fill out a restraining order at 3 a.m., when the courts were closed. "You don't know when people are going to confront their legal emergency," she said. "It could potentially be one of the most dangerous days of their lives, and the smartforms are there to provide guidance and get the interaction with the justice system going."
News media outlets covering the smartforms story have included The New York Times, Boston Globe, Chronicle of Higher Education, and Telemundo.
"I'd be willing to wager that her work product—be it projects she created content for or which she helped manage—has touched more court cases than any other law student in the country," said David Colarusso, director of the LIT Lab.
Souza, who grew up in West Hartford, Connecticut, will continue to make use of her legal technology and innovation skills, in the context of access to justice, as a court management consultant at the National Center for State Courts.
"My Suffolk Law experience has impacted me in many ways," she said. "I learned just how much trust in and from my community means to me. It's an honor to be trusted by those I admire: peers, mentors, clients, all of whom taught me to trust myself and gave me the opportunity to grow and to make an impact."
Suffolk Law has had several law students honored by National Jurist over the last few years including Sam Faisal JD'20, Justin Rhuda JD'19, Assistant Dean Cherina (Clark) Wright JD/MBA'17, and Cherie Ching JD'16.